The eighth and final season of Game of Thrones (GoT) is going to be aired next month and the fans are already very eager to watch it but now they have one more reason to be excited. One of the most popular characters of the series is Tyrion Lannister which is being played by actor Peter Dinklage and a duplicate of the actor has been discovered in Pakistan. The striking similarity between the doppelganger and the actor is making everyone go crazy.
We are talking about Rozi Khan and you might be surprised to know that he has not even seen a single episode of the show. Even more amazingly, he had never heard about the show but he came to know about it when people started talking to him about GoT and his resemblance with the actor.
First of all, take a look at their uncanny resemblance: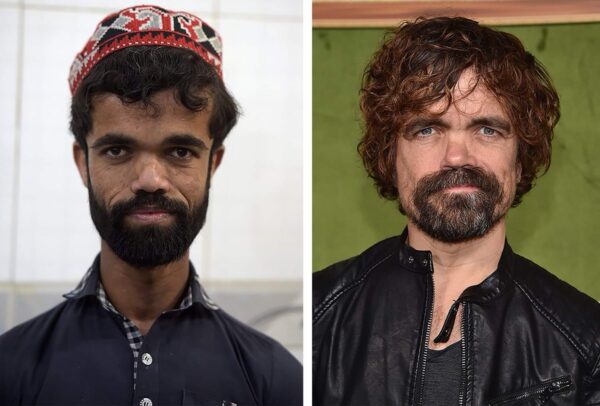 Check out one more pic of Rozi: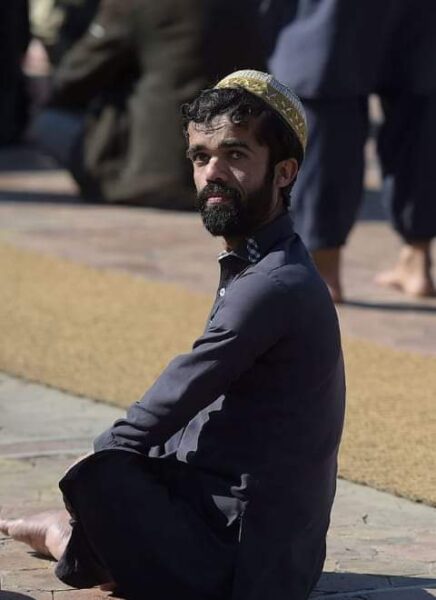 Born in Mansehra in northern Pakistan, 25 years old Rozi works as a waiter in a Kashmiri restaurant in Rawalpindi. According to him, he doesn't mind it if someone clicks him as it has also made him pretty famous.
What is more surprising is the fact that Rozi and actor Peter are of the same height (135 cms or 4ft 5in) and whenever someone asks Rozi about the Hollywood actor, he calls him as his friend or brother. He has also expressed his desire for meeting the actor with whom he has always been compared.
Social media users can't stop reacting over their resemblance and here are some of the selected tweets:
#1
The 25-year-old Pakistani waiter Rozi Khan with a striking resemblance of famous actor Peter Dinklage – who has played the witty and wily nobleman since the hit series' first season in 2010.

Amazingly, both also have the same height 4 ft 5in 🙂#GOT #Pakistan pic.twitter.com/ehhxwLx2eg

— Fahad Ali (@fahadmehtabali) March 22, 2019
#2
@Peter_Dinklage #GOT
Look what peter dinklage is doing….
He is lookalike of him in Pakistan.
Awaiter in a hotel, name Rozi Khan pic.twitter.com/kLLT6itJn9

— [email protected] (@n0manhayat) March 24, 2019
#3
Pakistani waiter "rozi Khan" is like the twin brother of "Tyrion Lannister" #GameofThrones #TyrionLannister @HBO @GameOfThrones #PakistanDay #HBO pic.twitter.com/yghGkS3kLU

— ziaullah (@ziaullahdawar) March 23, 2019
#4
@Peter_Dinklage Hi Peter hope you will fine. This is Rozi Khan waiter in Pakistan. Ur doppelganger. pic.twitter.com/hfHdPID8px

— Afrasiab Khan (@afrasiabkhan50) March 22, 2019
#5
Rozi Khan, waiter at a Pakistani restaurant resembles you @Peter_Dinklage. 😲 pic.twitter.com/8tcZ4dXjdC

— Azam Shah (@AzamShah816) March 22, 2019
#6
https://twitter.com/RbbSbbStylinson/status/1109851942384132101
#7
Pakistani #Rozikhan #PeterDinklage maybe he can be use for your double pic.twitter.com/cmpDxAY1yu

— Tanzeel Abbasi (@TanzeelNYCFilms) March 22, 2019
#8
I don't know why but this Pathan (Rozi Khan) looks more like Peter than Peter himself 😂😂😂 https://t.co/O9RIL6GuOt

— SHAHZAD RAZA (@SHAHZADRAZA777) March 22, 2019
#9
Aww! Such an uncanny resemblance!

Earlier in the past, there was a similar news of a Kohli-2 also.

But this one is an exceptional one!

Let us wish a change in fortune for Mr Rozi Khan! https://t.co/UPsMxiEoke

— Neer Nayan (@neeronly) March 24, 2019
#10
https://twitter.com/smehoney/status/1109366843821752320
#11
Rozi Khan so resembles actor @peter_dinklage who has played the witty and wily Tyrion Lannister since the first season of #GameOfThrones that he regularly gets stopped by strangers desperate for a picture.
Resemblance #GameofThrones' #Tyrion pic.twitter.com/N4bQIbFgV8

— Haider Sherazi (@ImHaiderSherazi) March 24, 2019
#12
Pakistan also have Game of throne's Tyrone's Lannister😍😂
Meet Rozi Khan From Rawalpindi!!#GameofThrones #GOT pic.twitter.com/ymllvyObe6

— malik (@chuptalha) March 23, 2019
#13
House of Khan: Pakistani waiter finds fame as 'GOT' doppelganger
Rozi Khan's striki­ng resemb­lance to the dwarf anti-hero, Tyrion Lannis­ter, got heads turnin­g at home#Pakistan@GoT_Tyrion @Tyrion_Halfman #GameofThrones #GOT #HBO #USA #season8 pic.twitter.com/t51sqqFXZM

— دانش 🇵🇰 💙 (@DaniiBughio) March 22, 2019
#14
@GoT_Tyrion Sir, when did u came in pakistan 😉#Doppelganger pic.twitter.com/1NTeoXLAXI

— ALvi (@AhmedAlvi3) February 13, 2019
Even Peter Dinklage needs to see Rozi Khan's pics, what do you say?