Sports
"Get Your Facts Right," Indians Roast Michael Vaughan For Comparing Rishabh Pant To Bairstow
The former England cricketer Michael Vaughan has a history of getting trolled by Indians and former Indian cricketer Wasim Jaffer because he is mostly very critical of the Indian cricket team as well as the Indian cricketers. He got trolled once again but this time he was not critical and instead, his choice of words was not completely correct which irked the Indian fans who not only slammed him for being biased but also schooled him for what he should have stated in reality.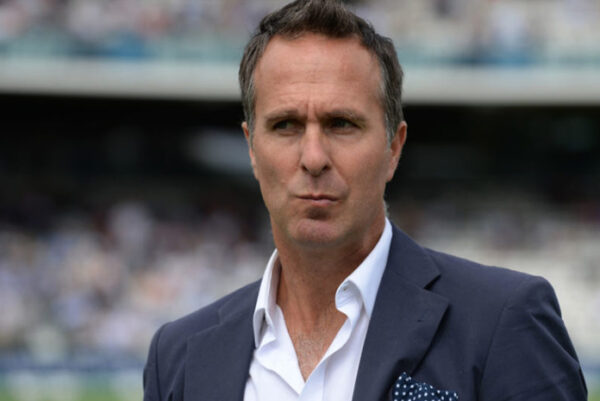 The fifth rescheduled test match between India and England started yesterday at Edgbaston; the hosts won the toss and put the visitors to bat first. India didn't have a good start as the openers (Shubman Gill & Cheteshwar Pujara) got out early, Hanuma Vihari got dismissed early too and Virat Kohli once again failed in making a big score. While Shreyas Iyer got out at a low score leaving India fighting at the score of 98/5, Rishabh Pant and Ravindra Jadeja took the responsibility of taking India out of problem.
As the Indian wicketkeeper-batsman started tearing apart the English bowling lineup, the former English cricketer Michael Vaughan took to the micro-blogging site Twitter and praised Rishabh Pant by comparing him to Jonny Bairstow who performed superbly for his team in the recently concluded 3-match test series against New Zealand which England whitewashed by 3-0.
Michael Vaughan tweeted, "This is great viewing.. @RishabhPant17 doing a Jonny B … #ENGvIND"
This is great viewing .. @RishabhPant17 doing a Jonny B … #ENGvIND

— Michael Vaughan (@MichaelVaughan) July 1, 2022
The Indian cricket fans quickly point out that Rishabh Pant has been batting in this manner for nearly 3-4 years now while Jonny Bairstow has started playing like this from the last series only.
Here are some selected reactions:
#1
Pant is doing it since 2018 whereas Jonny from the last series.I know you are biased,but atleast get your facts right:)

— Shoaib (@ShoaibYahiya) July 1, 2022
#2
@virendersehwag started it first then @RishabhPant17 followed him, and now England team is doing same. You know but you will not say😂😂

— Amitabh Jr. (@Biryani_Bloke) July 1, 2022
#3
He was the only one who was doing this,and much earlier than JB

— Ankit Mavi (@ankit_7200) July 1, 2022
#4
Lol he has done this many times before 😂

— Batman (@andherekabaaap) July 1, 2022
#5
can't even appreciate without bringing in your players. 😭

he's been doing it before and better than Jonny

— Atharv | CW: Mob Psycho 100 (@atharvtheOtaku) July 1, 2022
#6
pant doing this from 2-3 years jonny did in 1 series and on flat deck. todays pitch is twice as threatning as was served vs nz😐😐🤡🤡🤡

— Kawal7818 (@kawal7818) July 1, 2022
#7
When Jonny B was busy building his duck farm, Rishabh Pant was winning test series for his side. #OnOn

— Rahul Sharma (@CricFnatic) July 1, 2022
#8
Na some days before, Johny bairstow did a rishav pant , rishav is doing this since his debut 😂

— Priyanshu Srkian (@SrkianPriyanshu) July 1, 2022
#9
Risabh pant has been playing baz ball even before when there was no bazball

— Sumit Kumar (@sumitkumar10000) July 1, 2022
#10
Non sense.. Rishabh Pant doing a Rishabh Pant….It would be better to say JB did a Rishabh Pant a few days ago

— Abhijith Reddy Ch (@AbhijithReddyC3) July 1, 2022
#11
@MichaelVaughan doing @MichaelVaughan things. The old English approach of just being unable to bear anyone's success against his own countrymen. 🤣🤣…Just get a life Mr. Vaughan.#ENGvsIND Cricket wise…i believe game still evenly poised with the way Eng played NZ. Weather 🤞

— Sayak Bhattacharjee (@sayakbh2017) July 2, 2022
Rishabh Pant played a superb innings of 146 runs for which he played only 111 deliveries. He along with Ravindra Jadeja added 222 runs in the Indian score and this partnership is the highest against England for the sixth wicket. Jadeja got out for 104 runs but Jasprit Bumrah who is leading the team in this test match also made headlines because of his smashing innings of 31 runs which included 4 fours and 2 sixes. Bumrah broke Brian Lara's record of scoring maximum runs in one over in a test match as he scored 35 of Stuart Broad's over.
Share Your Views In Comments Below