Humour
Girl Asks Twitter To Give Her Photo An Aesthetic Background, Gets Epic Photoshopped Responses
The smartphones have made it very easy for everyone to click photos and selfies or record videos and there are some apps which help in making pics look more beautiful by using filters. We have seen many people posting their selfies or photos on social media networks after applying filters so that they can get more likes and attention on the virtual world. However, this beautiful girl whose Twitter handle is @KyuHaiYe posted an image of herself on the micro-blogging site Twitter and asked netizens to give the photo a beautiful background with artistic or aesthetic look.
See the pic: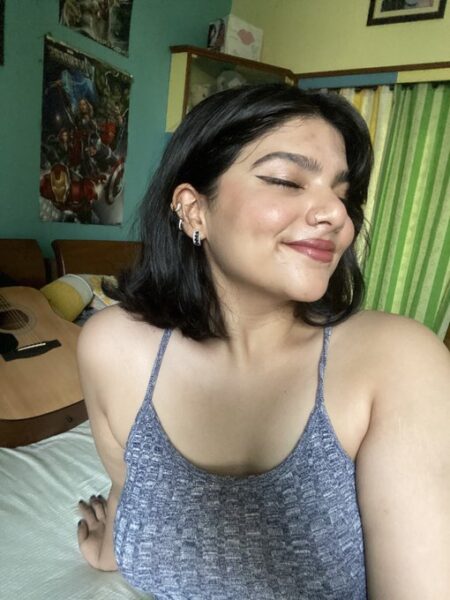 Here is the tweet:
Can someone change the background of this picture to make it look aesthetic? pic.twitter.com/IQglsviwZE

— Hoe Gaya (@KyuHaiYe) July 22, 2020
There is no shortage of talented artists who have expertise in the art of photoshopping and they used their skills to the maximum when they got the invitation. While some really made the photograph look beautiful by adding wonderful backgrounds, few others added humour in it with the help of creepy of funny backgrounds.
Check out some selected responses:
#1
I tried! pic.twitter.com/NAXFqkgZGj

— Sanwayzzilneee🕚 (@sanwayzzilneee) July 23, 2020
#2
Done. Hope you like it, you may follow me on IG : n.irav01 pic.twitter.com/sJbxQpC214

— Chika (@imdhokla) July 23, 2020
#3
Hope you like it 🤩 pic.twitter.com/BXx1w404vM

— VK ⋈ (@vamsiexplores) July 23, 2020
#4
More aesthetic?? pic.twitter.com/TrlVALKhRh

— Da_Lying_Lama🇮🇳 (@GoofyOlives) July 24, 2020
#5
— ISHAN THAKKAR (@im_ThakkarIshan) July 24, 2020
#6
Done! pic.twitter.com/2y2QOSJqit

— HARSH (@Harsh_V22) July 24, 2020
#7
— Dr. Bikash Rai Das (@drbrdas) July 26, 2020
#8
Idk why you want to change the background when you gotta avengers poster behind you. pic.twitter.com/bHhYYhcUQ4

— Nat 🏳️‍🌈 (@Natv0id) July 22, 2020
#9
How is this? Any more aesthetic? pic.twitter.com/lURrvABkaz

— Da_Lying_Lama🇮🇳 (@GoofyOlives) July 24, 2020
#10
Abhi theek hai. 😄 pic.twitter.com/wfhmisWdUi

— Avinav Gahlot (@bharat__wale) July 24, 2020
#11
Promise last one. pic.twitter.com/y5IjM7CdRP

— Da_Lying_Lama🇮🇳 (@GoofyOlives) July 24, 2020
#12
thank me later. 🥰 pic.twitter.com/R9Q2rFea3H

— i8ruu (@lequintdickey) July 23, 2020
#13
— Vishwa Prakash (@I_must_speak) July 23, 2020
#14
I hope you like it, contact me for more background change pic.twitter.com/7S61rV9nhp

— Bissi Bhokali (@BissiBhokali) July 23, 2020
#15
Okay pic.twitter.com/Y89eLkFpC0

— Shubham (@memeswalababua) July 25, 2020
Sharing photos, selfies and videos has become a very common thing on social media at the present era and now people also keep a track of how many reactions they are getting and on which pic.
Have you ever thought of posing for a photo like this or in a unique pose? Give it a try, who knows you may be the next person to get famous and there will be many photos of yours on the Internet with different backgrounds.
Share Your Views In Comments Below