Bollywood & TV
Girl Said Shilpa Celebrated Son's Bday In Old Age Home To Show Off. She Shut Hater Down In Best Way
Needless to say, stardom comes with a lot of criticism and people always have an eagle eye on each of a celebrity's activity. They can't enjoy their personal lives according to their will and if they do, haters don't let them live peacefully. From dress to every single activity, vacation to dates, everything related to a celebrity becomes a hot topic of discussion and netizens leave no stone unturned in slamming something that is not correct as per them.
The same recently happened with Bollywood actress Shilpa Shinde who celebrated her son Viaan's birthday at an old age home by distributing bananas and sweets to elderly people there.
Shilpa shared a video of the same on Instagram with caption,
"Keeping up with tradition of dinner at the #littlesistersofthepoor ,an old age home . They have very few visitors and the joy on their faces when someone comes and visits them is priceless.Nothing more powerful than to start my sons birthday with Blessings..Thankyou for all your blessings and wishes as well instafam🙏😇Loads of #gratitude #happiness #blessings #love #unconditionallove"
Here's the video:
Click here to watch this video directly on Instagram
It's indeed a noble deed but many people slammed the actress by saying that she's distributing bananas and a piece of sweet despite being so rich and that too she's broadcasting for show off.
A user wrote, "Distributing the cheapest fruit available and broadcasting on Instagram. Doesn't seem so simple. Stop this show off."

This hurt and disturbed Shilpa and she shut the troller down with a comment which read,
"Its sad you think this way. Yes,we personally served them a full dinner service after this..I ONLY put it up here for "awareness" so more people can get directed to this cause or contribute to this place that needs help. 🙏And like I said this is tradition for us, our parents have been taking us here for years and I continue that with my child.Broadcasting to show off is never my intent🙏"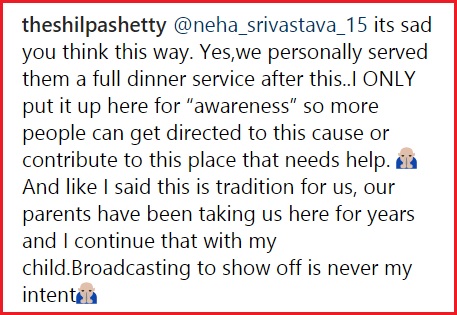 Check out some other trolling comments:
#1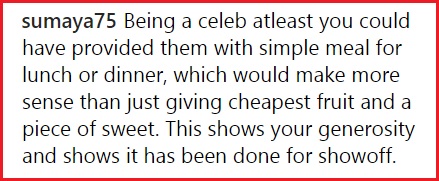 #2

#3

#4

#5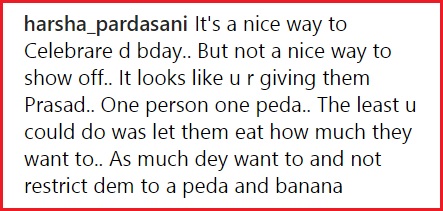 #6
#7

#8

#9
What do you have to say in this regard? Do you also think it as show off? Let us know your views.
Share Your Views In Comments Below