Humour
Girl Tweets "Sarso Ka Khet" Is A Perfect Place For Romantic Date, Twitter Reacts
In the times of the coronavirus pandemic, we have been forced to remain indoors in order to save ourselves from the lethal virus which is contagious in nature. In such critical times, going out on date with your partner is something about which you can only dream of. However while staying at home also, the lovebirds can have some fun by organizing a candle light dinner at home or by watching movies or TV together while enjoying snacks.
But still going out on a romantic date is being missed by many and every person has his own definition of a romantic date. While some like to go out for trekking together, few prefer to watch a movie in a theatre and several others like to go for a long drive or walk on the beach and so on.
Recently, a Twitter user suggested people to go on a date in a field of flowers and spend some quality time with your partner on the mattress surrounded by flowers.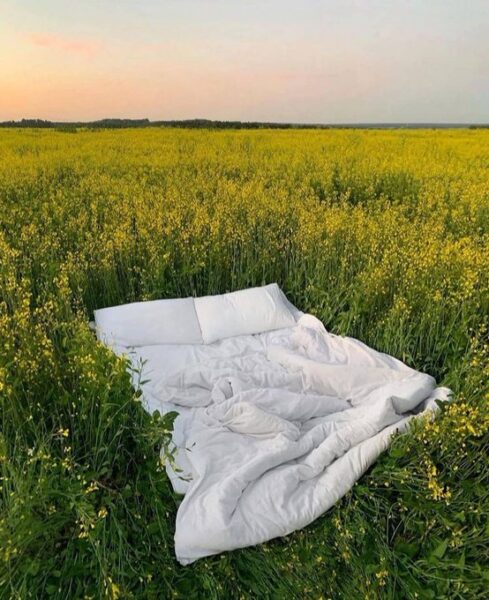 The location certainly gave a feel of a scene sequence from Shah Rukh and Kajol starrer "Dilwale Dulhaniya Le Jayenge" (DDLJ).
Imagine being here with the love of your life pic.twitter.com/T2HQJ6baER

— 𝐄𝐥𝐥𝐞 (@CHERRYH3AVEN) May 11, 2021
Edit: I know a lot of people are concerned ab bugs but this genuinely looks peaceful to me maybe I'm built different lool pic.twitter.com/sdAL2Pv9EH

— 𝐄𝐥𝐥𝐞 (@CHERRYH3AVEN) May 12, 2021
While it really looked like a perfect location for a dream date, Twitterati soon went berserk and made her realise that in just five minutes, the mosquitoes, insects and bugs will make her regret the decision of choosing that location for romantic date. There were some who were also unhappy with the fact that the flowers will be damaged for laying down the mattress in the field.
Here are some selected reactions:
#1
Haha.. @iamsrk & @itsKajolD in DDLJ. pic.twitter.com/s1oL3UMt8p

— sachi (@ixsachi) May 12, 2021
#2
do you guys want to make out with bugs???

— yeş (@unavaiblehoney) May 11, 2021
#3
— Jackk Design (@JackkDesign) May 12, 2021
#4
"Pass the champagne please babe." pic.twitter.com/MTtJ0xTFoh

— Rino & Roy (@RinoTheBeagle) May 12, 2021
#5
Imagine destroying that perfect piece of nature for your own comfort

— J. (@KimJ_ne) May 12, 2021
#6
I know this is supposed to be cute….but the mosquitoes….and we just killed so many flowers laying that blanket and also allegories and also I feel like it's be hot af

— la reina de pendejadas (@moonbeam_leo) May 11, 2021
#7
Love when privileged white ppl destroy fields of flowers just for a pathetic instagram pick. Honestly if this is what u do when in nature then just stay home.

— Physically in pain (@sexworkershock) May 12, 2021
#8
anxiety coupled with my phobia for snakes will ruin me if I spend more than 5mins here

— #EndSARS (@the_Femi_) May 12, 2021
#9
Imagine being here with the love of your life pic.twitter.com/16B1Y10d0F

— Ben Leslie (@BenLeslie1) May 13, 2021
#10
is no one concerned abt the plants under the matress

— 🖤 (@mscrunchyspine) May 12, 2021
#11
when you sleep in there

be like : pic.twitter.com/Ezw262kXWg

— Name cannot be blank (@acephasanrouf) May 12, 2021
#12
Stop imagining shit. I am coming . pic.twitter.com/W3UvoeQFzA

— El Pistro 🧟‍♂️🦹🏽‍♂️🧛‍♂️ (@EL_Pistro) May 12, 2021
#13
5 minutes later pic.twitter.com/PTyBsfGmNk

— the (@binnbin_) May 11, 2021
#14
— Earl 🐐 (@LocalJK) May 11, 2021
#15
All I can think of is the amount of bugs in the field hellll na

— nata (@nataaa98) May 11, 2021
Do let us know which place is your choice for the perfect romantic date.
Share Your Views In Comments Below