Sports
Glenn Maxwell's Fiancé Vini Raman Shuts Hater With Befitting Reply For Asking Her To Ditch Him
The Australian cricketer Glenn Maxwell has faced some mental problems in the past but he is back on the field now and pretty happy in life after getting engaged to Vini Raman, an Australian pharmacist of the Indian origin.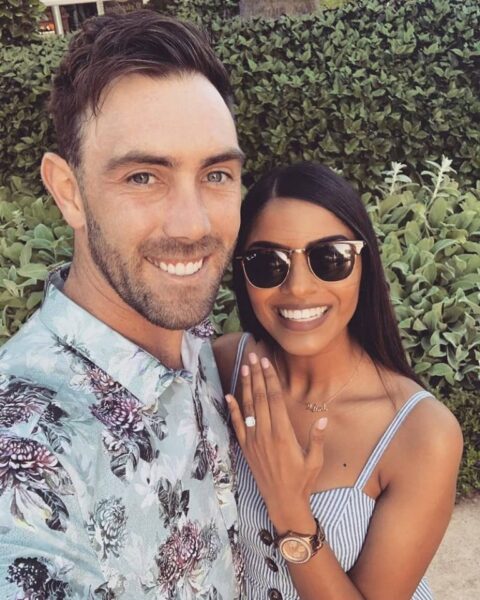 Glenn Maxwell is presently in UAE playing the IPL 2020 as he is a part of Kings XI Punjab. Recently his fiancé Vini Raman took to Instagram and posted a photo in which she is seen with Maxwell.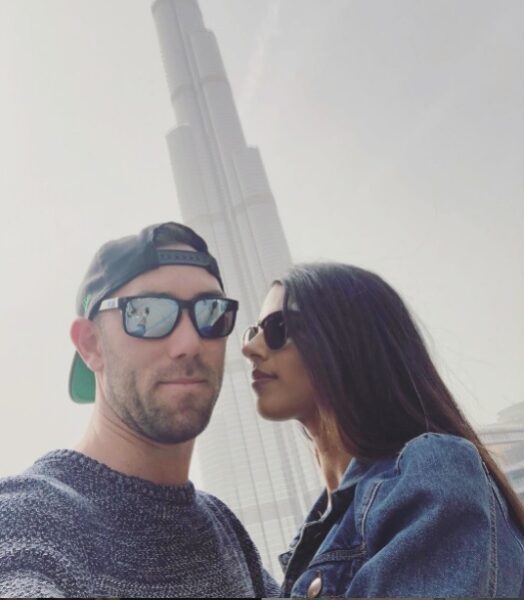 She captioned the post, "Spending another weekend in lockdown but wishing I was in the UAE. 4 weeks down, ? to go".

Here is the post:
While the photo was loved by fans and likes, comments and love started pouring soon, there was one hater who asked Vini to ditch the mentally troubled Aussie cricketer and find an Indian guy.
Here is what the hater wrote, "Ditch the mentally troubled white boy @vini.raman .. You don't need to feel sorry for the poor dude… Get an Indian guy you sell out."

Vini was in mood to remain silent and she decided to give a kickass answer to the hater. She wrote, "Clearly fishing for a reaction so I'll give it to you. Unlike you, I don't see colour, I can love someone regardless of their nationality or ethnicity and that is completely my choice. I don't have to base my life decisions on the opinion of a faceless random on the Internet and I surely don't have to justify it. If you don't like what you see keep scrolling champ!"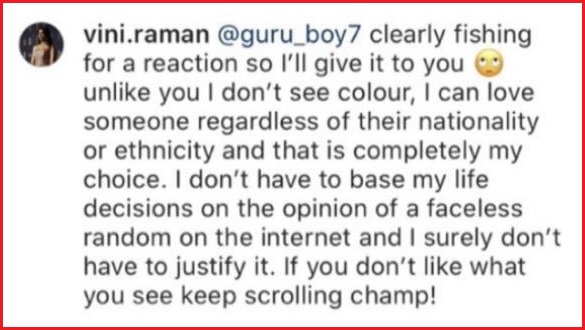 She also posted the screenshot on her Instagram story and wrote that she usually doesn't pay attention to such trollers but she has a lot of time because of the 6 months lockdown so she will like to teach them a lesson. She also makes it clear that just because she loves someone who is white doesn't mean that she is embarrassed of her Indian origin.
Glenn Maxwell also saw the post and praised her fiancé; he posted the screenshot of Vini's post on his Instagram story with caption, "Proud of you @vini.raman. Some people are just genuinely pathetic!!!"
Here is the post: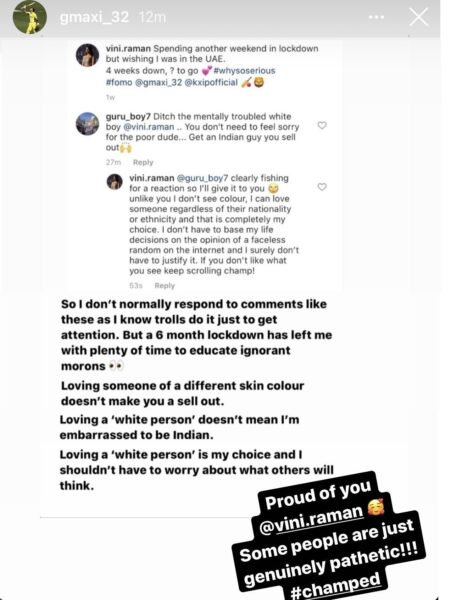 This was certainly a good answer by Vini as love is not bound by color, caste, religion, etc. More power to you Vini Raman!