News
' Go Back To Pakistan' : Muslim Family In Gurgaon Beaten Up By 20-25 Men.
We have always seen how age old British policy Divide and Rule got manifested in various forms, through our human subconscious. As individuals we are so submissive towards this narrow misconception that as human kind we are still reeling under it.
Now, after the recent Pulwama tragic incident, where we lost more than forty of our CRPF jawans, when a SUV filled with explosives rammed into the CRPF convoy, the political and military tensions between the two neighboring nations escalated to a great extant. Even the militant group Jaish-e-Mohammed is based in Pakistan, when they claimed it in a video that went viral afterwards.
Recently, in an alarming event that took place in Gurgaon's Dhamaspur village, more than twenty to twenty five men barged into a home of a Muslim family. They even carried sticks and rods, with which they assaulted the members of that family and even their guests and told them to vacate their home.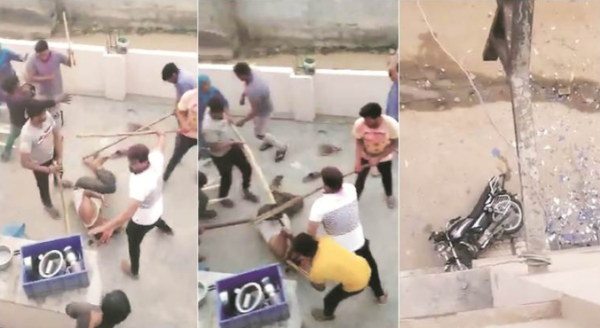 This shameful incident took place at the home of Mohammad Sajid who has been living there along with his family for the past three year. He hails from Uttar Pradesh and is currently residing in Gurgaon with his six children and wife Sameena.
According to Sajid's nephew Dilshaad, on Holi evening they were playing cricket outside, when some people approached them, demanding and stating 'go to Pakistan and play'. According to the police FIR, this incident took place around 5pm.
Dilshaad stated 'Two unknown men came on a bike and said, 'What are you doing here? Go to Pakistan and play'. They began fighting and when my uncle Sajid intervened, the boy sitting at the back of the bike slapped him and said, 'You wait, we will show you.'
After the FIR lodged with the police, six people were arrested. Police even filed a case for attempt to murder, rioting, unlawful assembly,criminal intimidation, house trespass and voluntarily causing hurt. According to Gurugram police spokesperson this fight broke out over a cricket match. Police even assured that they will arrest the rest accused, based on the video, a family member recorded.
Dilshaad said that after seeing motorcycle-borne men with sticks and iron rods, they ran inside their home but they followed them and started beating them up. Even according to Mohammad Sajid's wife, they fled with many valuables and damaged cars too.
The family is now scared as for the past three years they have been residing their, they never experienced something like this. This shameful and frightening incident has left them very insecure and scared.
Share Your Views In Comments Below