Entertainment
Gordon Ramsay Asks A Thai Chef To Review His Dish. Thai Chef's Reaction Left Twitter In Splits
Chef Gordon Ramsay is one of the most famous celebrity chefs of the world and he is known not just for his culinary skills but also for the manner in which he roasts cooks for the dishes that they made. He own restaurants and is seen on many cooking TV shows.
Gordon Ramsay is absolutely ruthless when it comes to insulting someone. How can we forget the manner in which he roasted a guy for his medu vada. If that was not enough, he termed khichdi and chicken soup cooked by Priyanka Chopra as dog's dinner.
Well, netizens seem to be quite happy nowadays as the celebrity chef has got the taste of his medicine from another chef.
A throwback video is going viral on the micro-blogging site Twitter in which Chef Ramsay cooked a dish known as pad thai. He wanted to cook this for Buddhist monks and later he asked Chef Chang, the head chef of Blue Elephant which is one of the most reputed Thai restaurants in London, to taste it.
The reaction that Chef Chang gave after tasting pad thai is absolutely priceless and you just can't miss it.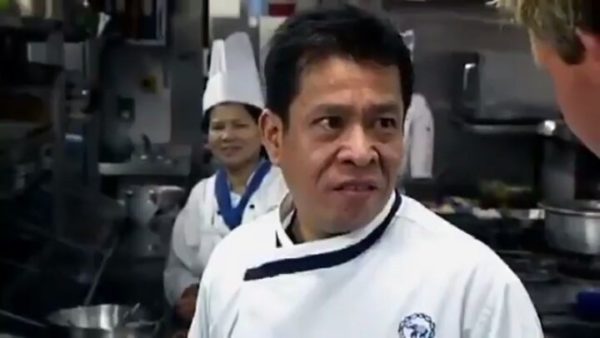 The video clip is from an episode of a TV show The F Word season 5 (2009) and till now it has received more than 82K retweets and over 156K likes.
Here is the video:
YALL IM CRYINGGGGGGGGGG pic.twitter.com/SzTb0kkZYz

— sydnee w (@sydneeW_) April 2, 2018
Click here to watch this video directly on Twitter
Twitterati loved the way how tables turned and Chef Ramsay got to realise how it feels to be roasted. Check out some selected tweets:
1.
For once Gordon gets schooled pic.twitter.com/NjGU3MRqII

— Sycogenesis (@Syco_at_Twitch) April 3, 2018
2.
He wanted to insult him personally so bad but he remembered he was on tv 😂

— Jason Dumas (@JDumasReports) April 4, 2018
3.
He gave Gordon a taste of his own medicine lmao

— pretend whore (@oddblavkout) April 3, 2018
4.
Now throw it in the bin and kick him out of the kitchen!!💀😂😂😂

— Negus (@BlackDirector_) April 3, 2018
5.
This Thai chef needs his own show. 😂😂😂

— Ciku Muiruri (@MissCiku) April 4, 2018
6.
He can't even describe how worst the taste was in words lmfaoooooooooooo 😂😂😂😂😂😂😂😂😂😂😂😂😂😂😂😂😂😂😂 pic.twitter.com/Rr1tWVtcMs

— pj (@pjaaaal) April 3, 2018
7.
— Iddin (@AmIrAhmad_) April 3, 2018
8.
This episode was GOLD – Gordon yells at people for getting risotto wrong but can't wrap dumplings for a basic dim sum lunch 😂

— Madeleine Kendrick GAHRI (@MIKendrick94) April 3, 2018
9.
— witness. (@madeincinci) April 4, 2018
10.
That "Hmmmmm" after Ramsey responded to his "what do you want to know from me" KILLED ME 😂😂😂

— Sāvion (@SavionWright) April 7, 2018
11.
That face says it all 😂😂😂 pic.twitter.com/GvDQ2OKgN6

— Amnesia (@AmnesiaNicc76) April 3, 2018
Doesn't it feel funny watching something like this happening with Chef Ramsay? What do you say?
Share Your Views In Comments Below