Humour
Gram Panchayat Candidate Promised Virat Kohli As Chief Guest. Gets His Duplicate Instead
India and elections go hand in hand; some or the other elections keep happening. Even National level elections are known for their campaigns and unique symbols. Party workers strive hard to win the race.
Recently, a meme from Grama Panchayat elections in Maharashtra has gone viral. Every party needs to lure voters & for that, they try hard to give them something unique.
The poster of Ramaling Development Panel is the talk of social media. The Gram Panchayat candidate promised voters that Virat Kohli would be the chief guest for the campaign. They even put up a confirmation poster with Virat's photo.
They did so because the party's symbol is bat and Virat is an excellent batsman. Most of the people gathered there only to see the batsman. However, we all know that it's not so easy to invite leading cricketers as chief guest.
Now that the party had no option, they called in duplicate Virat Kohli. LOL, he looked nowhere close to the cricketer.
Here's the. We can see actual Virat's picture on it; this is what must have attracted voters too.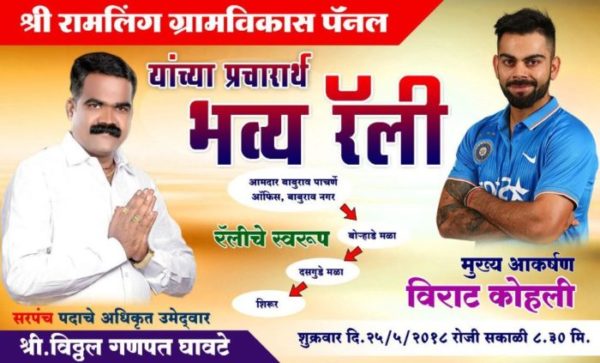 They had written in BOLD that MAIN ATTRACTION IS VIRAT KOHLI. But here's who came instead…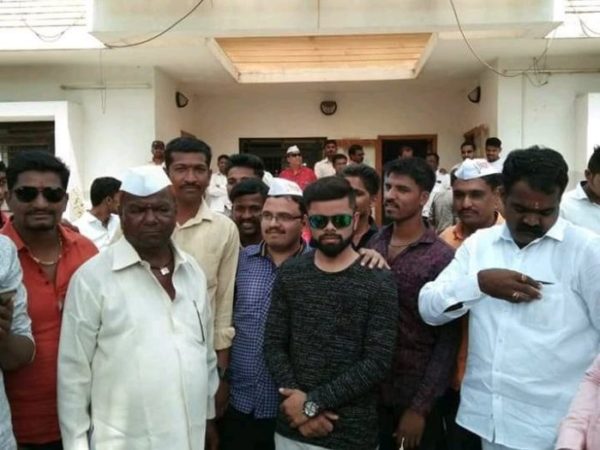 Twitter had fun over this expectation v/s reality incident and they couldn't stop joking over it.
Firstly, this Twitter user pointed out!
So this actually happened. They put up an election rally ad saying Virat Kohli is going to campaign for us and they actually fooled public by bringing a lookalike of Virat Kohli 😂😂😂😂😂 pic.twitter.com/Xl9GvAVi2W

— Alexis Rooney (@TheChaoticNinja) May 25, 2018
Ghar se nikalte hi!
Ghar se Kuch Dur
nikalte Chalte
hi.. hi.. pic.twitter.com/mx9pqdexkP

— Su$hVichaR (@Msush15) May 26, 2018
Thank God!
hope at least original candidate turned up not a look alike 😂😂😂

— drupad shastri (@DrupadShastri) May 26, 2018
Out of the box!
That's out of box thinking!!

— UTSAV GUPTA (@utsavgupta94) May 26, 2018
I am in tears!
I'm in tears 😂😂😂😂😂😂😂

— Moosa (@mooserbaer) May 26, 2018
Garibon ka Kohli!
Garibon ka Virat Kohli… 😂😂😂 pic.twitter.com/3VPX5YZKZD

— Hunter (@Hippiezippie) May 26, 2018
Shit happens!
Lmafo 🤣 wonder people will still vote him, shits happens only in india

— Iam.nash (@nashELPATRON) May 26, 2018
LOL, such things can happen only in India. He made our day by fulfilling his promise in a hilarious manner.
Share Your Views In Comments Below