Sports
"Great Friendships Should Remain Intact, IPL Will Miss Dhoni-Raina Camaraderie" Says Kambli
The mega-auction for the IPL 2022 has indeed got over but many cricket lovers are still discussing about it, especially about Suresh Raina aka Mr. IPL who went unsold in the auction. Suresh Raina who has scored 5528 runs in the IPL is the fourth highest run-getter of the league and the highest run scorer for Chennai Super Kings. What has baffled many cricket fans is the fact that CSK didn't even bid for the cricketer who had been associated with it for the last 12 years and had played an instrumental role in 3 out of 4 title wins of the team. The CSK fans call Suresh Raina 'Chinna Thala' and the bonding of Raina with CSK skipper MS Dhoni, both on-field and off-field, was also loved by them.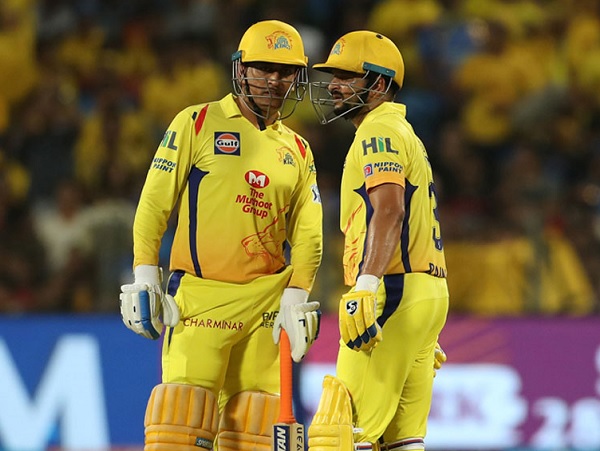 Many fans were disappointed and disheartened after CSK snubbed Suresh Raina and some are even slamming the skipper MS Dhoni for not bidding for the left-handed batsman. A number of former cricketers have also expressed surprise over the fact that Suresh Raina was not bought by any franchise and former cricketer Vinod Kambli is also one of them.
Recently Kambli took to the Indian micro-blogging site Koo and shared his opinion. He stated that not only Suresh Raina will be missed in the IPL but the camaraderie between him and Dhoni will also be missed. Kambli laid emphasis on the fact that great friendships should remain intact.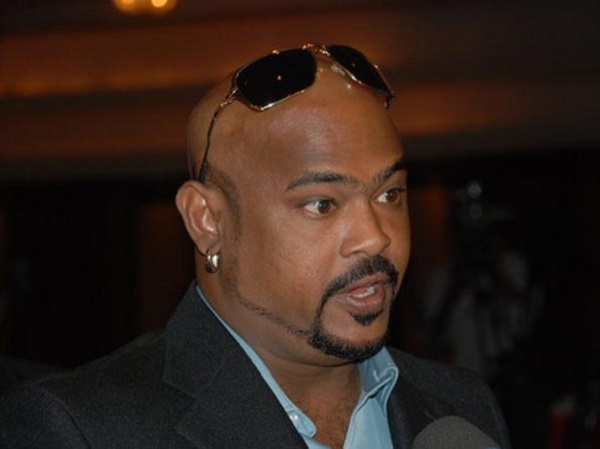 This is what Vinod Kambli wrote, "Suresh Raina #chinnathala who played for Chennai and has been a prolific scorer goes unsold at IPL. We will miss him at the league and he deserves to get a good farewell. IPL will surely miss the camaraderie between Dhoni and Raina. Great friendships should remain intact. #thala and #chinnathala irreplaceable for Chennai."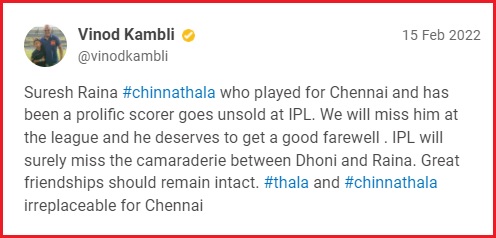 However, the CEO of CSK Kasi Viswanath tried to justify their stand of not bidding for Suresh Raina. He stated that it was difficult for them to leave out Suresh Raina who was an integral part of the squad for last 12 years but one should understand that form is one of the basic considerations for team composition and because of this, they felt that Suresh Raina would not fit in the team.
There are many who are of the opinion that CSK not bidding for Suresh Raina was an obvious move because he was out of form in the IPL 2021 and he is also not playing in any other form of cricket since his retirement.
What are your views in this regard? Share with us.
Share Your Views In Comments Below