News
Groom's Friends Make Bride Sign Contract Before Marriage To Allow Him To Play Cricket
Cricket is not just a game but a religion in our country so it's quite obvious that Indians love to watch and play cricket, talk about matches in detail and some are even very much attached to their favourite cricketers. In fact for many people, their lives are incomplete without cricket and they ensure that they play it whenever they get time.
Hariprasad from Theni, Tamil Nadu, who is a professor in a private college is one such person for whom cricket is an important part of life and he won't be able to live happily if he is not able to play cricket on weekends. However, friends of Hariprasad were afraid that many changes would come in his life after marriage and he might not be able to play customary cricket matches which could affect him in an adverse manner.
His friends came up with a unique idea as they bought a Rs. 20 stamp paper and got it signed by the bride before the wedding rituals were carried out. Hariprasad got married to Pooja on Sunday and friends of Hariprasad put forth one condition for her if she wanted to get hitched to the man and that was to sign the stamp paper on which it was written, "I, Pooja, hereby allow Hariprasad to play cricket on Saturday and Sunday for the SuperStar Cricket team."
Take a look at their pic: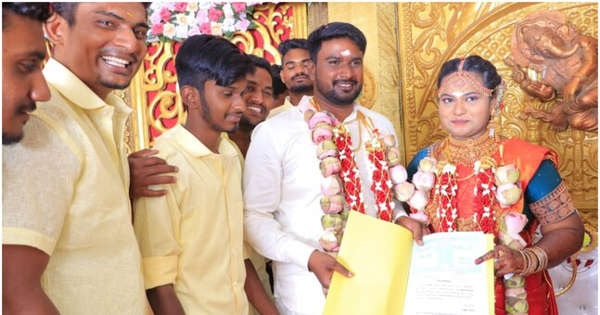 Pooja didn't delay even for a second after reading the contract as she was completely fine with it and the couple even posed with the contract.
Tamil Nadu groom's friends get contract signed by bride before wedding. Here's what it says https://t.co/9agsvtI6ai

— Arumugam (@dmrarumugam) September 13, 2022
India is a cricket crazy nation and there is no denying the fact that life changes a lot after marriage but one should take out time to pursue his/her passion throughout life. What do you say?