Fashion
Gucci Launches Fake Grass Stained Jeans At A Huge Price Of Rs 88000, Twitter Goes WTF
There is no denying the fact the coronavirus pandemic has taught us how to live life by becoming a miser because the future looks uncertain as of now. The economy of the country has been adversely affected, a number of people have lost their jobs, many businesses have closed down or are on the verge of bankruptcy so in these times, it is advisable to spend as little and save as much as possible.
However, some multinationals or rather we should say luxury brands are not bothered with whatever is happening all over the world and they are focused only on selling their items. What is more surprising is that their products don't even seem to be worthy of the price that these companies demand.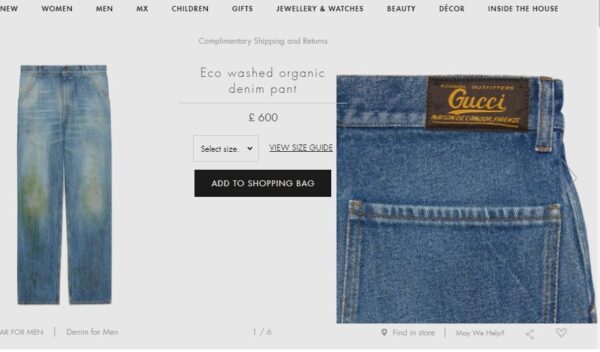 Gucci, the luxury brand, recently launched jeans having grass stains around the knee. This jeans which has been named "Eco washed organic denim pants" by the company is a part of their autumn collection and it gives an impression of fresh grass stains. Such types of stains are pretty common on the jeans of those kids who play outdoors, especially in the parks or the fields. You will be shocked to know the cost of these jeans which have been priced at $1200 which comes to Rs. 88,000 approximately.
Well if you are finding it difficult to believe, we have something more to tell you, Gucci has come up with denim overalls with grass stains and they have priced it at $1400, i.e., Rs 1.02 lakhs approximately.
Gucci denim overalls with grass stains. No. Just, no. pic.twitter.com/hs1SIT7zuj

— Becky, Baroness of Bunzy (@BeckyBunzy) September 21, 2020
Twitterati soon lost its cool and this is how netizens reacted over it:
#1
Throwing myself down a hill with some wranglers on is now considered fashion. I have officially become stylish https://t.co/nsXfu4YOWy

— Joe Paracsi (@JoeParacsi) September 22, 2020
#2
Pay me 400 and ill push someone down in the lawn to get you some stained jeans.

— Stephen Jacobson (@jacobssm01) September 22, 2020
#3
Gucci selling grass stained jeans for £600. They weren't Gucci but as a kid playing Football with mates I had many pairs of trousers that looked like that, at a fraction of the price. pic.twitter.com/CT012r5N86

— Andrew (@officialDB3K) September 22, 2020
#4
Today's kids are so soft they can't even go out back and grass stain their own jeans

— Tim Edwards (@TimEdwards17) September 22, 2020
#5
For people who would never get a real grass stain

— Kyle Lacey (@klace32) September 22, 2020
#6
I will put grass stains in your jeans for a small $800 instead, saving you $400 and making sure you get that trendy look you rock so well. https://t.co/fPXmKNPbNp

— azlancat 🦁 (@azlancat) September 21, 2020
#7
Back in the 90's I had like 20 pairs of these

— Grex (@Grex83168908) September 22, 2020
#8
All of my jeans looked like this when I was a kid.

Todays pacified soy boy generation has to fake playing outside. How pathetic.

— Joe Sunshine (@JoeSunshine6) September 22, 2020
#9
Could probably go find some from my childhood that would fit the type of people that would actually buy these

— Kyle Heim (@kyleheim10) September 22, 2020
#10
Wish my mom would keep my jeans when I was little 😂😂 https://t.co/a76zURLUeE

— ZBO 🤙🏽 (@zbodkins14) September 22, 2020
#11
Could have made a fortune off me old jeans if my mother had kept hold of them 😑 https://t.co/IL8ulPLvCT

— There'sOnlyOneJL (@JLKondabeka) September 21, 2020
#12
and this is called making money off of stupid people https://t.co/ykADT5JB0O

— liv🤠🤩🦋💞🌺✨ (@liivpezzulo) September 22, 2020
#13
I don't get it.

Grass-stained…?

Just go roll in some grass… you'll get it for free smh 😂 pic.twitter.com/8XyKhNNAXh

— Mehek 🥀 (@mehek_butt) September 22, 2020
#14
Now im pissed at mom for throwing [email protected] mine away…. I bet they're even more valuable with holes

— Landon Mccoy (@lrmccoy3393) September 22, 2020
#15
I can do for $50…..grab my lawn mower….cut my lawn….then roll around in the fresh cut grass

— Norman Flowers (@NickMar89101619) September 22, 2020
Are you going to buy the grass stains jeans or denim overalls or rather you will prefer to roll on the real grass?
Share Your Views In Comments Below