Humour
Guests Didn't Give Money To This Little Pak Girl; How She Complained To Mom About It Is Damn Cute
It's a general practice at many families that whenever guests come at home, they give some money to small kids as a gesture of love and affection.
It won't be wrong to say that the families where this custom is practiced, children naturally have hopes of getting something from guests when they come or depart; however sometimes, only the youngest one gets money from guests and not the elder one. This undoubtedly doesn't go well with the elder kid and he or she gets miffed with it.
The same happened with a little Pakistani girl named Fatima who got very much upset with the fact that guests gave money to her younger brother and not to her while leaving the house.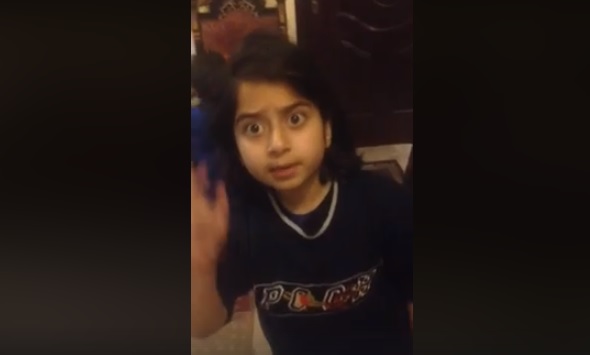 In a video posted on Facebook, Fatima is seen in an angry mood as her mother wants her to help in cleaning the house and managing things after guests left but she is in no mood to assist as guests gave her neither any gift nor money. Fatima tells her mother to take help from her younger brother as guests have given him money.
Fatima's mother tried to pacify her and said that her brother got it from guests as he is the younger one, adding that guests used to give her money too when she was the youngest.
To this, she demanded all her money and when her mother said that she spent them, she accused her mother of looting her money like Shehbaz Sharif, Maryam Nawaz and Nawaz Sharif looted the country. This all takes a hilarious turn and eventually her mother gives up, saying that she would clean it all herself.
Watch The Video:
Click here to watch this video directly on Facebook
LOL 😀 Isn't she damn cute? Have you seen any such kid?
Share Your Views In Comments Below