Food
Gujarat Man Makes Oreo Pakodas, Angry Foodies Say "File A Case Against Pakoda Wala"
We have come across many weird dishes in the past couple of years such as maggi milkshake, ice cream dosa, maggi biryani, kulhad pizza and so on and it won't be wrong to say that majority of dishes make us wonder as to how people even thought of cooking them, leave aside gathering courage to taste them. Well, if all those experiments were not enough to make people doubt on the existence of humanity, now a video is going viral on the Internet and social media in which a person is seen cooking Oreo pakodas.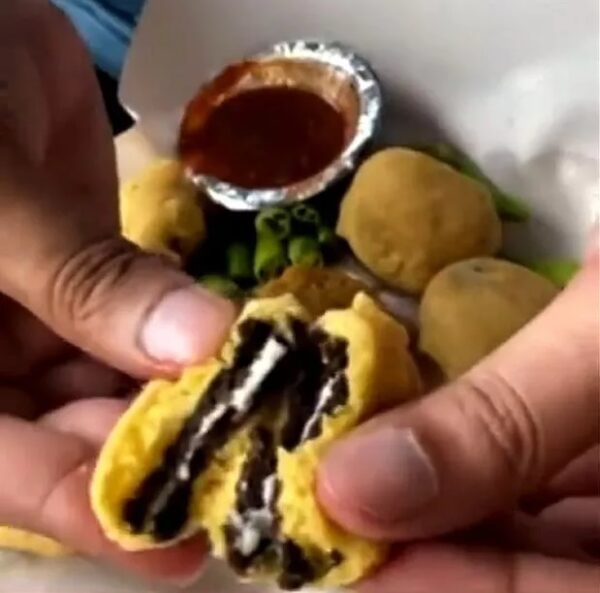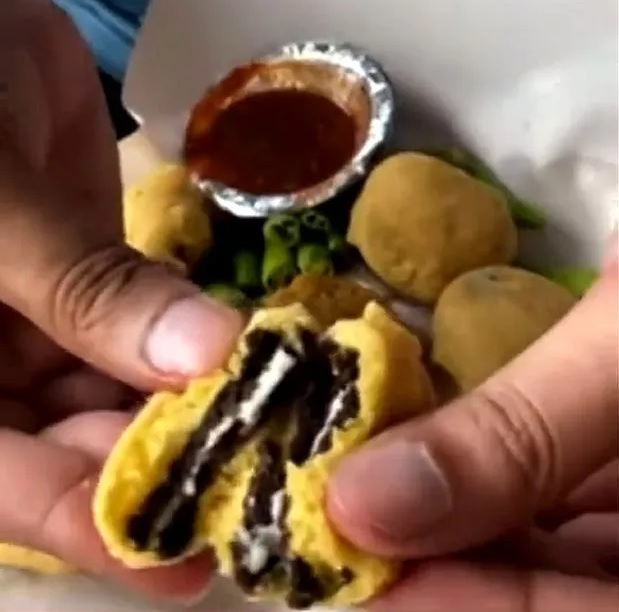 Yes, I got the same expression as you have and I feel that I would never dare to taste them!
Pakodas are one of the most loved snacks of Indians and they have various varieties such as aloo pakoda, pyaaz pakoda, gobhi pakoda, mirch pakoda, bread pakoda, and a lot more but this is the first time we have stumbled upon Oreo pakoda.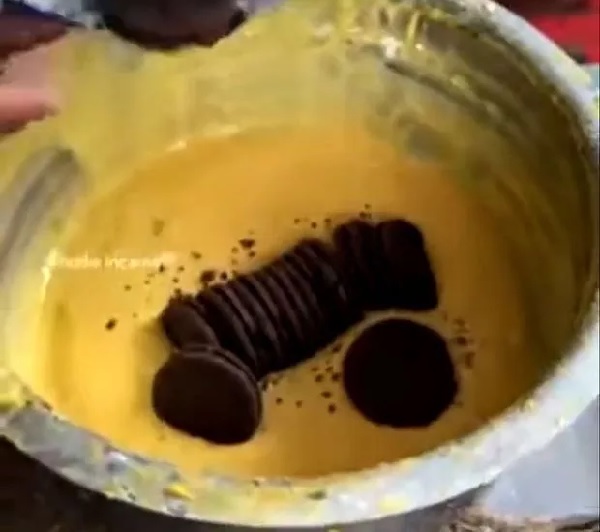 The video which is reportedly shot in Gujarat's Ahmedabad has been uploaded on the YouTube channel of a food blogger Foodie Incarnate and a clip from the video is getting shared extensively on the micro-blogging site Twitter. In the video, the man opens a packet of Oreo biscuits and drops all the biscuits in the besan batter.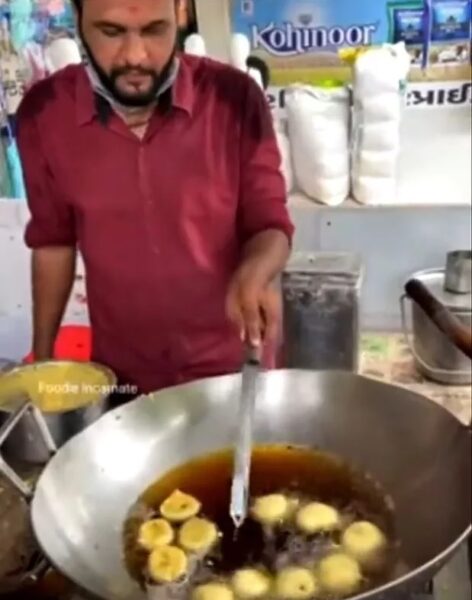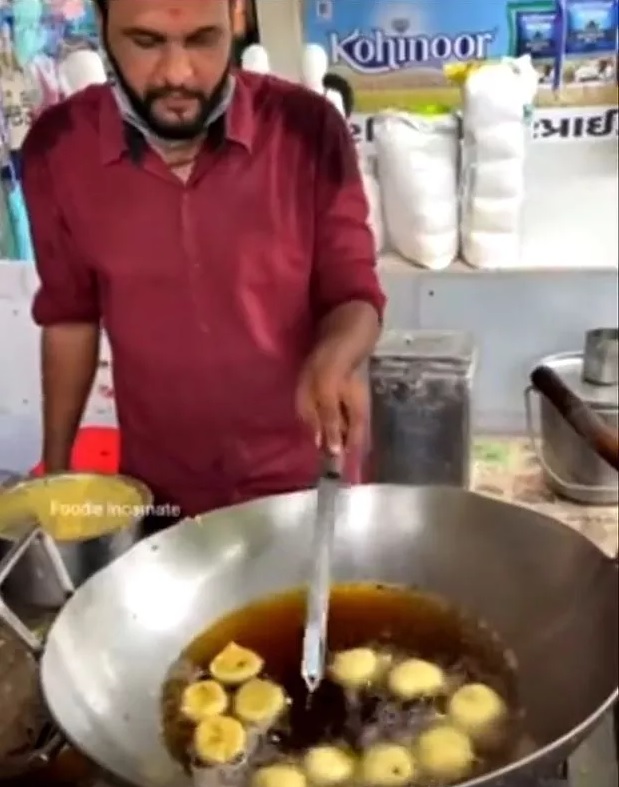 After soaking the biscuits in the batter, he deep fried them for 5 minutes and served the pakodas with chutney and fried chillis. The food blogger was very confused and perplexed after seeing Oreo pakodas getting cooked but he was determined to taste them!
Here you can watch the video:
Oreo ke pakode😱. from Ahmedabad, Gujarat. 😭😭 pic.twitter.com/Sb6fjYr7m0

— raman (@Dhuandhaar) November 6, 2021
Click to watch this video directly on Twitter
Soon the video went viral and foodies started reacting on it. Netizens slammed the man for making Oreo pakodas and many of them even asked to stop coming up with dishes like this before they start hating Oreos. There were several online users who stated that having fried Oreo is normal in USA but they never thought of seeing it served with fried chillis and chutney. On the other hand, there were few who were not Oreo fans so they thought that this is an improvement in the biscuit.
Here are some selected reactions:
#1
I respect people's food choices but please stop bringing Oreo ke pakode on my TL. 🥺

— Anamika (@HiAinwe) November 6, 2021
#2
Hell yeah, who even does that? 🤷🏻 Oreo pakoda is a disgrace to the pakoda community (specially the paneer one) and it SHOULD NOT BE TOLERATED!!

— ً (@SuccusEntericus) November 6, 2021
#3
This is one of the main reasons, I ran away from Gujarat. Their food tastes horrible 🤢

— Arindam Chatterjee (@Chef_arindam) November 6, 2021
#4
🥲🥲🥲
Na Oreo khanaai layak na pakodai 🥲🥲 https://t.co/WTMpLgdL8X

— Anam😎😎 (@Anam84900181) November 6, 2021
#5
Please stop this before i start hating oreo. For god sake🤬 https://t.co/CXGIycImCO

— Shreyansh 🙏 (@HajareShreyansh) November 6, 2021
#6
Will file a case against Pakoda wala for ruining the Taste of Pakoda and Oreo Biscuits 🤦‍♂️🤦‍♂️🤦‍♂️🙄🙄🤮🤮 https://t.co/F1yCEAGUAF

— Sobhan (@slb_cool) November 6, 2021
#7
fried Oreo and chili my stomach won't be able to handle that 😮‍💨 pic.twitter.com/qrxlJipzDm

— V8 🍔 (@CEO_V7) November 6, 2021
#8
Gujarat seriously needs to be cancelled from Indian map… They spoil each and every good food. Cheese on idlis, oreo cookies, chat made with Rosagulla. Kya chutiyapa yeh log karta hai… https://t.co/AnjwsHzlPO

— Shree G (@sg_birdomaniac) November 6, 2021
#9
All kinds of chutyapa can be found in Gujaratis

— ❎❎BAN BJPEE❎❎ (@AkramQuadri3) November 6, 2021
#10
What?!
Without kothimbir in the batter!!

Next what – Oreo Fafda? https://t.co/FPJXQz3fNE

— Rakesh Sharma (@rakeshfilm) November 6, 2021
#11
im a savlon-ginger cookie & oreo pulav fan and I even I think this is disgusting. borderline blasphemous https://t.co/9e8rsS4RSN

— zeyar (@fraughtiana) November 6, 2021
#12
Absolutely horrific to watch 🤮. Now I hate Oreo and besan. Cannot get this stuff out of my head. Why gujrat why!!!. Hope they don't come up with pizza pakoda😟

— Aniket Vaidya (@Aneekron) November 6, 2021
#13
Look I would've still been fine only with the pakodas but I lost it when they added chillis and sauce on the side 😭😭

— Radha 🇮🇳 (@RK_twuwu) November 6, 2021
#14
They sell deep fried Oreos (among other things) in fairs and festivals in the US too but serving them with green chilis and chutney was just based. https://t.co/rxHB7ApBdA

— Edgar Allan Poeha (@vaniIlaessence) November 6, 2021
#15
On behalf of all the Gujaratis, I apologise. 😢😢🙏🙏

— Meghrajsinh Jadeja 🇮🇳 (@jadeja_m) November 6, 2021
Will you try Oreo pakodas? Well if you do, don't forget to share your experience with us.
Share Your Views In Comments Below