Humour
Guy Enquired About Parked Car To Anand Mahindra. His Desi Hindi Reply Is Hilarious
The chairman of Mahindra group, Anand Mahindra is very active on social media and he keeps on sharing updates about his professional life with his followers.
Recently, he posted a pic of himself with his new possession TUV300 Plus and we have to admit that it is quite impressive.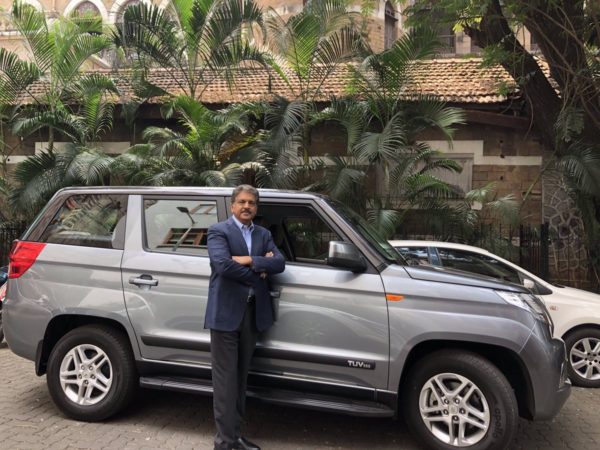 The chairman already has Mahindra XUV500 and TUV300 in his garage and he has named his new possession as Grey Ghost. However, as TUV300 Plus has entered his garage, TUV 300 has to leave as Anand Mahindra is allowed to keep only two company cars. The new TUV300 Plus is very much similar to the standard TUV other than the revised front bumper and wraparound taillights that differentiate both the versions.
She finally arrived..My TUV 300 Plus. My chaps had kept me waiting…But it was worth the wait; they gave me this special steel-grey metallic paint. Yes, I had to give up my TUV 300 Green Monster, but now I have this beauty and I've named her the Grey Ghost.. pic.twitter.com/5Qw62ZdU9t

— anand mahindra (@anandmahindra) October 6, 2018
Twitterati was all praise for new TUV300 Plus and there were some moments of humour as well between the users and the chairman.
One user said that he believed that the chairman must be driving a Mercedes or Audi, to which Anand Mahindra replied that he has always used vehicles of Mahindra only.
I've never used anything other than a Mahindra car… https://t.co/wTWF76Xzof

— anand mahindra (@anandmahindra) October 6, 2018
One Twitter user pointed out the Volkswagen car that was parked behind Mahindra's TUV300 Plus and asked the chairman whether he uses it or it is used by someone else.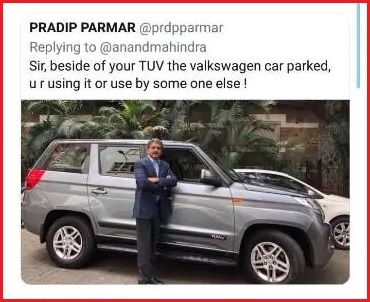 As the photo must have been taken on the road, the chairman Anand Mahindra replied that the route does not belong to his father.

Mere Baap ka raasta nahin hai bhai! 😊 https://t.co/ujNcLyFOHJ

— anand mahindra (@anandmahindra) October 6, 2018
The user instantly deleted his tweet after Anand Mahindra replied but Twitter got impressed with the chairman's sense of humour and this is how netizens reacted:
#1
But Rahul Gandhi can claim same because almost all roads in India either Nehru Road Indira Road or Rajeev Road 😁😁😁

— ✍प्रकाश✍ (@prakashSriv) October 6, 2018
#2
बेशक रास्ता नही है सर, लेकिन रास्ते पर चलने वाली लगभग सभी गाड़ियाँ आपकी ही है !! इस प्रकार से तो रास्ते के आधे बाप का हिस्सा तो बनता है आपका 😊

— भारतीय कवि (@sumeee33) October 6, 2018
#3
Great! Straight and transparent answer for a twisted question.

— Taato Tarul (@TaatoTarul) October 6, 2018
#4
ohhhoo..u hit the Out of the Park Sir…socha nahi tha aap itne majakiya bhi ho skte hai..badiya jvab

— Amar Chaudhary (@A_BAHISARA) October 6, 2018
#5
Haha…loved this sense of humour!

— Road Runner (@iwinfairly) October 6, 2018
#6
Kudos Sir !!👏👏
That's a good reply.
..
.
And this is why I follow you on Twitter.😂😂

— Shriram Moond 🇮🇳 (@shriram_moond) October 6, 2018
#7
😂 Masterstroke

— NiTiN DANGADE PATIL (@NiTiN_D28) October 6, 2018
#8
OMG Thats very robust reply from one of the top corporate head.
I am sure most of your customers will feel correlated. (Except for Delhi-NCR region. Those guyes are from another planet) 😊😊

— Sameer S C (@samratna) October 6, 2018
#9
Waah..sir…tussi great ho ……hahaha.. sahi bolla aapne !!👌👌👌👌👌😂😂😂

— VisualEffectiveSkull (@Priyesh_vk) October 6, 2018
#10
#Next Woh nariyal ka ped aap ne lagaya hai? 😜

— Riz Sk (@ShaikhNabi1) October 6, 2018
#11
Lo bhai, jyada dimag lagane wale, mil Gaya jawab 👍🏻👍🏻 sir abhi feel hua, Aap bhi hum jaise hi hai😄

— swati modi (@swatimodi3) October 6, 2018
We congratulate Anand Mahindra for his company's new vehicle!
Share Your Views In Comments Below