Humour
Guy Received A Text From Unknown No & Gave A Smart Reply, Lost His Job At The End
Whenever we receive a message from an unknown number, we respond by asking "who is this?" and believe us, this is the safest way to handle such situations. However, a person with the Twitter handle @SznVibes decided to respond in another style when he got a text from an unknown number and then found himself in a tricky situation.
This is the text that he received from an unknown number and look how he responded: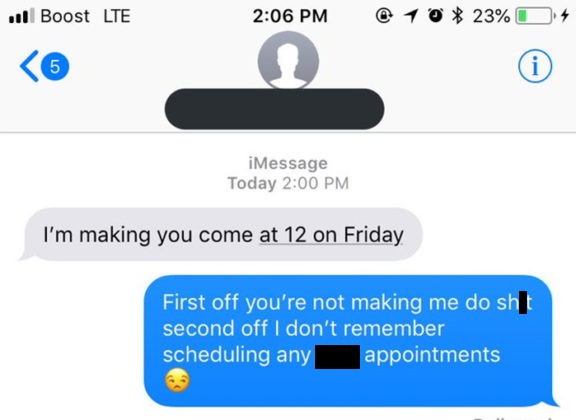 Well, that may have been a perfect reply to any Tom, [email protected] and Harry but that message was sent by his boss and he came to know it when the Boss sent another message: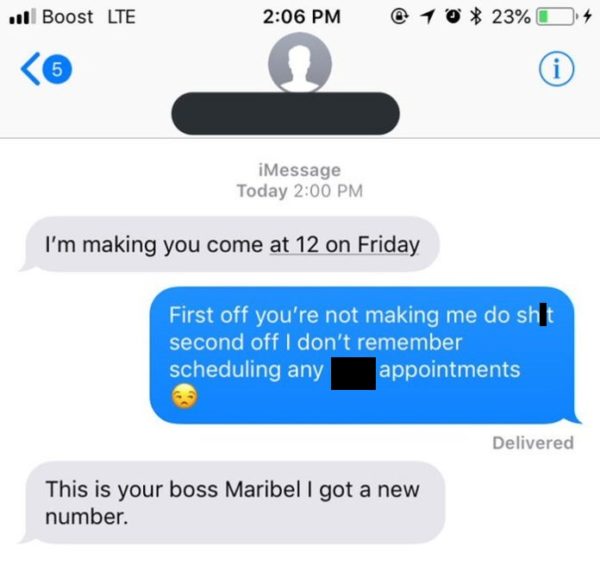 He declared on Twitter:

At this moment I knew I fucked up 😶 pic.twitter.com/DVIOaxnZlW

— 8/19🖤🥀 (@SznVibes) July 16, 2018
And we agree, completely!
Instead to using his own mind and handling the crisis in the best possible manner, he took to Twitter and asked the users to tell him what to do:
Okay I've still yet to respond can someone tell me wtf I say to this 😅

— 8/19🖤🥀 (@SznVibes) July 17, 2018
Twitter gave some ideas, some cool and some insane, as well as expressed their views over what happened and who the guilty was:
Should have replied back "I run a business after work hours I apologize "

— مورجن (@morganelise__) July 17, 2018
pretend she got the wrong number

— Jacqueline🌻 (@bbyguerrilla) July 17, 2018
The only option you have is to change your number as well and act like this wasn't you

— 👽𝕿𝖆𝖎𝖑𝖔𝖓👽 (@Blackbiblegirl) July 17, 2018
"My boy left his phone in my car I apologize ma'am"

Offers another number to reach you

Wait hours reply

"Hey Maribel. I apologuze for my friends behavior. I hope it doesn't cause tension and ill see you at 12.

— Mand Over Matter (@ArmandThePoet) July 17, 2018
'I think you have the wrong number… i just got this number yesterday' now you call your carrier and change your number. Tell her you forgot to give it to her.

— 🖤 Linds (@yesdnilmichelle) July 17, 2018
After I pick myself up off the ground from fainting…I would call during hours and say I apologize ma'am, I thought you were one of my friends pulling a prank on me. 😂😂😂😂

— 🎤Mini Maverick™🌬 (@KeeshaShauntay) July 17, 2018
If they fire you , talk to HR… lol they can't fire you cause of that …lmfao she should've started with this is your boss i have a new number🤷🏽‍♀️😂

— 08.16 🤤 (@gayloner_) July 17, 2018
it is her fault because if she got a new number how you suppose to know it was her in the first place lmaoooo

— lyna (@dayaneraa) July 17, 2018
That was all her fault. Not announcing who she is. Even with her verbiage. "I'm making you come…"? Who says it that way? At the very least "Be at work at noon on Friday"

— THE Lena! (@Lena) July 17, 2018
Well, @SznVibes didn't reply to his boss and it didn't go well as the boss responded for discussing the terms of employment with him.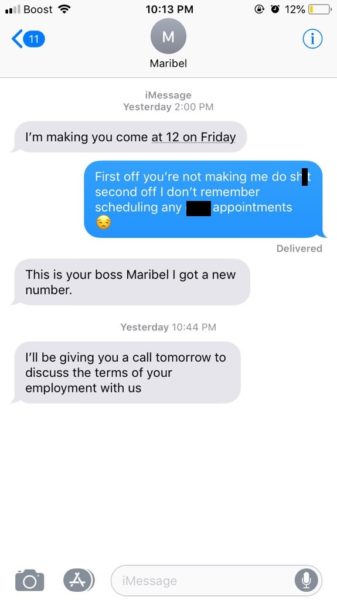 I never responded and she texted me last night and said "I'll be giving you a call tomorrow to discuss the terms of your employment with us"

— 8/19🖤🥀 (@SznVibes) July 17, 2018
He didn't respond to that as well and just showed up on Friday to see what would happen:
I didn't answer when she called and I've come to the conclusion that ima prolly just show up on Friday and see how it goes 😬 pic.twitter.com/9Eegtpf5BV

— 8/19🖤🥀 (@SznVibes) July 18, 2018
Twitter was asking him about what happened and then he told them that he was jobless but it was not because of this goof-up but for the reason that he earned quite good with his music.
If you're wondering why I quit it's because in the last few days just Bc of a few tweets I've made over $3,000 from my music, and it was only summer job I didn't like anyway.🤷‍♂️

— 8/19🖤🥀 (@SznVibes) July 19, 2018
He may not have been serious about the job but guys, you should be careful if you receive any message from an unknown number.
Share Your Views In Comments Below