Sports
Hardik Pandya And KL Rahul Memes Are The Latest Hit On Twitter. You Can't Miss Them At Any Cost
Hardik Pandya and KL Rahul are the latest guys to hit the controversy. Both cricketers shot for Koffee With Karan and thanks to their controversial statements they are really in trouble now.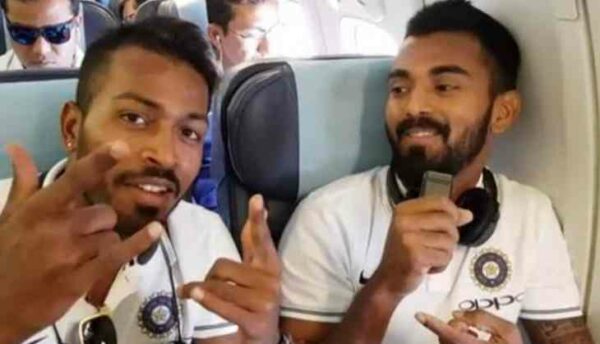 Earlier Netizens slammed both cricketers and BCCI also suspended them. However, what started as controversy has now turned into a "meme fair". Social media is currently busy trolling and making fun of Pandya and Rahul through jokes and memes.
Have a look at some of the most hilarious jokes and memes that will really crack you up.
#1
This is how Parents of KL Rahul and Hardik Pandya reacted after watching the news that Shubman Gill and Vijay Shankar will replace them in #INDvAUS series. pic.twitter.com/swHzdStrSu

— Tamma Tamma Loge (@Gujju_CA) January 13, 2019
#2
Mohammad Azharuddin criticizing Hardik Pandya for not having morals on Aaj Tak. pic.twitter.com/6LzGaXCUuP

— Bollywood Gandu (@BollywoodGandu) January 13, 2019
#3
Okay, who did this? 😂😂😂 … @hardikpandya7 @HardikPatel_ @klrahul11 @RahulGandhi pic.twitter.com/0ZGDcyasak

— INJESTERS (@rockyandmayur) January 12, 2019
#4
😂😂😂😂😂
ROFL@hardikpandya7 pic.twitter.com/DvAfYDen2u

— AMAN 😘😘 (@Aman_SRK4LIFE) January 13, 2019
#5
A rare pic of Hardik Pandya before giving interview in #KoffeewithKaran pic.twitter.com/rJO0bq5e4b

— Kisslay Jha🇮🇳 (@TrollerBabua) January 13, 2019
#6
😂😂😂😂@hardikpandya7 after coffee with Karan and suspension pic.twitter.com/v0Whm6QcL6

— Raj 🇮🇳🇮🇳 SK / VS / MSD (@rajksdhoni7) January 13, 2019
#7
#Hardik pandya right now. 😁😁 pic.twitter.com/WJPUTtBX1w

— Uswal Dhurvey (@dhurvey_uswal) January 13, 2019
#8
Karan johar right now.#HardikPandya #KaranJohar pic.twitter.com/7YhnlFF1OF

— Gulshan Laassi (@gulshanlassi) January 12, 2019
#9
Meanwhile #KLRahul father to #HardikPandya 😂😂👇 pic.twitter.com/DCfdk7ayda

— ViShAl HiReMaTh🇮🇳 (@yoursvishal15) January 12, 2019
#10
Hardik pandya has done something like this on #KoffeeWithKaran pic.twitter.com/3jEQqdBZJq

— Mad king (@GJhamtani) January 11, 2019
Well, Pandya and Rahul might be going through really bad phase of their career right now but social media seems to have really find a topic which they can stretch and discuss for a long time. Do you think it will get over soon?
Share Your Views In Comments Below