Humour
Hardik Pandya Got Run Out In A Careless Manner. Twitter Turned His Epic Fail Moment Into Memes
Every Indian cricket fan must be aware of the ongoing test series which is being played between India and South Africa and the host is already one up in the series after winning the first test match.
The second test match is being played in Centurion and Indian batsmen other than Virat Kohli are struggling in facing the South African bowlers. However, the Indian skipper is standing tall and has scored his 21st century in the test matches.
Hardik Pandya, the talented all-rounder who performed well in the first test match, did try to keep up with the skipper but he got run out in a very careless manner. In fact, the former Indian cricketer Sunil Gavaskar called his mistake "unforgivable" while giving commentary during the match.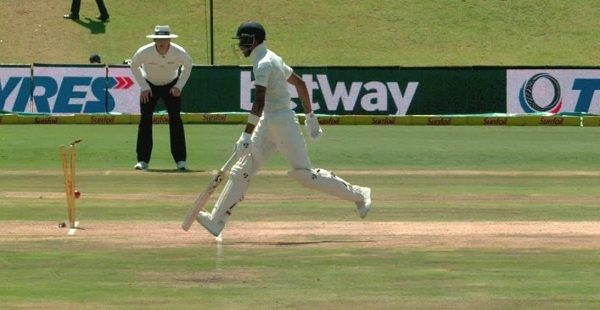 Twitter also slammed the young cricketer for his casual approach as the manner in which he ran for taking the run is something which a batsman should never do.
Here are some selected reactions:
Hard Mondays:
Mondays are hard. pic.twitter.com/uWVVQ0Mf7B

— Trendulkar (@Trendulkar) January 15, 2018
Scene inside the dressing room:
https://twitter.com/hari_durairaj/status/952826879446196224
Result of one night study before exams:
https://twitter.com/1sInto2s/status/952830342699757568
It's called getting run out in style:
Hardik Pandya:

Bats in style
Bowls in style
Fields in style

And gets run out in style as well.#INDvSA #SAvIND pic.twitter.com/KEj5JoJXDI

— Sir Rohit Sharma (@NotThatSharma) January 15, 2018
Alia Bhatt has got a tough competition:
Today Hardik Pandya proved he is more dumber than Alia Bhatt. #SAvIND pic.twitter.com/xcpjuHDKDA

— Waѕiyullah Budye (@WasiyullahB) January 15, 2018
When confidence becomes arrogance:
Early lesson for Hardik Pandya that this game will come to bite you back if you let confidence become arrogance.

— Sanjay Manjrekar (@sanjaymanjrekar) January 15, 2018
Hardik Pandya in dressing room after this:
Hardik pandya in dressing room right now #SAvIND pic.twitter.com/t5WC7LCS8o

— Bhangari Dada (@Bhangari_dada) January 15, 2018
He gifted the wicket:
Just saw the Hardik Pandya run-out, WTF man! 😮😑What a way to gift your wicket #INDvsSA

— S Aadeetya (@aadee_ram) January 15, 2018
LOL 😀
Me trying to fulfill my responsibilities. #SAvIND pic.twitter.com/mf5dyd4NjB

— Nikhil 🏏 (@CricCrazyNIKS) January 15, 2018
This is me when I think I've started early to office and go slowly eventually get slogged in traffic. #Lazyrun #beatenUp #SAvsIND
pic.twitter.com/MRGtSBwkR3 pic.twitter.com/5APqlSxVnM

— Ganesh (@SanjaySekar123) January 15, 2018
Only legends can do it:
Hardik Pandya's runout is stuff of legends 😰😥🙈👏😂🤣

— Dr Amay Yeravdekar (@YeravdekarAmay) January 15, 2018
Schoolboy error:
Schoolboy Error…..could possibly cost India the match. Inexplicable. #SAvIND

— Aakash Chopra (@cricketaakash) January 15, 2018
What do you have to say about Hardik Pandya's run out? Let us know.
Share Your Views In Comments Below