Sports
Harsh Goenka Trolled Rohit Sharma Very Badly. Got It Back From Twitter
Harsh Goenka is known for his arrogant attitude against Indian cricketers. Often, he is seen making fun of them or trolling them brutally. Earlier, his target was Dhoni, but now, he has someone else on his hit list.
Rohit Sharma is always good with his bat, but there are times, when luck doesn't favor him. In the recent test matches & ODIs against South Africa, Rohit Sharma has displayed a weak performance.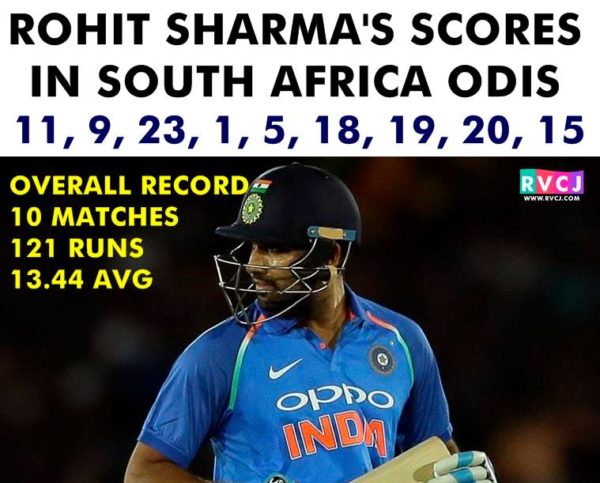 In the first test match, he got scores of 11 and 10, while in the second test match, he got scores of 10 and 47. Talking about the ongoing ODIs, Rohit Sharma got disappointing scores of 20 and 15 respectively.
Seeing his not-so-good performance, Harsh Goenka trolled him on Twitter. He compared him with Mahatma Gandhi & told him how his plans are made in South Africa but actions are displayed in India. By this, Harsh Goenka meant that Sharma can play well only in his homeland.
https://twitter.com/hvgoenka/status/960109248649842688
The tweet read, "Mahatma Gandhi developed his philosophy in South Africa but all his action was in India. Rohit Sharma, the same."
And as usual, he got trolled on Twitter;
The same guy will congratulate!
@ImRo45 will score big in 3rd odi nd dis same guy is going to congratulate him

— Manu Naik (@Iam_Manu21) February 4, 2018
Ye kya comparison hai!
What a fucking moronic comparison! Not only do you steal other unknown people's tweets and post them as yours, now you'll bring "bapu" to Compare a normal indian with him? @mrsfunnybones @akshaykumar @RoflGandhi_ can someone give him a bit of sense please? Tell him to STOP

— 🤔 (@anilarora2004) February 4, 2018
Go and play instead of him!
I think u are a great cricketer go and play in place of rohit

— akash ganapathiraju (@akashpsycho) February 4, 2018
Some abuses!
Abe maa chuda Bhosadiwaale

— Animesh Rishu (@animeshrishu) February 4, 2018
The KRK connection!
Who told KRK account has been suspended I can see his reflection over here.

— Romit patel 🇮🇳 (@Romitpatel_15) February 4, 2018
God knows when Harsh Goenka will stop trolling; we really hope Rohit Sharma comes back to form soon.
Share Your Views In Comments Below