News
Here's All You Need To Know About The Viral Pic Showing Garlands On PM Modi & CM Yogi's Photos
It's a general norm to adorn photos of deceased people with garlands. However, one garlanded pic of Indian Prime Minister Narendra Modi and UP Chief Minister Yogi Adityanath has been going viral on the Internet.
In this photo, some people are seen sitting and behind them, photos of Bhim Rao Ambedkar, Sardar Vallabhbhai Patel, Mahatma Gandhi, Narendra Modi and Yogi Adityanath are hanging on the wall and all the photos are garlanded.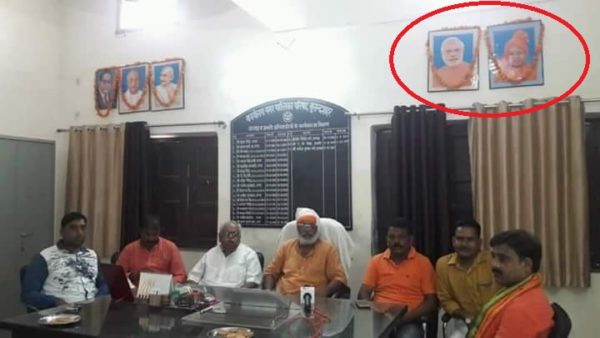 Social media is abuzz with reactions as it is improper to put garland on the photos of those who are alive.
Check out some tweets:
#1
yogi ji or modi ji jinda h or des k liy kaam kr rhe h or y h un ki pirty k neta un ko mare pr tule huye h jinda logo ki photo pr hi mala cda di pic.twitter.com/VJlizEHey9

— utsav saini (@utsavsaini6) August 16, 2018
#2
Sir ji kya baat hey Modi ji & Yogi ji ki photo per mala cheda di. pic.twitter.com/ontxaBblly

— Abhay (@Abhay31323805) August 16, 2018
#3
BJP ko sayad 2019 ka result pata chal gaya hai ..
Isliye modi ji aur yogi ji pe avi se phul mala chada diya hai pic.twitter.com/f9woaFMaO0

— NAM0 M0DI (@naredamodi) August 16, 2018
#4
Bulandshar m modi yogi ki photo pr bhi mala chada di BJP walo ne pic.twitter.com/3EI37lYXMH

— Rehan Ahmed (@RehanAh33689795) August 15, 2018
#5
@myogiadityanath @MpDrBholaSingh just check he had put garland on modi ji and yogi ji pic.twitter.com/jKpyf6pip2

— lalit (@lalitgoyal45) August 16, 2018
#6
Ajab Gajab modi yogi ki photo par aaj bjp sansad ne mala taang di.

— indermeet (@deepusahani31) August 15, 2018
#7
Bjp ke buland shaher ke nagar palak ke adhyakch ne modi Aur yogi ke photo par Maal charha di, abhi jo death kar gaye hai unke photo par mala kyou nahi charbate kutto bilkul aise hi A. P.J Abdul kalam ko ye kutte Mar diye jinde aadmi ki photo par mala charha k pic.twitter.com/psC0JGlLOT

— Mohseen F Khan (@mohseen_f) August 16, 2018
#8
Modi ji aur yogi ji pr b maala daal di 😂 pic.twitter.com/Cydl2SR4gE

— Krrish 4 Indian Avenger🕺🏻 (@SyyedAaftab) August 16, 2018
This photo is from the office of Nagar Palika Parishad, Bulandshahr, and the person sitting in the middle on the big chair is Chairman Manoj Garg who is also from BJP.
The photos were garlanded on the occasion of 15th August when the Indian Independence Day was celebrated. The officials noticed the mistake when the pic went viral and the garlands were removed.
As per the Executive Officer, an enquiry has been ordered into the matter, report will be submitted within three days and the person responsible for the goof-up will be punished.
Well, big mistakes like this should be avoided by the government officials, what do you say?
Share Your Views In Comments Below