Sports
"He's Not Virat Kohli," Riyan Parag Heavily Slammed For His Attitude & Behaviour During GTvsRR
Rajasthan Royals lost to Gujarat Titans in the first qualifier of the IPL 2022 which was played yesterday at Eden Gardens, Kolkata and now RR will need to win the second qualifier if it wants to play the finals of the tournament. While GT cricketer David Miller made headlines for his blistering knock of 68 runs (38 balls, 3 fours & 5 sixes) which he played against his former franchise, the RR cricketer Riyan Parag was in news for all the wrong reasons and he also got slammed by netizens and cricket fans for his attitude.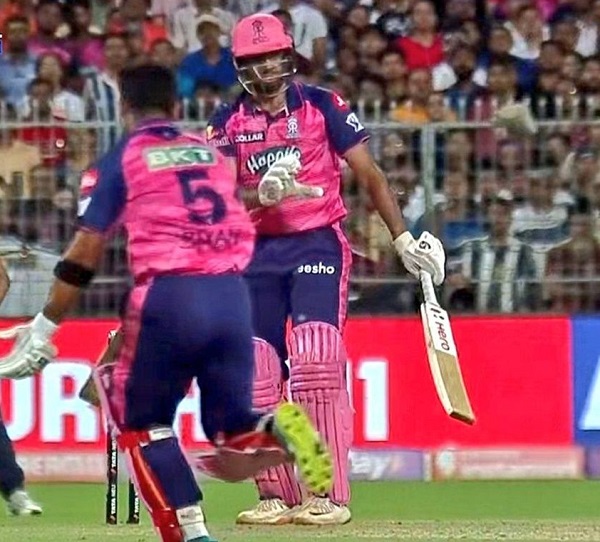 There were two incidents which made some fans very angry with Riyan Parag – the first one happened on the last ball of the RR innings when Ravichandran Ashwin was at the striker's end and Riyan was on the non-striker's end. The last ball which was bowled by Yash Dayal went wide and straight into the wicketkeeper's hand but Riyan ran fast to take a single; however Ashwin stood his ground as there was no single and as a result, Riyan got run out. What irked cricket fans the most was that Riyan gave a d*ath stare to the senior cricketer Ashwin despite the fact that there was no run and Ashwin was at no fault.
The second incident took place when Riyan Parag saved a boundary by diving but he fumed at his teammate Devdutt Padikkal for not collecting and throwing the ball swiftly.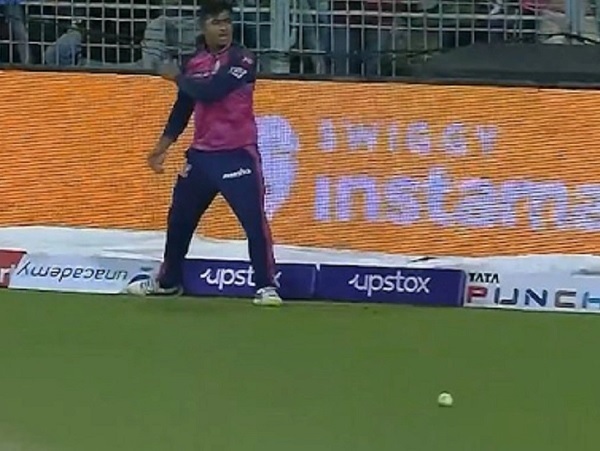 Here is the video of the incident:
@ParagRiyan check ur stats in batting ur calling urself finisher /alrounder all u do is catch practice pic.twitter.com/TInt2B0Gud

— retired Indian fan (@Sivasakthisrini) May 24, 2022
Click to watch this video directly on Twitter
While some praised Riyan for his energy, the majority expressed their unhappiness over his behaviour and attitude. This is not the first time that Riyan Parag has been slammed by netizens, earlier he got into fight with Harshal Patel and mocked umpires. Even former Aussie cricketer Matthew Hayden was not happy with Riyan Parag's behaviour when he mocked the umpires.
Check out some of the selected reactions
#RRvGT #GTvRR #IPLplayoffs
Riyan Parag got to fix his attitude for a successful long run fr pic.twitter.com/RK5Gio8mRj

— Kaur rmn (@theHeartyouOwn7) May 24, 2022
Riyan Parag has the attitude of Virat Kohli and the skill of Riyan Parag.

— Gabbbar (@GabbbarSingh) May 24, 2022
I wish my employers will hire me for the reason Riyan Parag is hired for RR. Full on entertainment, no work load, sledging seniors at times, and dance ofcourse

— The Vipul Vaibhaw (@vipul__vaibhaw) May 24, 2022
This riyan parag literally abused harshal Patel, padikkal, siraj

Mocked umpires unwantedly and didn't even got punished for it, Staring Ashwin as if it is Ashwin's mistake

Pipe down boi, you're not replicating Virat, you're way worse than krunal.

— Marc Spector (@sylesh146) May 24, 2022
Garba Queen Riyan Parag attitude is like he scored 700+ runs 😂#GTvsRR #RRvGT #riyanparag pic.twitter.com/Iw6eOmtZIa

— चारsauबीस (@charsau20) May 24, 2022
Riyan Parag will never make it to indian team with this attitude

— time square 🇮🇳 (@time__square) May 24, 2022
Lmao Ashwin consider himself as better Batsman than Riyan parag 😂😭 pic.twitter.com/iJqdtB6XXt

— ANSHUMAN🚩 (@AvengerReturns) May 24, 2022
Riyan Parag starter pack.#GTvRR pic.twitter.com/ZZU7f98ZHU

— ㅤ ㅤ ㅤ ㅤ ㅤ ㅤ ㅤ ㅤ ㅤ (@theesmaarkhan) May 25, 2022
No offense but riyan parag is the most immature youngster in the ipl according to me I'm sorry

— Jenga (@toohotasummer) May 24, 2022
Any petition to send Riyan Parag back to school for some basic manners learning #RRvsGT

— Anindya SenChoudhary (@Anindya0703) May 24, 2022
He is equal to Bangaladeshi players when it comes to attitude on umpire senior player whn seen performance it's non! #riyanparag @rajasthanroyals

— Fareez.Ahmed (@FareezAhmed5) May 25, 2022
#riyanparag was trying to show ashwin that he is bastman and ashwin is bowler, so ashwin should give strike to him so that he can hit big six in last ball. But Infact ashwin can hit more big shots than parag😂.
We all saw that in csk match where parag scored 10off10 balls

— Abhishek Bhattar (@ABHISHKBHATTAR) May 25, 2022
As far as the match is concerned, the toss was won by GT and it asked RR to bat first. RR managed to put up a good total of 188/6 with the help of Jos Buttler's 89 runs (56 balls, 12 fours & 2 sixes) and skipper Sanju Samson's 47 runs (26 balls, 5 fours & 3 sixes). Though GT lost opener Wriddhiman Saha quite early for duck, Shubman Gill (35 runs, 21 balls, 5 fours & 1 six) and Matthew Wade (35 runs, 30 balls, 6 fours) stabilized the innings, it was David Miller who ensured that his team went home as a winner. The GT skipper Hardik Pandya also made a useful contribution as he scored 40 runs not out (27 balls, 5 fours).
Royal Challengers Bangalore and Lucknow Super Giants will clash against each other in the eliminator today which is also going to be played at Eden Gardens, Kolkata.
What is your take on Riyan Parag's antics?
Share Your Views In Comments Below