Bollywood & TV
Hina Khan Borrowed Clothes For Bigg Boss 11. Renowned Stylist Gives All Proofs
Hina Khan who was once known as the ideal Indian bahu – thanks to her character of Akshara in TV serial Ye Rishta Kya Kehlata Hai has seen a complete perception makeover.
Since the day she has entered the Bigg Boss house, it has been a 180-degree transformation for her. The audience has seen a totally opposite shade of her character and needless to say they are hating it.
Hina Khan with her daily activities has become one of the top controversial faces of Bigg Boss. Every day, there's some news related to her and the reason is never positive.
Lately, Hina Khan has hit the news as she has been slammed by a renowned stylist Neerushaa Nikhat for wearing borrowed clothes in the house.
Hina Khan has always been noted for her style statement inside the house. She has never repeated clothes and is always seen in something new.
It all started when Rohan Mehra entered the Bigg Boss house and said that Hina Khan's fashion sense has become a point of discussion outside the house and masses are liking the way she wears.
Vikas Gupta has also revealed that Hina has brought 150 nightsuits on the show. This irritated the stylist Neerusha Nikhat who slammed her on Twitter and also revealed that she's been wearing the borrowed clothes on the show.
She tweeted-
My dear @rohan4747 @eyehinakhan style icon 😂😂😂 150 night suit 50 pair shoes 100 dresses wow ,, so maang maang ke to koi bhi icon ban jayega 😂😂😂 Thnks god I refused to give my stuff hence I wud have life time regret 🙄 @BiggBoss @lostboy54 @iamkamyapunjabi @shilpashindee
https://twitter.com/NNeerushaa/status/940245961447579648
This was just a start as what she did next will sweep the floor below your feet. Neerusha released the snapshots of her chat with Hina's stylists. Have a look-
1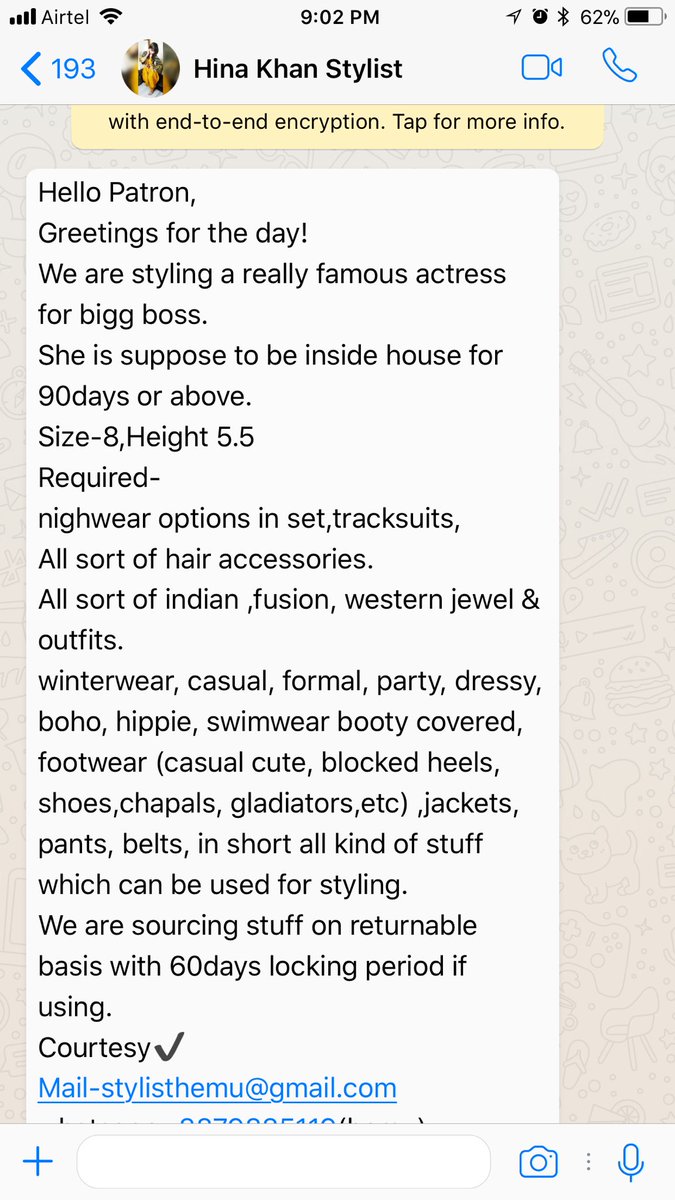 2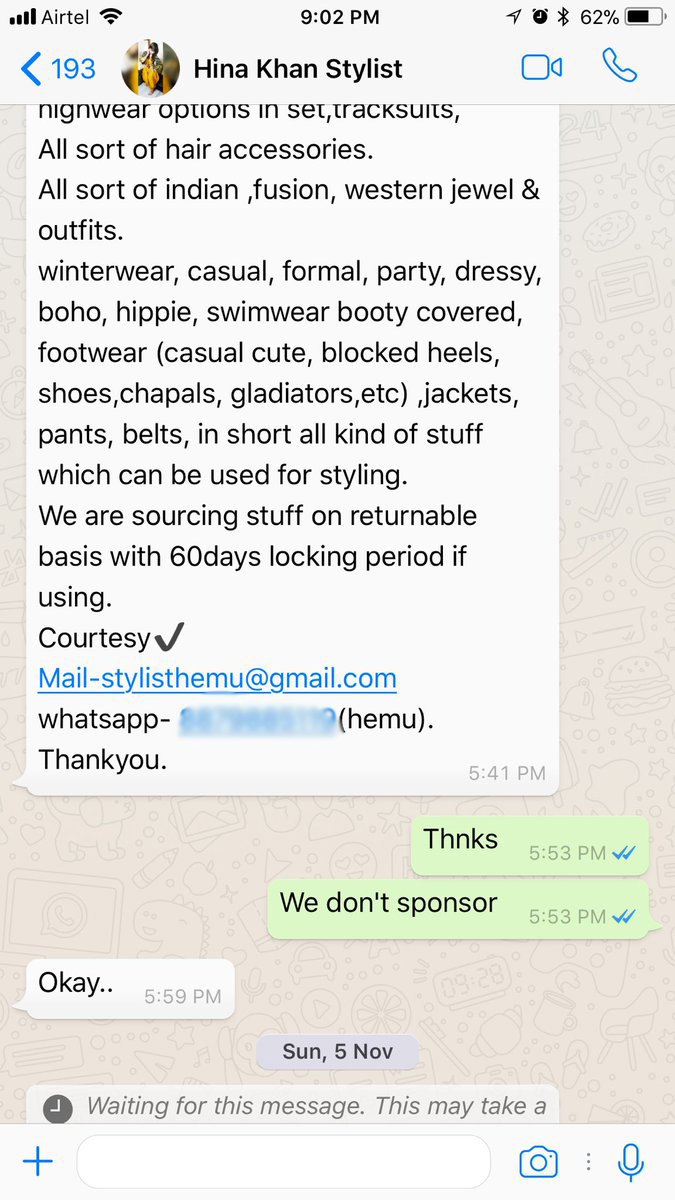 Now this has made Hina's stylist Hemlata(Hemu) very angry as the snapshots have went viral and along with that her phone number has also become public.
Talking to use Hemlata revealed that everyone and every celeb follows the trends and Hina did the same. She accused Neerushaa for spoiling her name to support Vikas Gupta and also said that her intentions might be to come into the limelight with this publicity stunt.
Meanwhile, Neerushaa in an interaction with Telly Chakkar revealed a lot about the matter. She said-
"The reason I said no to the proposition was because I knew Hina when she was doing a show (Yeh Rishta) for Rajan Shahi. I know the whole story on how she exited from the show. Even though I've worked for a small time, I've worked with this woman. I know her, I know her intentions and I never liked her. So when I was offered to sponsor her in Bigg Boss for minimum 60 days, I denied. When Rohan said that she (Hina) is the style icon, I was like sorry no! She is wearing clothes that are not even suiting her. My whole message was to Hina. Madam at least wear clothes that fit your body. Your height is 5'4' and you are wearing long gowns that are floor sweeping. Everything she is wearing is too much of an overdue. I'm a renowned stylist that is the reason I can comment on it. Main kal kiaayi hui hoon (I'm not a rookie)."
She continues to lash Hina by saying that she doesn't deserve good people around her. She said-
"Of course it's (sponsoring) a trend; we've sponsored celebs like Mouni Roy, Divyanka Tripathi. But it's my personal choice whom to sponsor. I've seen Hina in two months; she is such a negative and cribbing soul. I don't like her personally. You are wearing 50k lehenga and sweeping floors; you are wearing a 20K gown and entering in a pool of water! You need to understand what that stylist would be going through, watching it outside. Honestly, she doesn't deserve good person around her."
Speaking about the dressing sense of other women in the house, she said-
"Shilpa Shinde sometimes wears good and sometimes really bad clothes but people like her personality. Arshi also, whatever brains she has she is using it to style herself. Hina is taunting Arshi, for a matter of fact Arshi nighties will soon come in the market. So I would want to sponsor someone who I would like as a person that was the reason I tweeted. The crux of the tweet was that thank God I didn't sponsor her or else I would have regretted it. Style icon is clothes, it's personality. How you carry clothes is what makes you a style icon."
This is how Twitterati reacted to whole incident-
1
I know your intentions are not wrong and this is damm funny but please hide the stylist number! That's personal info!! Otherwise love you mam!

— 💜 (@lostsoul659) December 11, 2017
2
Omg is this for real? 😂
Fir toh spread kar do rapidly 😂

— Shinde. 💥 (@ShilpaForTheWin) December 11, 2017
3
True usko lagta hain main sabse sundar hu..bigboss matlab ache kapde pehanti ,taiyyar hona,bistar mandli jamana aur girl power kar ke jor jor se chilana 🤣

— dasdeepika (@dasdeepika1) December 11, 2017
4
It's something related to ur work .Why did u disclosed it on sns dat too someone's personal chat just For a TV show..Heights of unprofessionalism by u..N u disclosed someone contact number too..It seems u r just trying to earn some fame from BB😝

— Naaznin (@naaznin_01) December 12, 2017
5
According to Hina's IG she gives credit to where it's due. People giving importance to these kinds of tweets lack common sense. Ridiculous. Open your 👁 people. Everyone these days have stylists. The way you carry the outfit, with confidence is what makes you a style icon. #BB11

— BBLand 🌧 (@BollyStyle_) December 14, 2017
6
OMG
What is this ?
Seriously Return offer Bhi diya hai ?

— BEING HUMAN (@Official_Max11) December 11, 2017
7
https://twitter.com/imamfarah/status/940312317631324160
What are your thoughts on it?
Share Your Views In Comments Below