Bollywood & TV
Hina Khan's Fans Slammed Salman On Twitter. They Want To Boycott His Movies Too
Saturday i.e. Weekend Ka Vaar always proves to be bad for some or the other contestant. Today, it was a bad day for both Priyank as well as Hina Khan. Salman keeps watching what all the contestants are up to inside the house and on Weekend Ka Vaar, he perfectly slams them in case of wrong behaviors.
Priyank had body-shamed Shilpa Shinde and had called her fat; there was a lot of controversy following that statement. Today, Salman pointed that issue and bashed Priyank left and right.
This was not it, he also lashed out at Hina Khan for staying mum and not intervening or stopping Priyank from passing these comments. Not only that, he also scolded Hina for adding mirch-masala while telling Puneesh's "Massy show" statement to Sapna; he said that it was due to Hina, that it led to a fight between Puneesh and Sapna.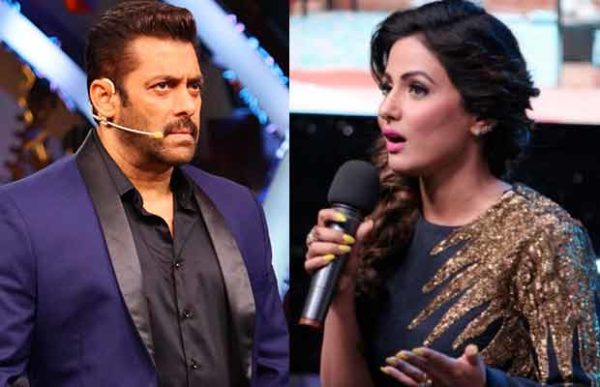 However, this shouting class didn't go down well with Hina Khan's fans. They slammed Salman Khan on Twitter for always targeting Hina. Check out some tweets…
1
priyank did wrong i agree
hina didnt stop him right agree
but supporting guy like puneesh. i mean really big fan of salman but this tym he is wrng.

— Aditya Singh 🇮🇳 (@Adityasingh2378) November 25, 2017
2
When Akash sacrificed his eggs on Shitpa's insistence then Sallu praised him kyuki tab Shitpa ki suni. Now Hina & gang made a sacrifice out of pure friendship to save Luv, toh keh raha hai it's stupidity! Biased sala! #BB11 #WeekendKaVaar

— Lost soul (@Shreya22S) November 25, 2017
3
@BiggBoss why don't you eliminate Hina, Priyank and Luv in coming next week and only let your "superstars" n "masterminds" play and show us the real game and TRP's !! You will save your money too by eliminating team hina #WeekendKaVaar #BB11

— Kesha Patel (@BeingKeshaPatel) November 25, 2017
4
So true Arshi usse ra..bole,Kali bole aur wo unke year stand le salman is so much biased seriously wana slap tht murderer

— taimur moh (@MohTaimur) November 25, 2017
5
https://twitter.com/HeenaMistry11/status/934469331278184449
6
So fucking pissed rn after watching tonight's episode wtf is wrong with Salman he is so biased #BB11

— So? (@Baeistani) November 25, 2017
7
Salman why are you so biased,why are you targeting only Hina Khan Priyank sapna luv all the times.I am regular viewer of this show and big fan of yours but pissed off with your behavior.

— SARRY SRI (@723212Saurabh) November 25, 2017
8
its not about hina's fan but its totally about @BeingSalmanKhan being biased. vikas ka group is ram grp while hina grp is ravan grp. sakshat bhagwan aaye hn is baar to #BB11 me vikas n shilpa k roop me 😂😂😂

— m.raza (@mahiraza2107) November 25, 2017
9
https://twitter.com/FanOfbigBoss/status/934458507444625408
10
He shud hav been slammed but im a shilpa fan but this episode luked quite one sided just to bash hina and her team.

— rajveer bhasin (@rajveer_bhasin) November 25, 2017
Share Your Views In Comments Below