Bollywood & TV
Honest Review Of Judwaa 2. Book Your Tickets Right Away As It's Not Worth A Miss
Time to enjoy the twin-magic once again! Time to refresh those Salman Khan memories again with Judwaa 2, the Varun Dhawan starrer. We had loved the movie Judwa which released in the year 1997 and now, after 20 years, we can't wait to see the same action, essayed by different actors. Starring Taapse Pannu, Jacqueline Fernandez in characters that were essayed by Ramba & Karisma Kapoor, this movie is being loved by audience. Although it is lacking in some aspects, it has managed to grip the audiences with its funny dialogues and also brilliant performances. Let us have a look at the detailed review;
Story & Script
The story is humorous throughout. It revolves around twins Raja and Prem who are separated at birth i.e "Bicchde hue bhai". There's total contrast in their lifestyles; while Prem gets the privilege of a hi-fi and a luxurious lifestyle, Raja grows up in a fisherman colony. Destiny has given them drastically different statuses. So, when both of them come together for saving a smuggling ring, what can you expect? Total masti, right?
Script wise, you will miss out on the newness. The gags and dialogues are similar to what we get to watch in masala movies; therefore, some wise thinking was required here, which the script writer hasn't shown. Don't expect too much in terms of dialogues.
Music
Music wise, we have just one word i.e. "Superb". "Chalti hai kya 9 se 12" refreshes that 90's feelings once again. We have already danced to its tunes before and once again, this foot-tapping song has made an entry to the sequel. Another cherry on the cake is "Oonchi hai building", which has further entertained the audiences. If that's not that enough, we also have "Duniya mein aaye ho" song for all party lovers.
Performances
Everything was dependant on Varun Dhawan & he really did justice to his role. However, he couldn't match up to the Salman Khan level. No doubt, he portrayed the double-role with confidence and zeal. Jacqueline Fernandez and Taapsee Pannu tried their best to fit into this comic role but sadly, they couldn't give their 100 percent. On the other hand, Anupam Kher, Prachee Shah and Atul Parchure have been roped in just for namesake.
Direction and technicalities
As we already told you, there's no newness in the film. David Dhawan has not managed to give his best in terms of direction. Many situations are left confused; instead, they could have been crystal clear. The climax scene is good and is being enjoyed by one and all. David Dhawan should have tried to go away from originality and should have come up with something new.
Final verdict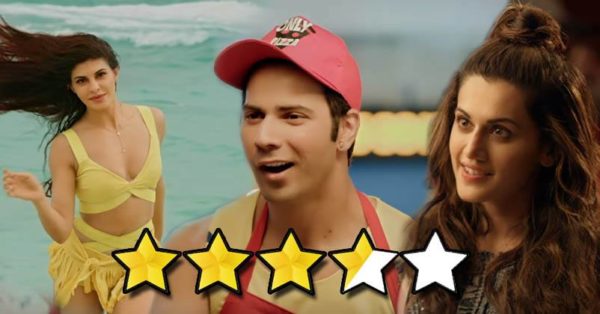 If you are David Dhawan fan, you are certainly going to enjoy his style. Since it has a connection with Judwaa, fans are most likely to flock the theaters. Overall, we give the film 3.5 stars out of 5. It's worth watching at least once in theater, if you wish to enjoy something that will take away your stress.