Bollywood & TV
Honest Reviews Of Stree & Yamla Pagla Deewana: Phir Se. Read & Book Your Tickets Accordingly
2018 has been pretty good for Bollywood as some really wonderful movies hit the screens that received good response from audiences. Talking about this Friday, two movies released today, the first being "Stree" and the second is "Yamla Pagla Deewana: Phir Se". Needless to say, viewers had expectations from both these movies considering their brilliant star cast and engaging trailer.
Which of these succeeded in entertaining audience? Which movie should you watch this weekend? Read the review and decide yourself!
Stree – 3.5/5
The plot of the movie is set in a town known as Chanderi that is believed to be haunted. As per a legend, an angry woman's spirit called Stree stalks men during a festival and in the course of those four nights, Stree calls out men as she finds them alone. If the man who she has called out turns, he is whisked away by the spirit and only his clothes are left behind.
Directed by Amar Kaushik, the movie stars Rajkummar Rao, Shraddha Kapoor, Pankaj Tripathi, Aparshakti Khurrana and Abhishek Banerjee in prominent roles. Rajkummar Rao has played the character of Vicky who is very famous in the area for his remarkable tailoring skills. He works in his father's shop and has two best friends – Jana (Abhishek Banerjee) and Bittu (Aparshakti Khurrana).
Vicky falls for Shraddha Kapoor who is considered to be a mysterious girl considering the fact that she appears merely during that festival in which Stree also stalks men. This makes Vicky's friends doubtful and they all begin to think that Shraddha might be that spirit which has been haunting the region. Pankaj Tripathi has portrayed Rudra who knows just everything and provides guidance to Vicky and his pals for coping with the spirit.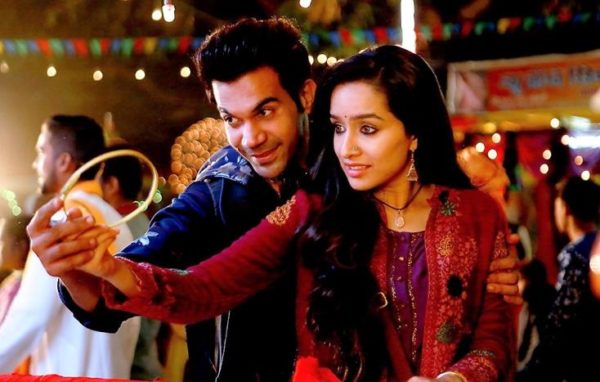 Talking about performances, Rajkummar Rao has nailed it once again with his power-packed acting and lives up to the expectations of fans. He has been simply outstanding while displaying many shades like romance, comedy and horror. The comic timing of Pankaj Tripathi is just perfect and it won't be wrong to call him the most hilarious character of "Stree". Aparshakti Khurrana and Abhishek Banerjee have also done a good job as far as comedy is concerned. Shraddha has been convincing in her role of a mysterious girl and has played it well.
Dialogues of the movie are very amusing and full of comic punches; however, the script is not that strong. What's more, the film sounds little preachy at the end as it makes an attempt of advocating respect for women but as a horror comedy, it certainly ensures complete entertainment. Even though it has some flaws, the experimental comedy succeeds in making audience scare and laugh at the same time. Overall, you will neither get bored nor regret spending your money and time on it.
Yamla Pagla Deewana: Phir Se – 2/5
The Deol trio of Dharmendra, Sunny and Bobby is back again with the third part of the Yamla Pagla Deewana franchise. The movie has been titled as "Yamla Pagla Deewana Phir Se" and the sad part of this comedy is that it has failed to make audiences laugh. The earlier two movies of the series performed quite well but after watching the third installment, people are hoping that it is the last movie of this franchise.
As far as the characters are concerned, Sunny Deol plays a vaidya (Ayurveda practitioner) who is constantly being harassed by pharma giants for the age-old medicinal formula known as Vajra Kawach that can cure almost anything, even impotency. Sunny Deol once again fits perfectly into the role of an angry person, breaking bones of other people when he is not treating the poor for free.
Bobby Deol plays the character of Sunny's young brother who is still a bachelor at the age of 40 and keeps on dreaming of going to Canada.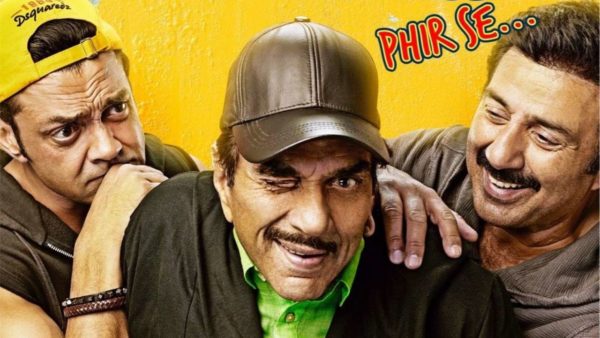 Dharmendra portrays the role of these two brother's tenant; he is a flirty lawyer who drives a scooter with a side car. A common problem or cause brings all three together and this is when a lot of drama takes place.
The movie also stars Kriti Kharbanda who has added the flavor of glamour in the movie as she plays the role of a Gujarati girl.
Salman Khan, Rekha, Sonakshi Sinha and Gippy Grewal have made special appearances in the movie and the other star cast includes Shatrughan Sinha, Johnny Lever, Asrani, Satish Kaushik and others.
There are some moments in the movie which make us laugh and the first scene of courtroom was quite funny. However, the flick turns out to be a loud comedy with a predictable story line-up; nevertheless you can watch it if you are a fan of the Deol trio.
Share Your Views In Comments Below