Sports
How Has Virat Kohli Became GOAT In Just 10 Years
"Virat Kohli is the most important man in Indian cricket", Saurav Ganguly's recent statement about the Indian captain is not very far from the truth. Such has been the emergence of this player that he is already the GOAT of our game in just a span of 10 years.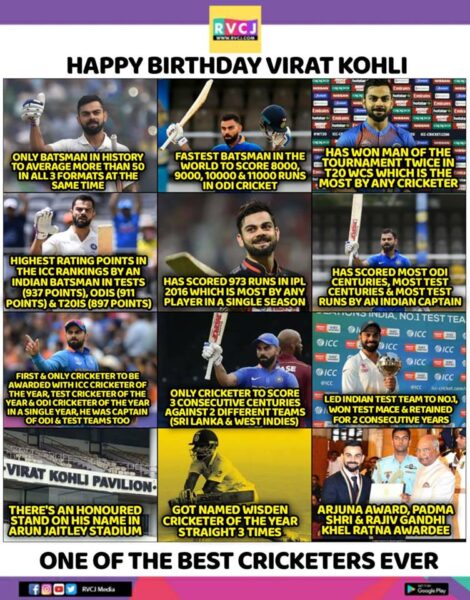 Right from his naïve U-19 days in which he led India to a U-19 world cup victory to batting even after his father's demise, mental toughness has been a part of Virat Kohli since his very early days.
Here we have a look at five reasons as to why and how Virat Kohli is the GOAT in cricket:
1) The love for chasing and never say die attitude.

Virat Kohli also referred by many as modern-day chase master is exceptional when it comes to chasing. From his very early days Virat has done some exceptional chases under pressure.
Whether it was that 183 against Pakistan or that epic innings in Mohali in 2016 WC against Australia, Virat has pulled off chases that no one thought ware possible.
Chasing a score with such consistency is not everyone's cup of tea and Virat has created a whole together different niche for himself.
2) The lean phase in England and the afterward success.

It is very truly said that we learn a lot more from our failures. 2014 was such a phase for Virat Kohli. A lot was expected from him on the England tour but he failed to deliver.
He constantly failed and a rare weakness was found in his batting technique. This was a phase from which Virat learned a lot and came back to conquer the same country in 2018, scoring loads of runs.
Coming back strong from setbacks and failures is a very important aspect as to why Virat is the GOAT of our game.
3) Dedication and commitment to game.

Even after achieving so much, the commitment to every match for Virat Kohli remains the same. He has always said that without that energy, without that enthusiasm he cannot play.
Staying committed and giving 100% to every match irrespective of opposition or conditions is something that has helped him achieve so much in such little time period.
4) The amazing captaincy record.

Virat held the realm of Indian team in tests in 2014 when MS announced a sudden retirement. From there on Virat Kohli has taken this team forward.
He has backed his Pacers, focused on every player's fitness and made a team that has stayed on top for 3 consecutive years now. He won a test series in Australia, and defeated everyone who came to India. Under Virat, India has shown sheer dominance.
5) The recently discovered calm nature of himself.

After achieving so much, conquering almost everything, Virat has discovered to him a relaxing and calming side.
A personality of him that likes reading books, sitting in the house with empty thoughts, enjoying the simple things in life. This nature of his has reflected in his batting as well.
He looks a lot more patient, calm and composed in batting as well as leading the side.
Virat Kohli is a gem that India is blessed to have. We hope Virat keep performing the way he does and take Indian cricket to much greater heights. Happy Birthday Virat.
Share Your Views In Comments Below