Entertainment
ICC Asks BCCI To Remove Military Marks From Dhoni's Gloves For the World Cup, Twitter Is Not Happy
ICC expressed its displeasure over the gloves that Dhoni used during wicketkeeping. The International Cricket Council (ICC) has appealed to the BCCI to ask the wicketkeeper Mahendra Singh Dhoni to remove the army's mark on his gloves. The ICC has expressed its displeasure with the sign of 'Sacrifice Badges' made on Dhoni's gloves.
In the first match of the ICC World Cup-2019, Dhoni was seen using the Indian Para Special Force mark on the wicket-keeping gloves against South Africa. ICC has asked BCCI to remove this mark from Dhoni's gloves.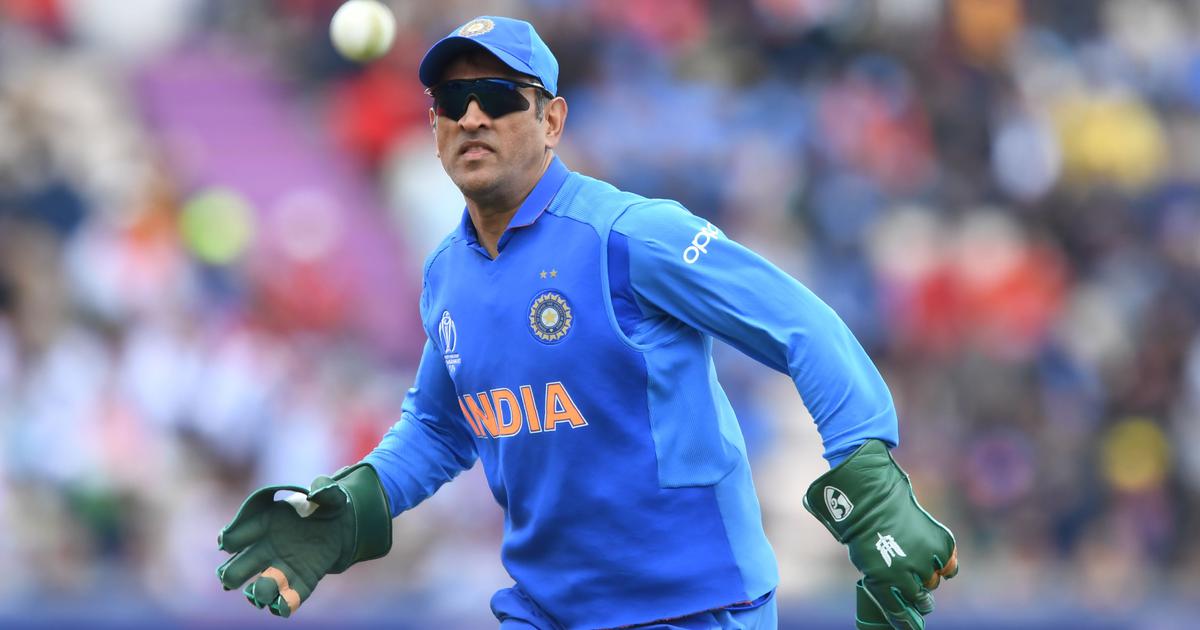 Dhoni was awarded the honorary rank of Lieutenant Colonel in the Parachute Regiment in 2011. Dhoni has also trained in Para Brigade in 2015. Although Dhoni is very much appreciated on social media, the ICC's thinking and rules are different.
According to ICC rules, "There should not be any message of things like politics, religion or racism during the international match on ICC garments or other things."
Twitter is not happy with this decision and people are asking Dhoni to keep the badge.
Indian Army has always been independent irrespective of the political party in power. We are proud of them. Lt. Col. @msdhoni has worn the Army insignia as a symbol of pride. Doesn't hurt anyone's sentiments, In fact it honours the brave #DhoniKeepTheGlove #WorldCup2019

— Riteish Deshmukh (@Riteishd) June 7, 2019
WTF! International Cricket Council @ICC orders Indian wicketkeeper Lt. Col. @MSDhoni to remove his Army insignia on his gloves. #DhoniKeepTheGlove & @BCCI shd back him to the hilt. In a World Cup where Islamist moustacheless beards r tolerated, Dhoni's gloves r harmless. #CWC19

— Tarek Fatah (@TarekFatah) June 6, 2019
I salute his love for the nation and soldiers!
I stand by @msdhoni #DhoniKeepTheGlove pic.twitter.com/NDv7eypvkk

— Manjinder S Sirsa (@mssirsa) June 7, 2019
You can remove the army things from Dhoni's pad, cap, bat or Jersey.
.
But you can't remove Lt Colonel MS DHONI's love for the NATION from his heart. 🇮🇳❤️#DhoniKeepTheGlove pic.twitter.com/PgW2OBq9Ht

— DHONIsm™ ❤️ (@DHONIism) June 7, 2019
Shame on #ICC……One small symbol of national pride too much for ICC? They asked dhoni to remove the gloves with army badge . Raise your support for MS Dhoni to bear the 'Balidaan Badge' on his gloves by using the hashtag #DhoniKeepTheGlove pic.twitter.com/9xExwnidDz

— Umesh Garg (@umeshslg) June 6, 2019
Its Proved…..
If You are The Best, Then You are Going to be Questioned on anything everything at Anytime everytime…..#DhoniKeepTheGlove pic.twitter.com/lTkqCeuWUA

— 👨‍💻Omkar👨‍💻 MSDian ❣️ forever🦇 (@omi_anpat619) June 7, 2019
#BalidaanBadge its a symbol of Sacrifice & love ❤️ .It's doesn't disrespect anyone ✌️
Shut up @ICC #DhoniKeepTheGlove pic.twitter.com/bTiLdMy8fz

— தல viNo MSD 🤘 (@KillerViN007) June 7, 2019
Dear MS Dhoni,
This badge stands for honour and sacrifices which were made for this great nation. Earning this badge is not cup of tea, this cannot be bought, this is something which you earned from your contribution for this nation Keep its honour intact. #DhoniKeepTheGlove pic.twitter.com/TsH8MVlAGC

— Rushank (@rushank_97) June 6, 2019
What do you think? Is ICC being too harsh with its desicion? Let us know in the comments below.
Share Your Views In Comments Below