Sports
ICC Calls Marnus Labuschagne Duplicate Of Steve Smith In Viral Meme Challenge, Twitter Reacts
Internet and social media offer amazing platforms to have fun and what make them more interesting are the new challenges which keep on cropping every now and then. Presently, a challenge "LinkedIn Facebook Instagram Tinder" is going on and users are posting their photos with each website's name.
The social media team which handles the official accounts of International Cricket Council (ICC) also decided to have some fun by making posts under this challenge and lately they posted pics of Steve Smith in this regard on the micro-blogging site Twitter.
Take a look at the image shared by ICC: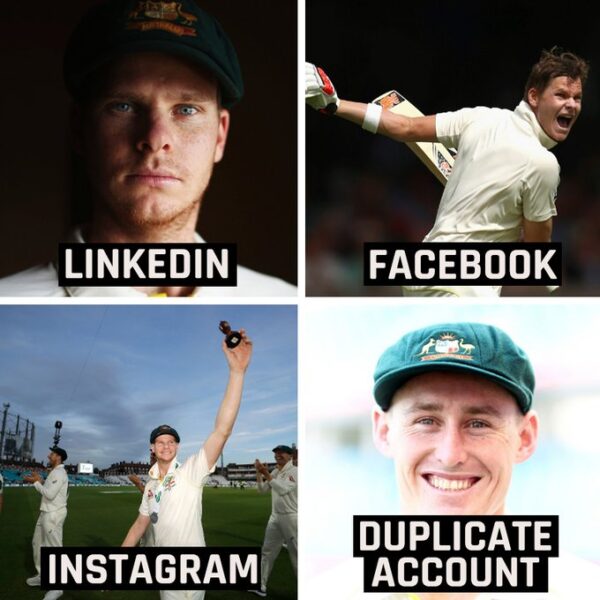 In the first three boxes – Linkedin, Facebook and Instagram, ICC pasted the photos of Steve Smith but in the fourth section, i.e., under Tinder, the pic of another Australian player Marnus Labuschagne was pasted with caption "Duplicate Account" instead of "Tinder".
Check out the tweet of ICC:
— ICC (@ICC) January 25, 2020
The Australian cricketer Steve Smith returned to the team in World Cup 2019 after serving a suspension of one year for the ball tampering scandal. Post Steve's ouster from the team, Marcus Labuschagne was brought into the team as his replacement. So it was quite obvious that people started making comparisons and what made it more interesting was the fact that Marcus looks quite similar to Steve as well.
While some cricket lovers loved the humour behind the meme, few called Marcus the next Steve Smith. However, there were few who slammed ICC for getting busy in making memes and some others were not happy with the fact that ICC called Marcus a duplicate account as they felt that Marcus is a better player than Smith. Several netizens even asked ICC to change duplicate account to second account.
This is how social media users reacted over ICC's tweet:
#1
So the revenue from cricket is not redundant and that's why you've started meme business now?

— Inmessionante (@SRKian_buff) January 25, 2020
#2
Would've been better if you guys had wrote 2nd account, instead duplicate account.

— Mufaddal Vohra (@mufaddal_vohra) January 25, 2020
#3
Guys! This is insulting… pic.twitter.com/Ssf7a7icob

— Ritayan Basu | ঋতায়ন বসু (@ritayanbasu) January 25, 2020
#4
Come on.. Labuschagne is some player. More pleasant to watch than Smith.

— Tejas Gurunwad (@gurunwad_tejas) January 25, 2020
#5
use 2nd account instead of duplicate account

— LR (@LRGodara00) January 25, 2020
#6
Just shut the f**k, labuschagne has his identity now and proved himself when he had oppurtunity. He is consistent in given 2 formats now. This is utterly disgusting and insulting tweet.

— Ravi (@raviraj46364) January 25, 2020
#7
Icc started MEME Business😂

— Ayeda shadab🇦🇫 (@ayedaofficial) January 25, 2020
#8
You guys r also making memes.😔😍😎.

— Anas Ansari (@IM_Anas4U) January 25, 2020
#9
😂😂lol ICC is turning into meme

— Kishan Chauhan (@chauhan_kishan_) January 25, 2020
#10
ICC got some real humour 😝

— Alok Chaturvedi (@ac__96) January 25, 2020
Well, calling Marcus the next Smith doesn't seem to be appropriate as the latter has a lot of cricket in him and he is not going to retire any time soon.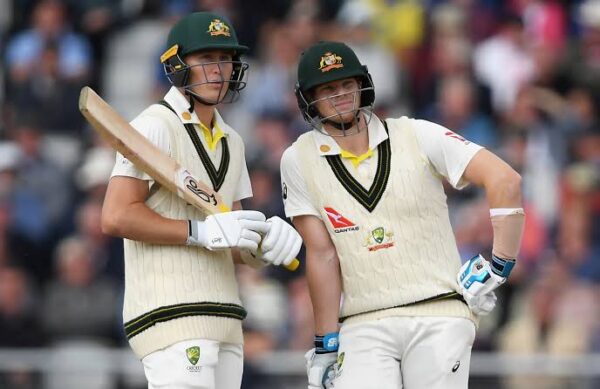 Marcus Labuschagne performed well whenever he got the chance whether it's Ashes or against New Zealand and Pakistan in the test matches. Presently, both Steve and Marcus are busy playing in the Big Bash League, while Steve is a part of Sydney Sixers, Marcus is playing for Brisbane Heat.
What do you have to say about the tweet of ICC? Let us know your views.
Share Your Views In Comments Below