Sports
ICC Got Slammed By Cricket Lovers For Sharing This Pic Of Players On International Lefthanders Day
The International Lefthanders Day is observed on August 13 every year in order to celebrate the uniqueness and distinctiveness of the left-handers in a world where the majority of people are right-handers.
This year the apex organisation of cricket fraternity, International Cricket Council (ICC) decided to conduct a poll in which it posted a collage of photos of 10 left-handed cricketers and asked the Twitter users about their favourite left-hander.
Check out the pic: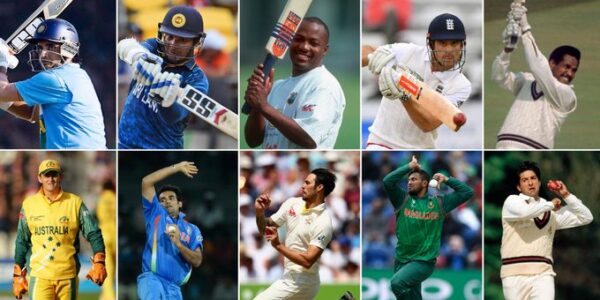 ICC tweeted,
"Happy #internationallefthandersday 🎉
Let us know who your favourite left-hander is!"
Here is the tweet made by ICC:
Happy #internationallefthandersday 🎉
Let us know who your favourite left-hander is! pic.twitter.com/hfmXCtmI3W

— ICC (@ICC) August 13, 2019
The players who were included in this tweet are Sourav Ganguly, Kumar Sangakkara, Brian Lara, Alastair Cook, Garfield Sobers, Adam Gilchrist, Zaheer Khan, Mitchell Johnson, Shakib Al Hasan and Wasim Akram.
This tweet by ICC made many cricket fans angry as they were not able to find their favourite left-handers in the collage. Some fans were not able to digest the fact that the Sri Lankan opener Sanath Jayasuriya was not in the collage while few were disappointed as the Indian cricketer Yuvraj Singh was not given a place in the list. On the other hand, there were several fans who were missing the Pakistani player Saeed Anwar .
Here are some of the selected reactions by the cricket lovers:
#1
Without yuvraj singh this list is incomplete

— Sukhveer Punia (RO-45) (@sukhveer_45_) August 13, 2019
#2
How can u forget this stylish left hander pic.twitter.com/qvQR6sbA5W

— Rehan Zia 🇵🇰 (@RehanZia5) August 13, 2019
#3
There are many great left hander cricketers better than sourav gangu teeli. Saeed Anwar, sanath jayasuriya, g Smith, border, beven, Kirsten, ranatunga, Gower, Matthew Hayden, Chris Gayle and so many others.

— CorneredTigerUK (@CorneredTigerPK) August 13, 2019
#4
Zaheer Khan and wasim akram in same pic? Wat a joke

— Sheharyar Sohail (@col_staufenberg) August 13, 2019
#5
Even @YUVSTRONG12 is not there
He is my favourite #Left hander. @ICC #LeftHandersDay pic.twitter.com/ZSFR2P2bfY

— Digvijay D Jadhav (@jdigvijay256) August 13, 2019
#6
@KumarSanga2 & @gilly381 but Where is @Sanath07 ?? 4th leading run scorer in ODI.

— David Rajeev (@david_rajeev) August 13, 2019
#7
Why Saeed Anwar is not there??

— Daanish Mallick (@Alee_Daanish) August 13, 2019
#8
Very short list
Yuvraj, Headen, Vaas, Chandrapual, Klusener so many legends missing ?

— प्रफुल् दातखिळे /Praful Datkhile (@prafuldatkhile) August 13, 2019
#9
Hey @ICC , where is Saeed Anwar??? Have not yet seen any better left hander stylish player than Saeed Anwar….

— Faiz Bukhari (@FaizBukhari16) August 13, 2019
#10
Where's Sanath Jayasuriya? This graphic is nothing without him

— Mihiranga (@MihirangaFdo) August 13, 2019
#11
@Laxy33 surely S.Draga? Does Nathan Lambert qualify? Anyone else we've forgotten @jacobslucki? Not too many good ones out there

— Vinnie.M (@vinniemica) August 13, 2019
#12
Where is Saeed Anwar…Indian cricket council. Or international cricket council..

— Haroon Hashim (@HaroonHashim4) August 13, 2019
#13
David Warner is my favourite Left-Hander.

— Kaif Ali (@KaifAli97210370) August 13, 2019
#14
Alistair Cook David Warner Chris Gayle

— Priyansh Chandra (@Pricd05) August 13, 2019
Is your favorite cricketer in this collage or is he missing? Do let us know.
Share Your Views In Comments Below