Entertainment
ICC & PCB Tried To Troll Each Other. Finally India Won It By Trolling Pak For Their Biscuit Trophy
Before the start of every tournament, a ceremony is organized in which the trophy that will be awarded to the winner is unveiled. However, the trophy of the TUC cup 2018 gave a lot of material to the online users for creating jokes and memes as it is designed as a huge biscuit.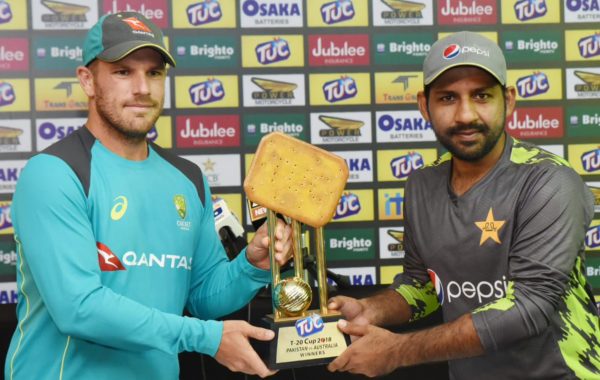 When the trophy was unveiled, people started trolling PCB for approving the design. Here is the tweet regarding the unveiling ceremony:
Brighto presents TUC Cup 2018 #PAKvAUS T20I series trophy unveiling ceremony. pic.twitter.com/9i0uPmtSoW

— PCB Official (@TheRealPCB) October 23, 2018
The biggest body of cricket, ICC was also not able to stop itself from trolling Pakistan and it posted two photos with the caption, "You Vs the trophy she told you not to worry about."
Check out the tweet:
You vs the trophy she told you not to worry about. pic.twitter.com/DUGWKWFTbE

— ICC (@ICC) October 23, 2018
Many Pakistani sports journalists got angry with this tweet of ICC as it was difficult for them to believe that the International body is making fun of the trophy.
The Australians were not able to match the Pakistanis and PCB took to Twitter to give a reply to ICC after defeating Australians in the second match and taking a decisive lead in the series.
PCB tweeted,
"Dear @ICC Who cares?
Both are ours! 😜
#PAKvAUS
#NumberOneT20ITeam"
Dear @ICC Who cares?
Both are ours! 😜#PAKvAUS #NumberOneT20ITeam https://t.co/wVmXPf9ywQ

— PCB Official (@TheRealPCB) October 26, 2018
While Pakistan and ICC were busy trolling each other, there were many Indians who were enjoying trolling Pak for their biscuit trophy. Here are some selected reactions:
#1
Crack Jack Biscuits wali. Trophy Doge to jeetenge hi Ms ye bukhe nange paki 🤓🤓@Gadhvilaxman pic.twitter.com/3Q4mDY1w1G

— The Bheem ♂ (@TheBheem_) October 26, 2018
#2
Australia A team ko Harane pr itna khush rhe ho..

Or asia cup mein Bangladesh ne keh kr le li uska kuch nahi..😝😝

— Dr.Shivam Rajpoot (@ShivamRajpoott) October 26, 2018
#3
Oh @TheRealPCB don't get your hopes so high😂😂😂😂Chai ke sath biscuit khao 😂😂

— Anand (Health & Fitness Videos) (@anandicted) October 27, 2018
#4
So you show your 'creativity' like this? Tabhi Aussies didn't bother fighting for it 🤣

Aur har time aise react karna zaruri hai?

— Aditya Sahay (@adisahay7) October 27, 2018
#5
Worst Trophy in the Cricket History AB kya Roti cup aane wala h kya Bikhmanga @TheRealPCB

— Romu Don (@RomeshRomu) October 27, 2018
#6
It took Pakistan 4 days to reply !! Damm English!!!

— Kunal Kamra (@BakaitEngineer) October 27, 2018
#7
How about this one? @TheRealPCB @ICC pic.twitter.com/cpEggPEIQ5

— Parashuram (@parashu_tweets) October 26, 2018
#8
ha ha pata hai india ke samne aate he kaise pasine chutte hai @TheRealPCB ke hahaha the dumbos yakk agli bar PAKvsIND nhi VIRATvsPAK hoga real bolne se koi real nhi ho jata @TheRealPCB nakli trofy se khelo🤣🤣 asli to humari hai india ki hai 😍😍😇😇

— saranga mankar (viratian) (@SarangaViratian) October 26, 2018
#9
Aap ye Biscuits hi Khana @cricketcomau not interested in the Trophy so he loss the Match Or bache @cricketworldcup ka sapna dekh rhe h

— Romu Don (@RomeshRomu) October 27, 2018
#10
Gadhe 🦄se yaad aaya

Biscuit trophy Jeetne ki Mubarkbaad 😹😹

— Jenish Pipariya (@PipariyaJenish) October 27, 2018
#11
The secret is out. It's because of the biscuits the Pakistanis are performing. @TheRealPCB make sure the biscuits are dog biscuits otherwise your players will be starved.

— The Dark Side (@sagiitarian) October 27, 2018
What is your take in this regard?
Share Your Views In Comments Below