Sports
ICC Shares Dance Video Of Pakistani Women Cricket Team, Twitter Is Not Pleased
Cricket may be one of the most popular sports of the world but this is also true that it is just the men's cricket which mostly gets love of the cricket fans and women's cricket lacks far behind in terms of popularity in comparison to men's cricket. However, the good part is that women's cricket is slowly getting famous and we can see pretty good number of viewers in the stadiums during the matches. Social media is also playing an important role in increasing the popularity of women's cricket and women cricketers.
ICC T20 Women Cricket World Cup 2020 is being played in Australia nowadays and recently, a video was shared by the International Cricket Council (ICC) in which Pakistani female cricketers were seen dancing and having fun. In the video, Pakistani women cricketers Iram Javed and Muneeba Ali were seen along with two Pak players and one of them was using cricket bat as a mic.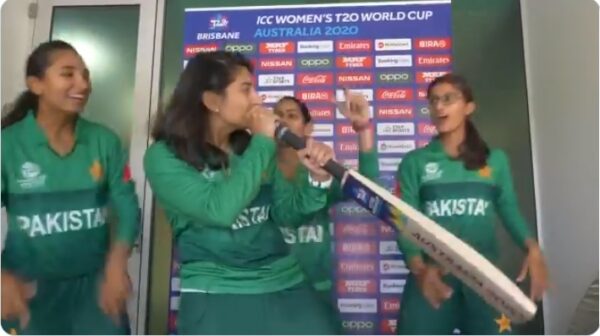 ICC shared the video with the caption, "The @TheRealPCB team are absolute rockstars!"
🎤💥

The @TheRealPCB team are absolute rockstars! pic.twitter.com/F4EODVhcfI

— ICC (@ICC) February 19, 2020
Click here to watch this video directly on Twitter
As soon as the video was posted, social media users started reacting on it, while there were some who were happy to see these cricketers using music as stress-buster, many Pakistanis slammed the cricketers as dance and music are considered as bad (Haraam) in Islam. There were also few who criticised them for their game and advised them to play cricket in a good manner rather than just enjoying over there.
Here are some of the selected tweets:
#1
Larkyon ko ye Kam zeb nai dety upar se asi Harkten Ye dance party H ya Icc official shame on You Girl's 😠

— Haris Rauf Lover's (@Harisrauf150) February 19, 2020
#2
Reactions after When they knew that tomato soup is in their food menu !#PoorPakistan 🇵🇰

— Sunil Raja (@fab_sunil) February 19, 2020
#3
Shame On these Girls. ItS not talent itS Islami Jamhoriya Pakistan..😭😭😭🙏🙏🙏🙏

— Mʋʜʌɱɱʌɗ Nʌwʌʑ ĸʜʌŋ (@MNKhan321) February 19, 2020
#4
Hopefully they will show their cricketing talent this time instead of just enjoying the world cup.

— Arbaz Zahid (@iamArbazZahid) February 19, 2020
#5
But all this beautiful steps, gestures, music etcetera… are HARAM in Islam.

— 🇮🇳 Arvind Chauhan 🚩 (@arvindrahulg) February 19, 2020
#6
Kash thori cricket b seekh lain… baqi her kam main expert hain yeah

— AQ (@aqeelraja643) February 19, 2020
#7
Meanwhile there coach be like pic.twitter.com/gijTTX9lwI

— Robert Starc (Tony Downey, Jr.) (@Sharads77442495) February 19, 2020
#8
Haram hai ye sab

— Mahi🆒 (@183_mahi) February 19, 2020
#9
they don't know how to use bat on wicket so they r using it for singing

— A د eel (@adeelparhloo) February 19, 2020
#10
Wrong selection again…they should be sent to music tournament not cricket…😂 😂

— Which Vpn… (@LoneYasser8) February 19, 2020
#11
Kash Cricket Bhi Aise Hi Josh Sey Khele World Cup mein

— Muhammad Faizan (@IamFaizanRJ) February 19, 2020
Do you think that slamming the cricketers for dancing and singing is justifiable? Let us know your views.
Share Your Views In Comments Below