Sports
ICC World Cup 2019 India Vs Pakistan: Pakistani Fans Slams Their Own Team
The India-Pakistan match was the talk of the globe last night. Every Indian, as well as Pakistani, felt the adrenaline rush and excitement too high to explain. While two nations were stuck in front of the television to find out which team is going to win the most anticipated match of the ICC World Cup 2019.
India smashed their neighbouring country Pakistan and defeated the rivals by 89 runs through DLS at Old Trafford. India scored a total of 336 runs for 5 wickets that includes the magnificent innings of Rohit Sharma's 140 runs, Virat Kohli scored 77 runs and KL Rahul made 57 runs along with Hardik Pandya's and Kuldeep Yadav's magnificint spell dominated the rival team for the 7th consecutive time in the World Cup history.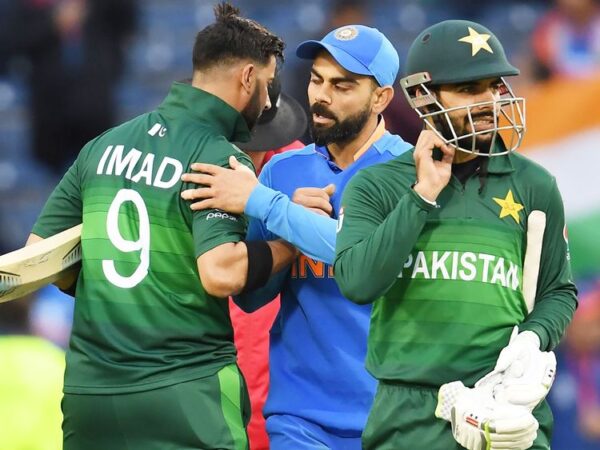 Pakistan struggled with their bats even after the DLS method they failed to keep up with the run rate. While Indians all around the globe was busy celebrating the victory of the home team. Whereas the Pakistani fans were heartbroken by the performance of their home team.
Check out the hilarious tweets posted by the Pakistani fans:
#1
No they had fast food dinner yesterday night at Archie's Manchester. pic.twitter.com/AEuo7zdR78

— Being Sarika (follow for 💯%follow) (@Maango_maan) June 16, 2019
#2
Don't call me a traitor, but look at the Indian players, they look like proper athletes, our players look like they've eaten two plates of waris nihari with feeqay ki lassi and benazir kulfa, all at once.

— شاہ زیب خان (@shzbkhn) June 15, 2019
#3
And ask Wasim Akram how he used to hide fast foods from Imran Khan or otherwise they had to face the captain's wrath

— Rafay Izaan (@RafayIzaan) June 16, 2019
#4
Siblings have gathered at Ami's room so we can ask her "hamain is din kay liye payda kia tha?" #pakvind

— Riasat Ki Maut⚰️ (@mahobili) June 16, 2019
#5
If not for the game, we must respect the humour and sportsmanship of twitterati from #Pakistan 🤣
Lit AF!🙇🏻‍♂️https://t.co/BQvbVtBFGq

— जुस्सावाला 🔔 #RYP (@Pvt_Citizen) June 16, 2019
#6
me to the entire Pakistan cricket team except Amir #IndiaVsPakistan pic.twitter.com/46fNDedQZ7

— u z a i r🇵🇰 (@uzair_qadeer) June 16, 2019
#7
dollar ka rate aur India k runs control karna hamare bas ki baat nahi

— Shiraz Hassan (@ShirazHassan) June 16, 2019
#8
'Kisi ne sahi kaha ha'

"Pakistan bowling kry to lagta ha batting pitch ha, Batting kry to lagta ha bowling pitch ha"#IndiaVsPakistan

— Extremist 🇵🇰 (@hardcorefeminst) June 16, 2019
#9
— MRIDUL MISHRA (@imridulmishra) June 16, 2019
#10
We might be winning the match but Pakistanis totally won on Twitter today!! 😁😁

— Sunanda (@YoursLegallyy) June 16, 2019
#11
Na partition hoti na hum zaleel ho rahe hote

— Aleena (@alinaamajeed) June 16, 2019
#12
india tou humain aisi phainti laga raha hay jaise kohinoor hum nay churaya ho

— A h m e d (@Ahlvled_) June 16, 2019
#13
itna chutiya tou shaitan nay insaan ko nahi banaya jitna shoaib malik nay humain bana diya hay

— A h m e d (@Ahlvled_) June 16, 2019
#14
Ek harami player out hota hai uss se bhi bara harami player aa jata hai. What is this team.

— Abdullah (@abdullahmajeed_) June 16, 2019
#15
Word😂

— Usman (@usmanjameel69) June 16, 2019
Desi Twitter is lauding the sense of humour of the Pakistani Fans:
#1
Wo Sharma Jee ka launda achha khel raha hai. KL Rahul wanted to keep the dollar rate low. Aap logo ne out kar diya.

— Kamal K Mishra/ कमल के मिश्र/காம் கே. மிஷாரா (@kamalKantmishra) June 16, 2019
#2
Atleast Sarfaraz and boys are getting to play now. If the partition wouldn't have happened, the Indian team still would have been the same, I guess!

— Daryai Ghoda (@ManAtFault) June 16, 2019
#3
Good, pehli bar kisi pakistani ki zuban pe sach aya@aajtak

— Rajput Karan Singh (@kkaran86thakur) June 16, 2019
#4
Respect the humour of Pakistani Twitteratis. Price of 🍅 must have doubled yesterday

— Saurav Chatterjee (@saurav_complex) June 17, 2019
#5
Nice one. Pakistan winning our hearts with their sense of humour .

— Archana (@aakhramka) June 16, 2019
#6
Never knew you Pakistanis are so entertaining 🤣🤣🤣🤣

— simmi jain (@simmijain11) June 16, 2019
#7
Even a defeat can win hearts…

Today I came across so many humorous tweets from Pakistan over their defeat…🤗😃

— Jai India🏹 (@GVR_111) June 16, 2019
Wasn't it Hilarious?
Share Your Views In Comments Below