News
IIT Student Asked Modi, "I Loved Your Garland. Can I Get It?". This Is What The PM Replied
Narendra Modi is indeed very kind and often, we have seen his sweet gestures on different events. Once again, PM Modi proved that he respects the requests of citizens and can do anything for them.
Well, an IIT student loved Modi's colorful mala and tweeted the same to him. He never expected that he will get it as a gift from the PM.
You heard it right, PM Modi without thinking twice, gifted him that colorful garland and brought a smile on his face. The student Rabesh Kumar (Mechanical engineer from IIT) attended his public rally in Madhya Pradesh and this is where the garland caught his attention.
This is what he tweeted out to PM Modi;
प्रधानमंत्री @narendramodi जी नमस्ते
आप को पंचायती राज दिवस पर सुन रहा था, बहुत ही सुन्दर उद्बोधन
आप के गले में सोने के रंग जैसा माला देखा बहुत ही अच्छा लगा, क्या ये माला मुझे सकता है | #PanchayatiRajDay pic.twitter.com/rbcrs8hwaXpic.twitter.com/5M5KttA6dL

— Rabesh Kumar Singh (@RabeshKumar) April 24, 2018
The English translation reads, "I was listening to you on Panchayati Raj Day; you gave a very nice speech. I liked the gold-coloured garland you were wearing. Can I get the same?"
However, he got an unexpected response from the Prime Minister. He not only sent the garland but also sent a kind letter.
Here it is…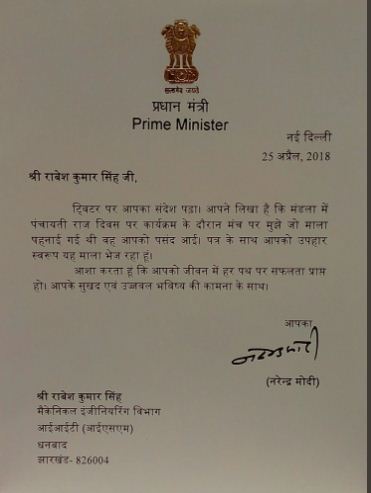 The letter read, "I read your message on Twitter where you expressed your liking for the garland I wore at Mandla on Panchayati Raj Diwas. I am sending you a letter along with the garland as a gift. I wish you all the best for the future."
The student was so happy that he immediately posed with the garland and expressed his happiness. He thanked the PM for such a lovely gift.
We loved this gesture, what about you?
Share Your Views In Comments Below