Sports
Imrah Tahir Crossing Legs & Sitting On Ground Relaxingly To Celebrate Becomes A Viral Meme
Many cricketers say goodbye to the game as they reach their mid-thirties or late thirties because their fitness levels are not up to the mark and they are not able to compete with the youngsters. However, there is one cricketer who is as energetic and enthusiastic as a 20 years old player despite crossing 40 yrs of age.
Yes, we are talking about South African cricketer Imran Tahir who is known for his celebration style after dismissing a batsman. Whenever Imran dismisses a batsman or becomes a part of dismissal by taking a catch or carrying out a run-out, he sprints with his hands spread in joy in the ground. Imran has himself revealed that once he went out of the ground while celebrating which clearly explains how energetic the 41-yr cricketer is.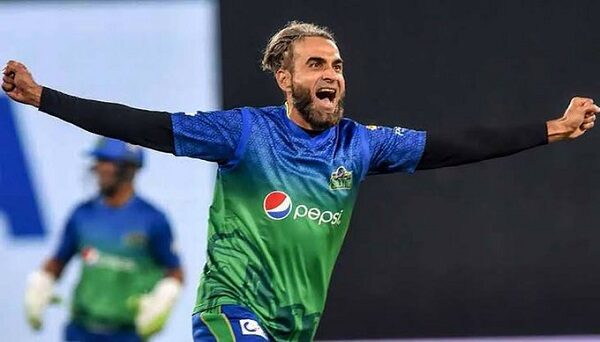 His fans were quite disappointed as he didn't play even a single match in the recently concluded IPL 2020 for his team Chennai Super Kings. However, what surprised everyone was the fact that Imran Tahir was the Purple Cap holder in the IPL 2019 with 26 wickets and played an important role in taking CSK to the finals.
Imran Tahir is presently playing in the Pakistan Super League (PSL) for Multan Sultans. The Pakistani cricket board is conducting the remaining matches of the PSL which were postponed due to the coronavirus pandemic. The league was originally organized in February but the players were sent back home mid-tournament as COVID-19 started spreading at a high rate.
Imran Tahir was quite impressive with ball in the match against Karachi Kings in the Qualifier as he gave away only 22 runs in his 4 overs and also dismissed Sherfane Rutherford. Imran also took the catch of Sharjeel Khan on the bowling of Sohail Tanvir but he did something which soon become a meme material. After taking the catch of Sharjeel Khan, instead of running with joy, Imran Tahir sat on the ground with legs crossed and gave a relaxing pose.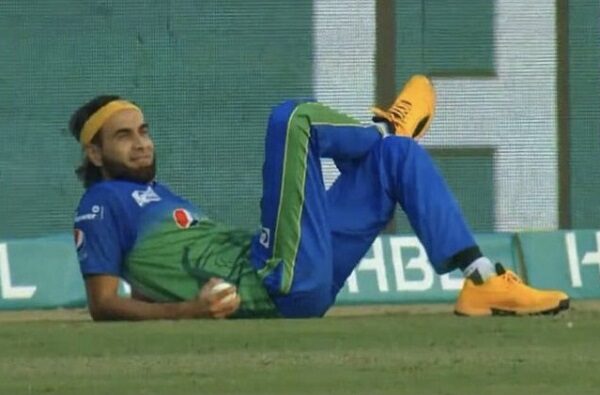 Soon the social media networks were flooded with memes and jokes based on the pose given by the spinner and here are some of the selected reactions:
#1
Both Matches Over but Imran Tahir is Still enjoying.😂#KKvMS | #LQvsPZ pic.twitter.com/OIjsBA2lOo

— Cricket Afridi (@CktAfridi37) November 14, 2020
#2
Imran Tahir throughout IPL this year#MSvKK #KKvMS #PSLV #PSL2020 pic.twitter.com/dT4iL4xKFz

— Muhammad Ihsan (@ihsan_im7) November 14, 2020
#3
Imran Tahir after taking a wicket in a parallel universe pic.twitter.com/MCpxDhU3Z6

— Muzammil Hussain (@Bahrian_Nibba) November 14, 2020
#4
Finally Imran Tahir Stop Running 🤣🤣#KKvMS pic.twitter.com/ZUiZsxv9ue

— Mansoor Aziz (@Mansoor56148704) November 14, 2020
#5
Imran Tahir after taking Sharjeel Khan's catch😂😂 pic.twitter.com/fzADAy6AyQ

— Partho Das (@Partho_das007) November 14, 2020
#6
2.5 GPA
Absent During Online Classes !!!
No Idea What to Do In Life
Waiting For Government to Announce Lockdown 2.0 ;_; xD#ImranTahir #PSL2020 #PSL5 #PhirSeTayyarHain 😂😂 pic.twitter.com/0FaaB6mwqk

— aNiM_uS (@AniMuS____) November 15, 2020
#7
Imran Tahir spotted in different places of Pakistan !!@TheRealPCB_Live pic.twitter.com/3DlLrWv8io

— Fahad javaid (@Fahadja44196171) November 14, 2020
#8
I need this Type of attitude in my life ❤😂.
Imran Tahir u beauty#KKvMS #PSLV pic.twitter.com/NP9lh1SGT4

— B I L A L 🔥 🇵🇰 (@Bilalabbassii) November 14, 2020
#9
Normal People: Bethny k adab hoty hain tameez se betha kro.
Feminist Dhol: "Lo Beth Gai Tamez Se!"#KarachiKings #PhirSeTayyarHain #KKvMS #ImranTahir pic.twitter.com/sSw01wJ4z2

— Talha Khan🇵🇰 (@TalhaConnects) November 14, 2020
#10
Karachi kings waiting for lahore to qualify for the final😂#KKvsMS #imrantahir pic.twitter.com/kcPxpTpEFO

— Hassaan ki memes (@JugatBaaz) November 15, 2020
#11
Imran tahir everywhere
OC meme pic.twitter.com/ONTVRHPYfK

— H A M M A D 🧸 (@itz_hammad17) November 14, 2020
Batting first, Multan Sultans gave a target of 142 runs to Karachi Kings but the latter managed to tie the match only because of which the match went into super over. Karachi Kings won the match in the super over as they scored 13 runs while Multan Sultans managed only 9 runs.
Share Your Views In Comments Below