News
India Carried Out A Strike On A Terror Camp Across LoC, Netizens Are Feeling Proud.
After nearly two weeks of the Pulwama tragic incident, Indian Army avenged Pulwama martyrs and proved what it takes to fight back. According to Indian Air Forces a group of Mirage 2000 Indian Fighter Jets released thousand kg bombs on the militant camps across the Line of Control.
The targets were neat, they wanted to destroy the JeM training camps and control rooms across the LoC border.This is the same militant group that claimed responsibility of the Pulwama incident, in a video that went viral soon afterwards.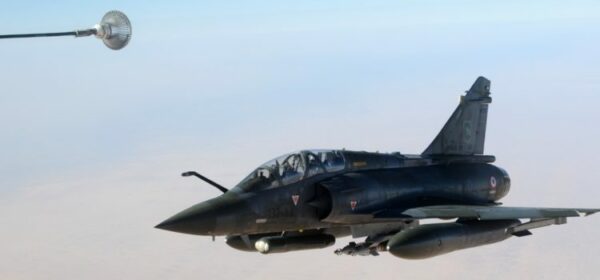 According to sources the terrorist launch pads are completely destroyed in Balakot, Chakoti and Muzaffarabad. Even JeM's Alpha-3 control rooms are no longer there.
India successfully carried out this mission at around 3:30 this morning and made sure they are doing exactly as planned.Today our Prime Minister Narendra Modi will be meeting the top ministers to discuss about security forces in the cabinet committee.
The moment our nation woke up to the news which is this great they took to various social medias to express how grateful they are for this prompt action. They saluted the bravery and applauded like never before.
#1
Mess with the best, die like the rest. Salute #IndianAirForce.@narendramodi.

— Ajay Devgn (@ajaydevgn) February 26, 2019
#2
Proud of our #IndianAirForce fighters for destroying terror camps. अंदर घुस के मारो ! Quiet no more! #IndiaStrikesBack

— Akshay Kumar (@akshaykumar) February 26, 2019
#3
Salute to the #IndianAirForce 🙏🏻.
JAI HIND. #IndiaStrikesBack

— rajamouli ss (@ssrajamouli) February 26, 2019
#4
Glad to know that #IndiaStrikesBack #Surgicalstrike2 against terrorists didn't result in any innocent civilian casualties there. Our #IndianAirForce was careful and particular abt their target and mission.. Heroes 👌👏 #Balakot

— Kaushik LM (@LMKMovieManiac) February 26, 2019
#5
Great job by the #IndianAirForce. The #IAFStrikes have sent the much needed signal to Pakistan and the terrorists it's harbouring – don't think you can get away with acts like the #PulwamaAttack. Bravo to the #IAF men and my full support for the action.

— Capt.Amarinder Singh (@capt_amarinder) February 26, 2019
#6
1000 kgs bombs dropped on terror camps with pin point accuracy. Forget about camps being destroyed.
After #Pulwama some sick minds asked us a question, laughing at our grief. Today, we ask them that same question.
Now say…#Surgicalstrike2 #indianairforce #HowsTheJaish.. pic.twitter.com/sTiCOVeeyI

— Manish Choudhary (@manishkabaniya) February 26, 2019
#7
Pakistani Airforce is ready to retaliate. 🤣🤣 #Surgicalstrike2 #Balakot #IndiaStrikesBack #IndianAirForce pic.twitter.com/oQue4sYHs8

— Kesari M (@KesariM2) February 26, 2019
#8
Salute to the Indian Defense Organizations and the Government for showing the world that well will not keep quiet anymore.

26/02 for Pakistan!#PulwamaAttack #IndianAirForce #indiastrikes #howsthejosh pic.twitter.com/DArTdNydS3

— Srijith Gopakumar (@twtsrijith) February 26, 2019
#9
#Balakot #Modi #indianairforce #PMModi Salute to Aircforce and Modiji to quickly counter attact country is proud for bravery attempt Jai Hind victory is dedicated to jawans let their life pic.twitter.com/MkRWxYW54w

— Rumeshkumar (@rumesh4chat) February 26, 2019
#10
How is the JOSH.

Indian Mirage fighter jets dropped 1,000 kg bombs and destroyed major terrorist camps in Pakistan.

Well 350 kg was their limit, our beginning is with 1000 kg. Their capacity was mere a car, ours is MIRAGE fighter aircraft. #SurgicalStrike2 #indianairforce pic.twitter.com/BHli82Y6Oh

— Dhiraj Kumar (@thedhirajjack) February 26, 2019
#11
Congrats #indianairforce #IndianArmyOurPride pic.twitter.com/iUc6wgqdNN

— kavivendhan (@kavivendhan5) February 26, 2019
#12
Just to make it clear, unlike the previous #SurgicalStrike we didn't just cross the LoC, we went beyond into Pakistan's Balakot, dropped 1000 kg bomb, destroyed JeM Terror camps and came back safely. Kudos to #IndianAirForce 👏🙌🇮🇳 #Balakot #SurgicalStrike2 #IndiaStrikesBack pic.twitter.com/eaXcgdbstN

— Ganesh (@im_ganesh95) February 26, 2019
#13
INDIA is no more a Soft State ! This is new INDIA 🇮🇳 #indianairforce #Surgicalstrike2 #Balakot pic.twitter.com/OV1Xvgbpml

— shraey khanna (@shraeyofficial) February 26, 2019
#14
None of us can imagine the guts the #IndianAirforce pilots had when they attacked the terrorists in their own land.🙏🇮🇳🇮🇳😎

You are the reason why I am tweeting without any fear because I know all the Armed Forces are guiding us 24 hours.🙏🙏

— Upasana Singh (@upasanatigress) February 26, 2019
#15
I salute our fighters of #IndianAirForce for carrying out the cross-LOC strike and destroying terror camps in #Pakistan Hats off to all of you. Lots of Josh! @IAF_MCC #IndiaStrikesBack

— Rajat Sharma (@RajatSharmaLive) February 26, 2019
#16
And they slept after tweeting this.😂🤣😂🤣 #Surgicalstrike2 #Balakot #indianairforce pic.twitter.com/eNneIDllNa

— Certified Engineer (@Engihumor) February 26, 2019
#17
What a day to start with😍😍#IndianAirforce 🇮🇳 Striked 1000KG Gunpowder On Pakistan Terrorist Camps

Dear Pakistani Terrorists Never Mess Up With Indian Army 💂.. #SurgicalStrike2 pic.twitter.com/WfnVUNgz5Y #IndianAirForce #Surgicalstrike2 pic.twitter.com/J8pLvK14gZ

— 🇮🇳 ಚೇತು ಸನಾತನಿ 🚩 (@chethukalpa) February 26, 2019
#18
You keep sleeping, we will strike you in your beds because PAF is awake to watch you getting hit. 😁 😁 😁 😁

If our 12 aircrafts can hit your periphery and return unharmed, our missiles can easily strike ur heart. 😁 😁 😁 😁

Anyway KEEP SLEEPING TIGHT😁 😁 pic.twitter.com/mkBuHYBwen

— Stinger™ سٹنگر (@imStinger01) February 26, 2019
#19
This is not #surgicalstrike2.#Balakot is in Khyber Pakhtunkhwa, just 60 km from Abbottabad, where Osama bin Laden was killed.
Indian Mirage 2000s have struck deep in the heart of Pakistan.
This is a full-blown attack. #IndianAirforce #IndiaStrikesBack

— Amber Zaidi (@Amberological) February 26, 2019
So, how is your josh this morning?
Share Your Views In Comments Below