Sports
India Performs Poorly Against New Zealand In 4th ODI, Fans Want Virat Kohli Back
In the 4th ODI versus New Zealand, India failed to put up a strong fight. The first innings are over and New Zealand just needs 70 runs in 48 overs to win.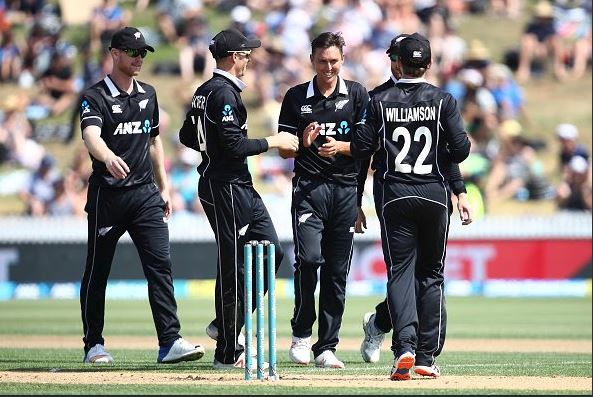 Although India has practically won the series, such a performance is alarming to say the least. A lot of people are blaming Rohit Sharma, since he stepped in for Virat Kohli who was asked to rest.
Twitterati is furious, you can see for yourself here:
#1
India with and without Virat Kohli.

🙃#NZvIND pic.twitter.com/Hka97BQo0l

— bet365_aus (@bet365_aus) January 31, 2019
#2
Indian team is showing how employees behave when the boss is on leave 🤷🏻‍♂️#NZvIND

— Shridhar V (@iimcomic) January 31, 2019
#3
Dhoni once walk into bat when the team scoreboard indicates 16-5 vs SL and also saw 29-7 later showed his terrific class and utmost calmness under Hard hitting pressure departs at 112!!

He was literally saved us from being the 'Worst total by a team in ODIs'#NZVIND @msdhoni

— Vidyadhar R (@Vidyadhar_R) January 31, 2019
#4
Team India is showing how the childs behave when the parents go for a shopping#INDvNZ #NZvIND

— Ravi – The coach (@holidayshastri) January 31, 2019
#5
Meanwhile…#NZvIND pic.twitter.com/QQWMOEEsxf

— Brainfaden Smith (@brainfadesmith) January 31, 2019
#6
The law of averages catches up… Wouldn't worry too much about a one terrible day! But the middle-order problem is recurring and is only festering. Must try Gill and Pant in the middle-order against Australia in home series #4thODI #NZvIND

— Navneet Mundhra (@navneet_mundhra) January 31, 2019
#7
#INDvsNZ 39/6 🤔 God must be crazy 😀

India🇮🇳 is badly missing #Dhoni today.He is the only player who can show great strength n resilience in this type of situation.

Get well soon @msdhoni 🤗 indian team desperately needs you😘

He is a sun & our team a solar system#4thODI pic.twitter.com/DmX9AXFQHT

— Harish Nilange🇮🇳 (@Nilangeharish) January 31, 2019
#8
#NZvIND #4thODI #Indvnz
Meanwhile When Virat opened his T.V pic.twitter.com/qgu5YPPFqz

— HIMANSHU (@UnIndian_) January 31, 2019
#9
35/6 this is exactly how our class behaved when our lecturer, HOD & Principal where out of college.#4thODI #NZvIND #TeamIndia pic.twitter.com/Kuf8Oly4VS

— Harshad Chauhan (@Harshad35630652) January 31, 2019
#10
Anybody missing me???
…
…#4thODI
Trent Boult pic.twitter.com/x4mOrTGS5L

— MS DHONI Fan Club (@Beast_G10) January 31, 2019
#11
#4thODI #NZvIND
Rohit : I can handle team well than Virat…

Meanwhile Virat : pic.twitter.com/wzaTMX1OL1

— $iđđhēsh🇮🇳 (@IamSiddhesh89) January 31, 2019
#12
Indian Batting Today pic.twitter.com/9EVPQPCbQj

— $iđđhēsh🇮🇳 (@IamSiddhesh89) January 31, 2019
#13
Wagon wheel of Indian batsmen#4thODI pic.twitter.com/eUw5435vls

— AKSHAY SHARMA (@akshaygoutam7) January 31, 2019
#14
India without Virat 😯😯

result is in front of us #NZvIND #4thODI

— B R I J W A (@BrijwaSRKman) January 31, 2019
#15
we need Dhoni in our team for situations like today. He may have gotten old and a little slow but adds a lot of stability to the team #4thODI

— Gourav (@gouravg13497007) January 31, 2019
#16
Today India Bowled out for less than 100 after 9 Years.

Courtesy : Rohit Sharma Captaincy #MakeRohitIndiaCaptain #RohitSharma

— Cricket Freak ❤️ (@naveensurana06) January 31, 2019
#17
Indian cricket team & Stock market are similar after doing extraordinary in some terms, both win your trust. Once you believe them they will crashed… #NZvIND #RohitSharma #4thODI @CNBCTV18Live
@NileshShah68

— Ravi khatri (@Ravikhatrim) January 31, 2019
#18
This guy Rohit Sharma can't play the swinging ball & his lunatic fans want to see captaining India in red ball cricket 😀 @harbhajan_singh @cricketaakash @bhogleharsha #RohitSharma #AccidentalCaptain #Rohitians

— Sudhir (@Sudhir55687876) January 31, 2019
Do you agree with what the fans are saying?
Share Your Views In Comments Below