Sports
India Vs Sri Lanka: Yuzvendra Chahal Chilling In Style Triggered Meme Fest On Twitter
The Indian cricket team seems chilled out even during the match against Sri Lanka. India has already made it to the semi-final and stands second on the point chart in the ongoing ICC world cup. In a drink during the match, Indian bowler Yuzvendra Chahal brought drinks for his teammates. And at one point he sat on the fence on the border of the field like he is sitting beside a swimming pool enjoying the sun.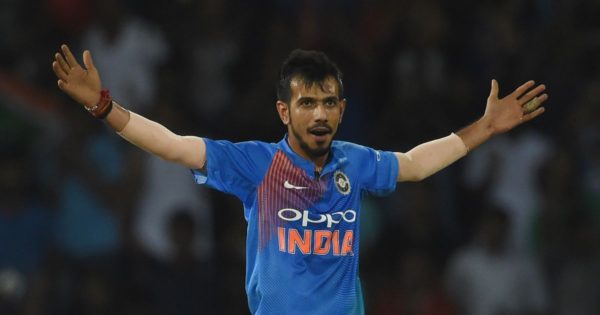 When the first inning was going on, Indian bowlers were in full form and restricted the SL team at 264 at the loss of 7 wickets. Amidst all this, Chahal was spotted lying on the ground wearing sunglasses with some bottles of water.
Chahal's chilled out sitting style initiated laughter and memes on the internet and very soon his picture went viral. Twitterians are calling it Chahal's swag and wondering if Chahal is posing for a camera or a painter.
#1
Swag dekh rahe ho? pic.twitter.com/yAaiWKg9uu

— Mask (@Mr_LoLwa) July 6, 2019
#2
Me, after washing two clothes pic.twitter.com/0ggq3m7mLO

— desi mojito 😎 (@desimojito) July 6, 2019
#3
Apni to jaise taise kat jayegi, apka kya hoga janab-e-ali#INDvSL #CWC19 pic.twitter.com/BgMTo4xvmr

— Unemployed Marwadi 🇮🇳 (@Muaaaahrwadi) July 6, 2019
#4
HR's on non festival days. pic.twitter.com/D3kskpTB4m

— Godman Chikna (@Madan_Chikna) July 6, 2019
#5
Me during a twitter fight pic.twitter.com/BV6sJ7aZuX

— ㅤ ㅤ ㅤ ㅤ ㅤ ㅤ ㅤ ㅤ ㅤ ㅤ (@firkey_) July 6, 2019
#6
कौन कमबख्त बर्दाश्त करने को पीता है, हम तो पीते हैं कि यहां पर बैठ सकें, तुम्हें देख सकें, तुम्हें बर्दाश्त कर सकें. pic.twitter.com/H865ZuaW0B

— Romana (@RomanaRaza) July 6, 2019
#7
"Bhai bohot busy hu nahi aa sakta yaar next time pakka aauga" #INDvSL
Me at home: pic.twitter.com/VjamCfnE1I

— abhay (@Woh_ladka) July 6, 2019
#8
Draw Me Like One Of Your French Girls… #INDvSL pic.twitter.com/ITOAI9HfSe

— Babu Bhaiya (@Shahrcasm) July 6, 2019
#9
Me: I have a lot of work to do

Also me: pic.twitter.com/IuDoec8UFT

— Aarohi Tripathy 🇮🇳 (@aarohi_vns) July 6, 2019
#10
It's quite hot outside.

Hence, Chahal has decided to relax next to Dhoni's jersey. #INDvSL pic.twitter.com/PLGAZHoO4v

— Shridhar V (@iimcomic) July 6, 2019
#11
Me solving my best friend's problem..#INDvSL #CWC19 pic.twitter.com/9QMiWztrnq

— Depressed Ladka (@Palpendikular) July 6, 2019
#12
hostelers coming home after long#INDvSL #CWC19 pic.twitter.com/cx41h5C2aQ

— d J 🎧 (@djaywalebabu) July 6, 2019
#13
Me last Sunday watching our game against England knowing result doesn't matter one bit , we'll qualify anyways n a loss effectively takes Pakistan Outta the proportion. #INDvSL #CWC19 pic.twitter.com/tMX4rhT8LK

— Karan (@kannuJK) July 6, 2019
#14
Friends : do you want to go out today?
Me : no I'm very very busy with work

*me at home* pic.twitter.com/gWu8kmqFcp

— Pakchikpak Raja Babu (@HaramiParindey) July 6, 2019
#15
1. when teacher is in class room.

2. when there is no teacher in class room. #INDvSL pic.twitter.com/vRc57kdvfr

— Sunil- The cricketer (@1sInto2s) July 6, 2019
#16
Close enough? #INDvSL pic.twitter.com/QnlONiu6wX

— Mikku🐼 (@effucktivehumor) July 6, 2019
#17
Water tanker mafias in the city be like pic.twitter.com/pJ7kU5U5B3

— Amey Kulkarni (@Kulkarnium) July 6, 2019
#18
*chahal be like , mujra pesh Kia jaye*😎#INDvSL pic.twitter.com/eXAmMaU5gg

— Tweetera🐦 (@DoctorrSays) July 6, 2019
#19
Chahal had the best view 😎#INDvSL #CWC19 pic.twitter.com/GCqapJbtOk

— RS (@AwaraRish) July 6, 2019
Share Your Views In Comments Below