Facts
Indian Bigwig Who Raised Their Voice On Economic Crisis In 2013, Why Are They Silent Now
In the last ten years India has faced three bad recession period where the economic growth got puzzled away. Currently, the Indian economy has slowed down and India is going through a financial crisis.
The Indian rupees have had a terrible year and there can be a moment when people have to endure with cash. It is also believed India is facing such an economic downturn for the first time in last 70 years as the entire finance is under threat.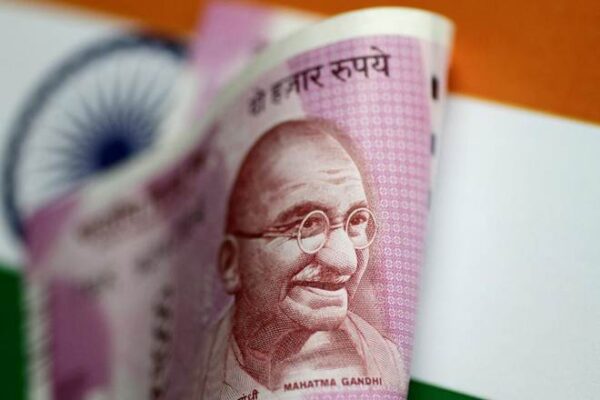 However, our government is silent and this time notable Indian's are also not demanding for an answer apart from the common people. But last time they wanted a lot of questions to be answered by then ruling government.

On August 28 2013, the rupee was 60 which was a mayhem and India was facing an economic crisis. India's notable people demanded an answer and wanted the UPA government to address the nation. Few claimed if Modi comes to power then rupee will get stronger.
But, now when India is going through another financial crisis. These intellects preferred to be silent. Read their tweets below:
#1
RT @nareshjb3464: @AnupamPkher Joke for the day: Soon RUPEE will be senior citizen 🙂

— Anupam Kher (@AnupamPKher) May 23, 2012
#2
Rupee at 60. It is mayhem. Close to an economic crisis. But well, the government is silent.

— Chetan Bhagat (@chetan_bhagat) June 20, 2013
#3
Resending Toon in Hindu today,which shows PM always trying to run away from falling rupee,fuel hike,missing files etc pic.twitter.com/PpzsRFW6MI

— Kiran Bedi (@thekiranbedi) September 5, 2013
#4
It is refreshing to know that the rupee will get stronger at Rs.40/- per dollar if Modi comes to power http://t.co/OacZDXesGy

— Sri Sri Ravi Shankar (@SriSri) March 20, 2014
#5
Sharply falling rupee against the US dollar indicates gross mismanagement of Indian economy by the Congress led UPA: http://t.co/IRgMx2x6X4

— BJP (@BJP4India) July 10, 2013
#6
Chinese incursion, Petrol prices rise again, Rupee falling, 60% of Indians struggling for food n all they speak about is cloak of Secularism

— Smriti Z Irani (@smritiirani) July 15, 2013
#7
Rupee hits 61.59 against US Dollar, hits new low

— Sudhir Chaudhary (@sudhirchaudhary) August 6, 2013
#8
The record breaking trend of a free falling Rupee, one of the biggest blots on an economist Prime Minister .

— Anjana Om Kashyap (@anjanaomkashyap) August 19, 2013
#9
@MosesSapir No Moses..gire hue is right .. its a take off on the falling value of the Rupee against the Dollar in India .. girna is falling

— Amitabh Bachchan (@SrBachchan) May 23, 2012
Author Chetan Bhagat shared his concern about the economic crisis in a panel discussion. Desi Twitter wants to know why are they silent now?
#1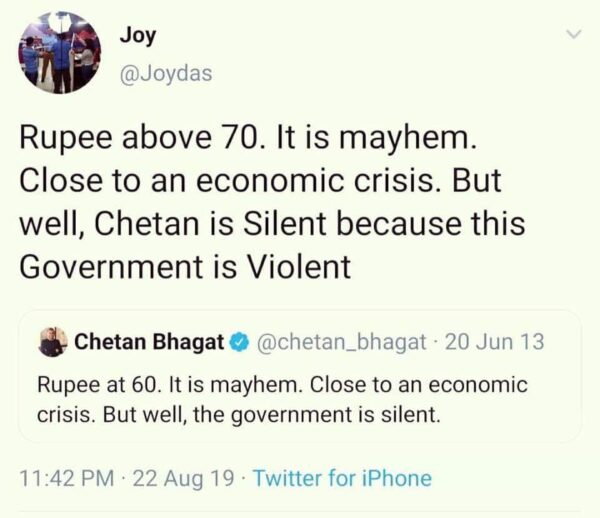 #2
An idiot or just sinister?#Economy #Money #FinancialCrisis pic.twitter.com/cQXNp3umhF

— Bull-Boom Bear-Bust (@boom_bull) August 23, 2019
#3
Honorable @PMOIndia @AmitShah @nsitharaman
Is India on the verge of facing #Recession?
Automobile industries minimizing productions, now Textile industries!
Humongous loss of #employment, #revenue & future development!
How will you take care of Ladakh & JK under #FinancialCrisis.

— ANURAG JAISWAL (@Donzaijaiswal) August 22, 2019
Why no comments?
Share Your Views In Comments Below