News
Indian Couple Forgot iPhone In Taxi. Dubai Police Gets It Back For Them In 20 Mins
It's a trend in India to take extra time in solving a case. Public approaches police for help but most of the times end up increasing their woes.
However, some countries are fast and provide really quick help to their public and even tourists. Dubai is surely one of these countries and that fact was proved recently after Mumbai based singer Manmeet Singh and his wife Amardeep Kaur Syan sought their help.
The couple was at Dubai for Honeymoon and while they were returning to Airport through a taxi, Manmeet forgot his iPhone in the taxi. Only 1.5 hours were left for the flight and that's when they asked for the help from local police.
Guess What? The Dubai police got the iPhone back to them in just 20 minutes.
Manmeet took to Facebook and wrote a long message for Dubai Police. He said-
Hello Dubai police so I am writing this post just to appreciate the hard work and dedication of @dubaipolicehq … so I reached the Dubai airport terminal 1 to catch a flight back to mumbai and I realised that I have forgot my iPhone in the cab which had dropped me … so I immediately ran out to chk if the cab was still there but unfortunately it wasn't there .. so I met this Dubai police officer 👮‍♂️ outside Dubai airport terminal 1 outside departure gate 3 Mr.Ammar Alsaadi who is a smart dashing man with his team and I immediately reported the incident to him ( I had just 1.5 hrs left for my flight to depart ) as I didn't have the cab number as it wasn't an Uber cab , the officer just asked for few details like the cab colour , where I boarded the cab from and what time I reached the airport and how much fare I paid … he immediately reported the matter to the RTO on his wireless and got in touch with the cab of which I didn't even have the car number nor the driver name and got my cell fone back to the airport in 20 mins .. and trust me when I say exactly 20 mins … I think Dubai police is the most effective and efficient police force …I mean just look at the reaction time and i got my fone back in 20 mins … the officer told me that our government says to help each and every person irrespective of his nationality … hats off to you #dubaipolice and especially to Mr.Ammar Alsasdi … thanks a lot once again
You can also check the pictures below-
1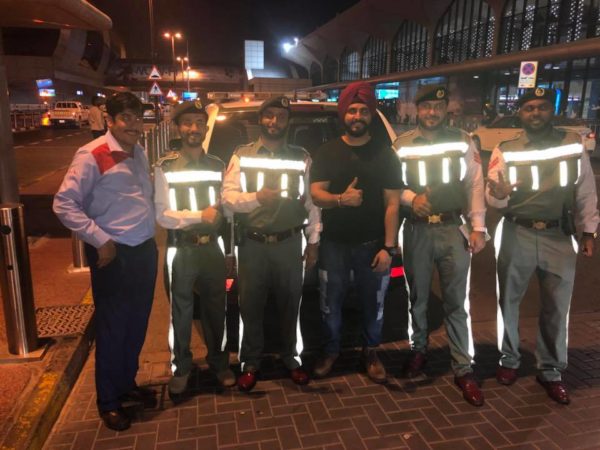 2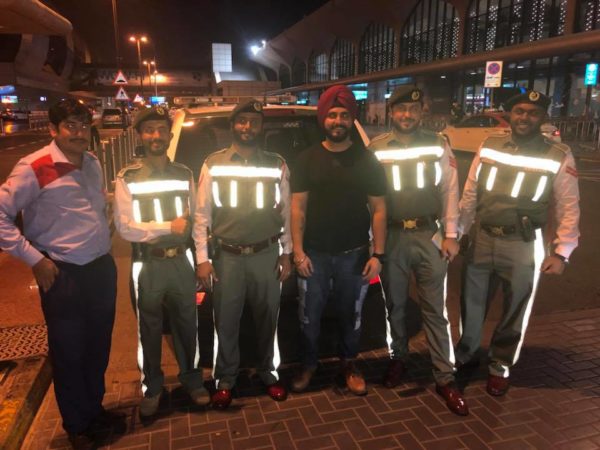 Speaking to Khaleej Times from Mumbai, Manmeet Singh said-
"I had put my iPhone for charging in the taxi and forgot about it while getting down. We took our suitcases out and left the phone in the back seat."
It was only after reaching the Terminal 1 of Dubai Airport that they realized that they have forgotten the iPhone in the taxi.
Manmeet approached a Dubai Police officer at Departure 3, Ammar Alsaadi and his team regarding his issue and shared details of his cab ride. With just 1.5 hours left to his flight, he informed the police about the time he boarded the cab, the fare he paid and other relevant details.
He was quoted as saying –
"Officer Ammar Alsaadi was of great help as I couldn't speak to the RTA in Arabic and he made the communication easy for us. Had it not been for the timely help of the Dubai Police, we would have surely missed our flight."
Isn't that amazing? What are your thoughts on it?
Share Your Views In Comments Below