Sports
Indian Cricket Fan Insulted Pak Team On Facebook! ICC Gave Him A Reply He Will Never Forget
Unlike the previous ones, this year's ICC Women's World Cup is creating lots of news and is being talked about for every small and big reason.
It was an interesting clash between the women's team of Pakistan and West Indies yesterday. Doing the batting first, West Indies scored a brilliant 285 runs in 50 overs. In the answer, Team Pakistan fought like true warriors and scored 117 in 24 overs, before the match was disturbed due to rain.
The team lost the match but the efforts were worth appreciating.
As the ICC posted pictures of the players of the winning team and congratulated them on their Facebook page, a nasty comment appeared from an Indian cricket fan. Here's what he said-
Dear ICC…. Stop These Pakistan team to invite in WC bcz they still don't deserve it???

To this comment, ICC gave a very badass reply. They replied him with a picture of Pakistan's Sarfaraz led team, which defeated India in recent ICC Champions Trophy and wrote-
You mean these guys?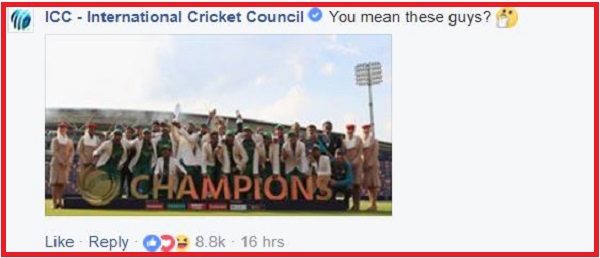 The reply was hard hitting and was received very well. It got almost 10k likes from users and still counting. The perfect reply by ICC shut the mouth of troller without even being harsh.
Check out the actual FB post by ICC-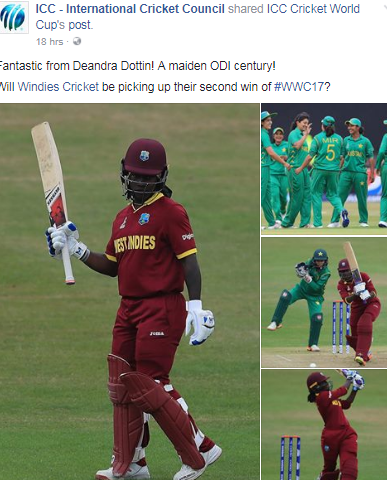 Click here to check the post directly on Facebook.
What do you think about it? Was it right for Indian cricket fan to comment on the post which didn't even involve Indians?