Sports
Indian Cricketers' Salary In 2017 Revealed. This Is How Much Kohli, Dhoni & Others Get
Indian cricketers are among the most popular players of the world and they are definitely the highest paid sportspersons in India. Cricket is the most watched game in our country and in fact, it won't be wrong if we say that it is a religion here which has eventually led in making BCCI the richest cricket body of the world.
The extreme popularity of cricket in India is also the result of superb performance of Indian cricketers as they have won many tournaments including two ODI World Cups and one T20I World Cup. This year also, if we ignore India's performance in the Champions Trophy finals against Pakistan, they have played as match winners and their performance against Australia put them at the top rankings in all the three formats.
Here is an update about the increase in the annual contracts of Indian cricketers and this is how much the players get in 2017:
Grade A Players: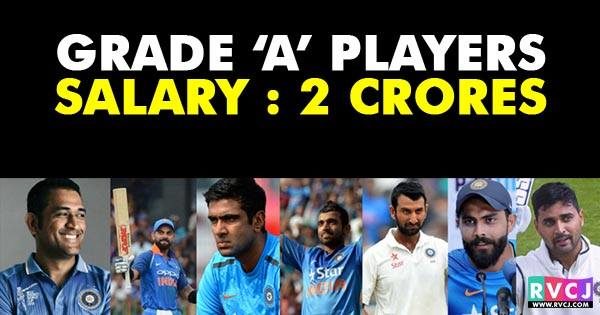 1. MS Dhoni- Rs 2 Crore
Former Indian captain is still one of the best finishers of the game and just recently, he did his 100th stumping, making it clear to all his critics that nobody can question his fitness.
2. Virat Kohli– Rs 2 Crore
Known to be very aggressive on the field, he can be called aggressive when it comes to earning money also. He was the only Indian to feature in the Forbes highest paid athletes.
3. Ravichandran Ashwin– Rs 2 Crore
The spinner has made his place in the team with his hard work and dedication and now he is the main bowler of the team, especially in the longest format of the game.
4. Ajinkya Rahane- Rs 2 Crore
This top-order batsman has become the backbone of Indian batting and since his debut in 2011, he has scored more than 6000 runs.
5. Ravindra Jadeja- Rs 2 Crore
He is one of the main match winners of the Indian cricket team and with his consistent performances, he secured the no. 2 rank for all-rounder and bowler in the ICC Test rankings.
6. Cheteshwar Pujara- Rs 2 Crore
His big innings in the longest format of the game has made him the Test specialist and earned him a permanent spot in the team.
7. Murali Vijay- Rs 2 Crore
This opening batsman has played some brilliant innings both in the country as well outside; however, he is yet to make a return in the team after his injury earlier this year.
Grade B Players: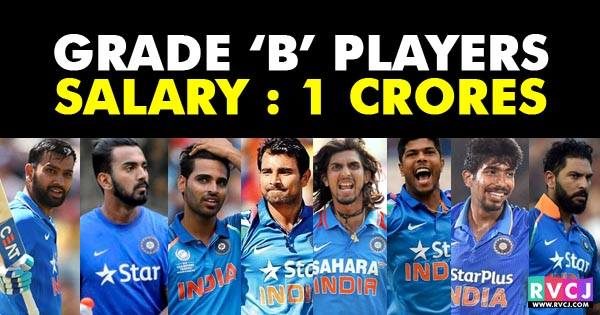 8. Rohit Sharma- Rs 1 Crore
9. KL Rahul- Rs 1 Crore
10. Bhuvneshwar Kumar- Rs 1 Crore
11. Mohammed Shami- Rs 1 Crore
12. Ishant Sharma- Rs 1 Crore
13. Umesh Yadav- Rs 1 Crore
14. Wriddhiman Saha- Rs 1 Crore
15. Jasprit Bumrah- Rs 1 Crore
16. Yuvraj Singh- Rs 1 Crore
Grade C Players: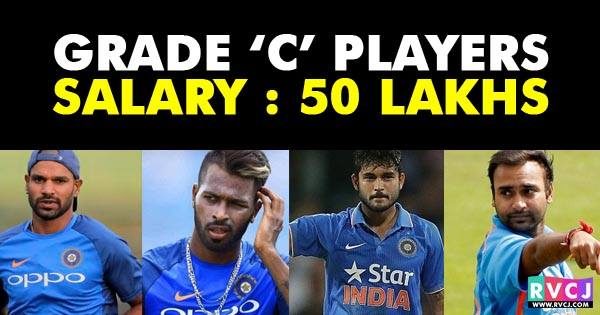 17. Shikhar Dhawan- Rs 50 lakhs
18. Ambati Rayudu- Rs 50 lakhs
19. Amit Mishra- Rs 50 lakhs
20. Manish Pandey- Rs 50 lakhs
21. Axar Patel- Rs 50 lakhs
22. Karun Nair- Rs 50 lakhs
23. Hardik Pandya- Rs 50 lakhs
24. Ashish Nehra- Rs 50 lakhs
25. Kedar Jadhav-Rs 50 lakhs
26. Yuzvendra Chahal- Rs 50 lakhs
27. Parthiv Patel- Rs 50 lakhs
28. Jayant Yadav- Rs 50 lakhs
29. Mandeep Singh- 50 lakhs
30. Dhawal Kulkarni- Rs 50 lakhs
31. Shardul Thakur- Rs 50 lakhs
32. Rishabh Pant-Rs 50 lakhs
The earning of Indian cricketers is not just limited to the payment made by the BCCI. IPL has also helped them in increasing their bank balances and not to forget, advertisements and endorsements also play an important part in their huge earnings.
Share Your Views In Comments Below