News
Indian Diplomats Refused To Shake Hands With Pakistani Officials, Netizens Are Proud Of Them
In the aftermath of the Pulwama incident, Indian diplomat MEA joint secretary Deepak Mittal snubbed a senior Pakistani official at the International Court of Justice by refusing to shake his hand.
At the hearing of the Kulbhushan Jadhav case at the ICJ in Hague, the Indian diplomats preferred to greet the Pakistani officials with a Namaste but refused to shake their hands.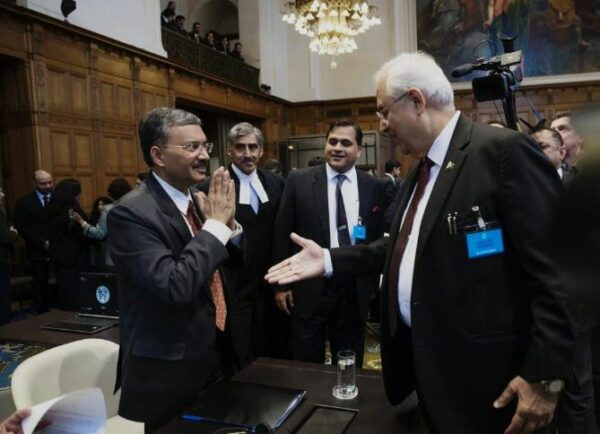 Pakistan's Attorney General Anwar Mansoor Khan held his hand out to Deepak Mittal in an attempt to shake hands, but Mittal politely refused and greeted him with folded hands instead.
Mansoor Khan then proceeded to the Indian ambassador to the Netherlands Venu Rajamony and tried to shake hands with him as well. However, the latter followed Mittal's example.
Someone pointed it out on Twitter, and you really cannot miss the video:
Diplomats have their way of talking. At the ICJ, both India's envoy to Netherlands Venu Rajamony and MEA JS PAI Deepak Mittal refused to shake hands with the Pak side before the proceedings began. Customary Namaskar was offered. In mourning can't shake hands with terror nation. pic.twitter.com/nI9YBNrqTy

— Aditya Raj Kaul (@AdityaRajKaul) February 18, 2019
A lot of people are praising this act and calling the two men real heroes.
Bravo Amb @venurajamony.
Bravo @MEAIndia joint secretary Deepak Mittal.

Khoon se range haathon ko door se hi namaskar kar diya 👍🙏.@crpfindia martyrs would be blessing you for taking a stand at #ICJ. Unlike Bajwa hugger and Imran Khan chum @sherryontopp ☹️👎 pic.twitter.com/lHgScMUuup

— Rohit Bansal 🇮🇳 (@theRohitBansal) February 18, 2019
In fact, some are saying that India perfectly snubbed Pakistan in a subtle way which surely must have been humiliating:
This, btw, is the SECOND time Dr Deepak Mittal snubbed the Pakis.

Here a piece that gives us a little insight on this shy and very patriotic man: https://t.co/UTU6IyZjSe 🇮🇳🙏 pic.twitter.com/9aOhssCLTg

— Rohit Bansal 🇮🇳 (@theRohitBansal) February 18, 2019
Most are agreeing:
That was a hard slap! Excellent!

— Cara 🇮🇳 (@Cara07352870) February 18, 2019
Clearly, people cannot get over the horrific incident:
Good gesture… They shouldn't have even got up…

— JAY KANT MISHRA (@JAZZEDUPJAY) February 18, 2019
We agree as well:
Indian lawyers today hit the nail on the head & come off with flying colors! All was under their thumb! 😎😎

— Shreyans Kucheria 🇮🇳🇮🇳 (@jainshreyans01) February 18, 2019
A tight slap indeed!
Salve & others should also have done 'Namaskar' but I guess , He was busy preparing for case that's why he forgot .

Anyway .. that's a tight slap with both hands joined 😉✊✊❤

— Shinchan (@Bhak_Bhosdike) February 18, 2019
What do you think about this?
Share Your Views In Comments Below