Sports
Indian Fans Mercilessly Roast Matt Parkinson For Calling Virat Kohli & Dhoni Disgraces
The India tour of England has reached its last phase with the 3-match ODI series that has started today at Pune. The England spinner Matt Parkinson who is also a part of the squad at the moment is making headlines for all the wrong reasons as of now.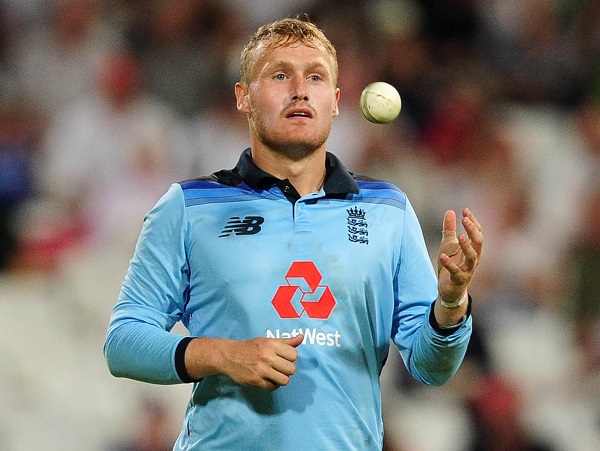 The Indian social media users are trolling the England leg-spinner because of the his derogatory tweets that he made from 2012 till 2014 in which he not only called the Indian players cheaters but also called the legendary former Indian skipper MS Dhoni and Indian skipper Virat Kohli disgraces to the game of cricket.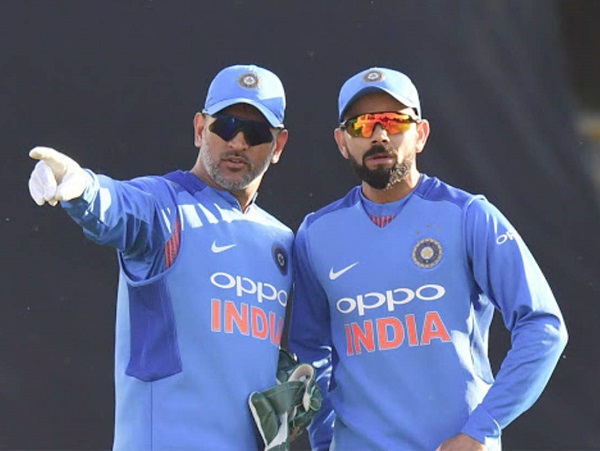 What's more, Matt Parkinson called Virat arrogant in his tweets too and even went on to make fun of standard of the Indian first class cricket as in his opinion, the Indian cricketer Ravindra Jadeja doesn't know how to bat and he has scored three triple centuries in first class cricket.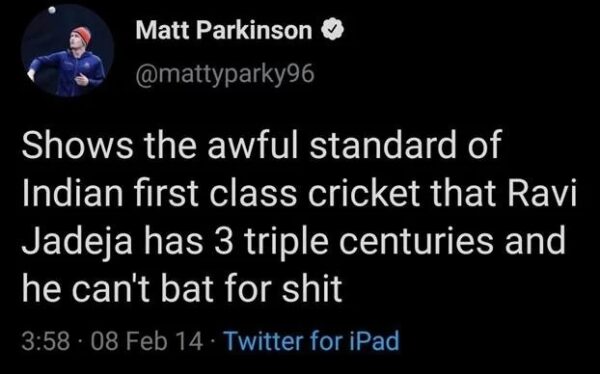 It was speculated that the will be playing in the first ODI against India which is being played at Maharashtra Cricket Association Stadium, Pune, but he was not included in the England's playing eleven. Though, Matt Parkinson deleted many of his tweets but the Indian cricket fans had taken screenshots of them and when the news of 24 years old cricketer playing in the ODIs surfaced, the Indian social media users started trolling him.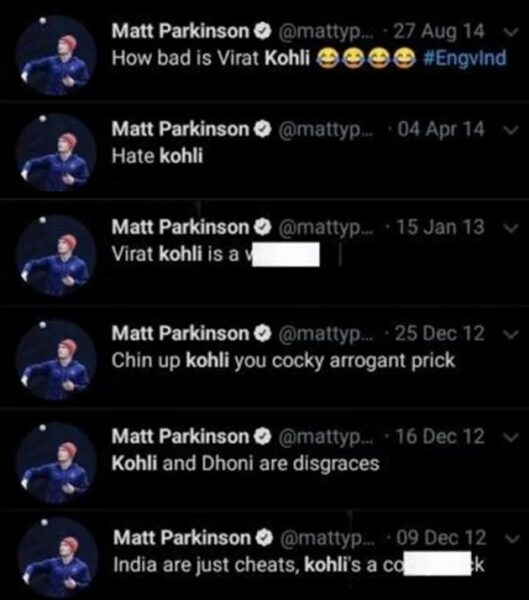 Here are some of the selected reactions:
#1
How dare he said harsh words about our team, especially Kohli and Dhoni?????????

— Vikhyath R Krishna (@ImViki24) March 23, 2021
#2
He is trying to get sasti publicity and to gain few followers

— Souvik Das (@rrsouvik) March 23, 2021
#3
Lol virat will bash the shit out if this club bowler

— CRICFAN(SARCASTIC & TOXIC) (@reverse_sweep_) March 22, 2021
#4
Hope he forgot Sir Jadeja Innings against New Zealand in semifinals of CWC 2019.

— SaiCric Krishna🏆🏏🎤🖋️ 🌱💂🎬 (@SaiKris75286313) March 23, 2021
#5
Today's match he will not played against our indian team. When he played against our indian team our players and captain definitely teach to him how to play cricket and how we Indians react on his tweets. @mattyparky96 You just wait & watch.

— SK's Food Tour (@sksfoodtour) March 23, 2021
#6
These guys will bring the aggressive virat Kohli… What fans love to see😂 pic.twitter.com/vENIiG7ciA

— SN தல⁶⁰ ⚡️ ˢᵒᵒⁿ (@SRINATH1012) March 23, 2021
#7
Virat will make him:- pic.twitter.com/Taf3qLInEh

— soul🌻 (@nostalgic_soull) March 23, 2021
#8
c'mon guys he was a kid back then😂🤣🤣 he gonna understand what kohli is when the king will hit him all around the park. he also knows where he is and the king is. its like a noob and a pro king. 😎

— Vedant Baranwal (@awokebhakt) March 23, 2021
#9
Must be suffering with brain Parkinson's disease and that's why this oral diarrhea @mattyparky96

— Ravi Vallabhaneni (Balu Deserves Bharat Ratna) (@ravivallabha) March 23, 2021
#10
@imjadeja see this, this local club bowler commenting rubbish regarding u

— Soham (@Soham718) March 23, 2021
#11
Bhai sabka hisaab karega apna kohli
Don't worry sabka badla lega
Bhai jab vo aayega na usse pant kohli sab milke jhilayenge

— Gopal Sharma (@im_gopalsharma) March 23, 2021
As far as the first ODI is concerned, England has won the toss and decided to bowl first. Till the time this article was written, India had scored 304/5 in 49 overs.
Share Your Views In Comments Below