Food
Indian Twitter Users Have Hilarious Reactions Over Not Enjoying Breakfast In Bed With Partner
The coronavirus pandemic forced all of us to stay inside our houses for more than 3 months now. Though the world is now in the unlocking phase, the situation of COVID-19 is far from being satisfactory. In simple words, we all need to be alert and cautious more than ever before.
While many people are working from home, there are some who are spending their time in watching television and movies. The amount of time that we spend in out bedrooms has certainly increased to a great extent, but does this mean that we can have our breakfasts in our bed? Well, one Twitter user started discussion on this matter and asked everyone, "Hey Couples, Would you prefer 'Breakfast in Bed'? Why or Why not?"
The netizen also shared a couple of pics. Take a look: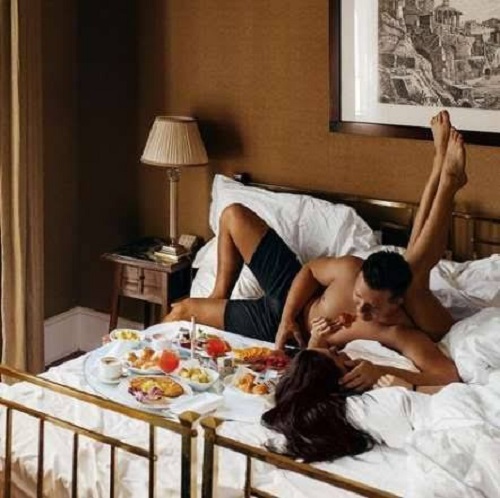 Check out the tweet:
Hey Couples,

Would you prefer "Breakfast in Bed"?

Why or Why not?#Mornings pic.twitter.com/5P94fCT980

— Lady Nisha (@Lady_nishaaa) July 18, 2020
The majority of the Indians refused to have breakfast in the bed as having meals in the bed is considered as inappropriate. It is being said that only sick people are served food on bed as they are weak and have problem in moving. From the cultural perspective as well, it is not considered appropriate for Indians to have meals in bed so most of the online users replied in negative. Some others added a tinge of humour in their response such as who will wash the bed sheet if there are any stains and detergent too is now costlier whereas another user asked who will cook this much food.
Here are some of the selected reactions:
#1
PhotoOp k liye accha hai lekin practical aur hygienic nahi hai. pic.twitter.com/7yD3etJAts

— Sanghi Jinnah (@Fayad_e_azam) July 18, 2020
#2
I like this idea but mites might be present on the matters after eating…and also the bed is for sleeping and the table is for eating, I don't know why some people try to change it 🤣🤣🤣

— root (@NeptunesMonster) July 18, 2020
#3
Food crumbs on bed..food Stains.. The mess and untidiness.. Thank you but no thank you.. 🙏🏻 Though I don't mind just having bed tea ..

— Mohini (@mohini23451) July 18, 2020
#4
Papa lakdi lekar ayenge bed pe Khana khaya tho

— Vineeth (@Vineeth76670111) July 18, 2020
#5
Wo sab to theek hai. Lockdown mein itna khana inke kiya bana kaun raha hai bhai ?

— TinTin Quanrantino (@Batla_G) July 18, 2020
#6
Breakfast in bed before brushing teeth? If you already have brushed teeth, why not have breakfast at a better place?

— [email protected][email protected]! (@A_Saffronista) July 18, 2020
#7
Only in hotel rooms n only after getting freshen up. 😁😁

— Adi (@snickersnee0810) July 18, 2020
#8
No! We eat or drink water after doing daily puja and for that we have to take bath first! So this is not possible.

— Madālasā (@DrBpatel) July 18, 2020
#9
No 😑 I am most unromantic in this I think. Bachpan se bola gaya tha khana kabhi bedroom leke nahi jaana. Conditioned to it still 🙈😁😁

— Lioness Queen Sarabi (@SowMe18) July 18, 2020
#10
Bedsheet khraab ho jayegi to dhoyega kon???

— Aditya (@Aditya99414094) July 18, 2020
#11
Liquid detergent kitna mehnga ho gaya hai malum.

— Indravadan Sarabhai 🇮🇳 (@indusarabhai) July 18, 2020
Have you ever had breakfast in bed?
Share Your Views In Comments Below