Sports
Indians Rip Apart Shoaib Akhtar For Requesting 10,000 Ventilators & Proposing Ind-Pak Series
There is no denying the fact that the developing nations have been more adversely affected because of the coronavirus outbreak in comparison to the developed countries because the majority of population in developing nations is poor and the country also lacks enough resources for taking care of its citizens if a lockdown kind of situation arises.
Pakistan has also been severely affected amid the COVID-19 crisis as the number of infected cases has crossed the 5000 mark while more than 90 have lost their lives. Recently, the former Pakistani cricketer Shoaib Akhtar who is pretty active on social media networks and doesn't mind talking on important issues on his YouTube channel expressed a wish which did not go well with the Indians.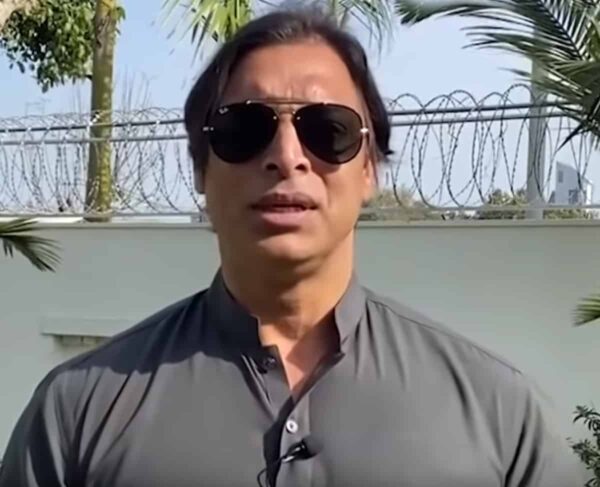 The former pacer says that if India makes 10,000 ventilators for Pakistan, their country will always remember this gesture. Not only this, he also suggests a three-match ODI series between India and Pakistan and as huge crowd will come to watch these matches, a considerable amount would be earned which can be divided equally by both the countries and those funds can be used for fighting COVID-19. He also adds that he can just give suggestions and it is up to the authorities to take the final decision.
As the Pakistani cricketer expressed his wishes, the Indian Twitterati got into action and trolled Shoaib Akhtar mercilessly. While some ask why he is begging and instead, he should ask his PM Imran Khan to do the same, several others were of the opinion that Pak is not at all serious in regard to coronavirus otherwise it would have acted decently during the SAARC meeting. Here are some of the selected tweets:
#1
Their PM wants all loans waived off. Shoaib Akhtar wants 10,000 ventilators. Advisor to Pak PM is smuggling face masks. The population is wearing Chinese face masks made from used underwear.

And yet…Kashmir is all they can think of. Funny people😂https://t.co/2XuMywC6qA

— Major Gaurav Arya (Retd) (@majorgauravarya) April 10, 2020
#2
Less than a month ago, Shoaib Akhtar thought of coronavirus as something divine sent as a punishment for India linking it with Kashmir insurgency. Now, he wants India to donate ventilators to Pakistan.

Shoaib changes his stands faster than Indian cricketers change their cars.

— Sonam Mahajan (@AsYouNotWish) April 9, 2020
#3
On 16th March: Pakistani cricketer Shoaib Akhtar linked Coronavirus crisis with abrogation of Article 370 from J&K and tweeted that Dear world, how is the lockdown?

Now, Shoaib Akhtar requested India to provide 10,000 ventilators for Pakistan.

Dear World, how is the meltdown?

— Anshul Saxena (@AskAnshul) April 9, 2020
#4
Shoaib Akhtar says if India sends 10,000 ventilators Pakistan will never forget.

If Pakistan is willing to hand over an equal number of terrorists including Hafiz, Dawood and Azhar I say we should do it 😄

You want to save your people's lives, we want to save ours.

— Vinayak (@vinayak_jain) April 9, 2020
#5
Why Shoaib Akhtar? Is he the PM? Maybe PM chair is shared by cricketers. Let @ImranKhanPTI beg like his buddy did. India would think. Till then bank on masks made from used underwear and poor quality test kits from China. No one helps a country which exports terrorists and begs https://t.co/wrb4yuDNfU

— Maj Gen Harsha Kakar (@kakar_harsha) April 9, 2020
#6
Looks Shoaib Akhtar has lost all hopes in @ImranKhanPTI and has been literally begging India for help pic.twitter.com/Ss3uSx7PO3

— Aditya (@AR24O) April 9, 2020
#7
Yesterday , Shoaib Akhtar was suggesting Indo-Pak series for raising funds to battle the pandemic.

Today , he is pleading for 10000 ventilators.

Lagta hai kal tak ration bhi maang lenge ye.

— Sassy Kapoor (@Jhootsayer) April 9, 2020
#8
Who the hell is #ShoaibAkhtar .??
If Pakistan wants begging then Imran Khan should demand why Shoaib Akhtar.??

— Ravi Tiwari 🇮🇳 (@itsRaviTiwari) April 9, 2020
#9
Pak asked for masks China gave them underwears.

Shoaib Akhtar is asking for ventilators. How about 👇 pic.twitter.com/thIkRryHCl

— Shirley Serious (@_therealNobody) April 9, 2020
#10
Dear Shoaib Akhtar,

India returned 93,000 captured Pakistani soldiers and Pakistan didn't remember that. So stop kidding us already.

Not so kind regards,
India pic.twitter.com/hMD8El8y6n

— Avalokiteshwara (@Dayanid67137887) April 10, 2020
#11
Finally Shoaib Akhtar has accepted that India is a father of paxtan and he beg for 10,000 ventilators from India. pic.twitter.com/XLRhBzYMaH

— SUMIT MUKHERJEE (@Who_Sumit) April 9, 2020
#12
Is shoaib Akhtar out of his mind?
Cricket match during this time🤦‍♀️
He wants 10000 ventilators from India. India first av to make its ventilators for its ppl. Stop spreading hate…spread some positivity..

— Grace (@gracesapna) April 9, 2020
#13
Shoaib Akhtar requests India to provide 10,000 ventilators for struggling Pakistan, why don't IMRAN KHAN raised this issue in SAARC meeting!

— nitesh dixit (@nicdixit) April 9, 2020
#14
Where the hell is that puppet Imran Khan hiding ??? Behind this fellow Shoaib Akhtar ????

— Jay Prakash dash (@jayprakashdash) April 9, 2020
#15
– 50 ceasefire violations
– 5 Indian martyrs
– $0 contributions to SAARC-Chinese virus fund

And #ShoaibAkhtar wants a fundraiser series, India to make 10 thousand ventilators for Terroristan? That's called audacity of hope

— Debarati (@debarati_m) April 8, 2020
Former cricketers Kapil Dev and Zaheer Abbas have straight away denied chances of any India-Pakistan cricket series in the near future, especially when the coronavirus pandemic has affected so many people. Gathering of people at a location has to be avoided as coronavirus is contagious which makes the suggestion of Shoaib Akhtar absolutely non-feasible.
Indians are also not in the mood to help Pakistan because the neighbouring country has been promoting anti-social activities for a long time and the tension between both the nations increased further when the Indian government carried out the surgical strikes in order to teach Pakistan a lesson.
As far as coronavirus is concerned, it has infected more than 18.5 lakh people while over 1.10 lakh have lost their lives all across the globe. Please stay at home and stay safe.
Share Your Views In Comments Below