Enjoying in the snow is something that almost every travel loving person will like to do in this winter season but having a cup of coffee or tea in an igloo café is something that even an introvert will enjoy.
There is good news for the Indians as now we have our first igloo café which has been started in Gulmarg, Kashmir. For those who are unaware of igloo, let us tell you that it is a type of snow house or snow hut. The igloo is 13ft high and 22ft wide from inside and everything inside the café, from tables to chairs to decoration pieces, are made of snow which further enhance the beauty of the café. It has four tables with four chairs at each table which means that 16 people can be accommodated at one time in the café.
First of all, take a look at some pics of the igloo café:
#1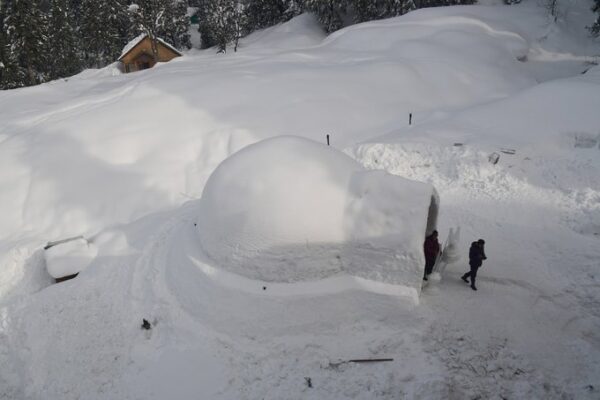 #2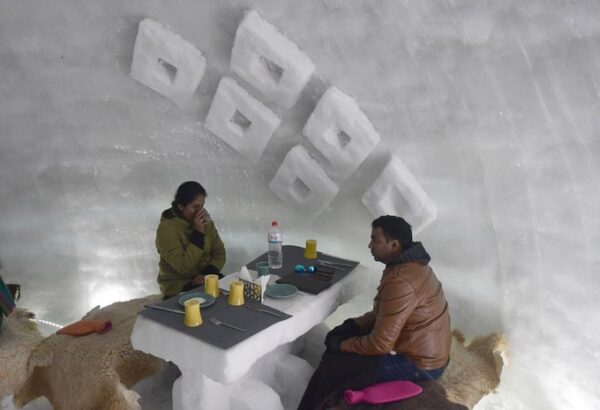 #3
#4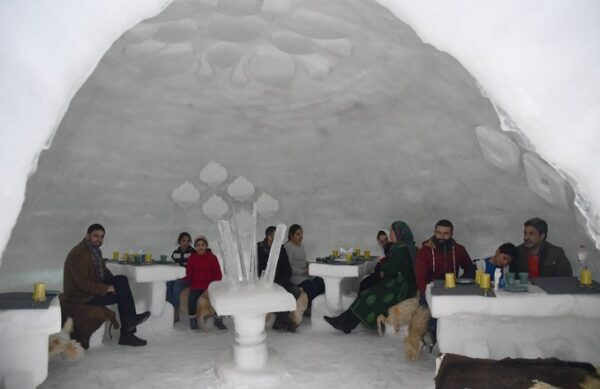 The owner of this igloo café is Waseem Shah who also runs Kolhai Resorts. Talking to a news portal, Waseem says that as he is a traveler and he has witnessed such things in foreign countries like Switzerland because of which he thought of doing something like that over here. He adds that this is the first one in Gulmarg and hopefully some more will be set up soon.
Twitter has been flooded with the photos of the igloo café by those who are lucky enough to get a chance to visit it. Here are some tweets:
#1
First Igloo Cafe comes up in kashmir's Gulmarg pic.twitter.com/cN6zf2Apfz

— umer Rashid ganie (@Cyclistumar) January 27, 2021
#2
First Igloo Cafe comes up in kashmir's Gulmarg pic.twitter.com/ILcL1uDIuI

— Basit Zargar (باسط) (@basiitzargar) January 27, 2021
#3
Indeed a beautiful experience!!! We had our tea in it . pic.twitter.com/Q2CXGTqKCD

— Nazia mufti (@MuftiNazia) January 27, 2021
#4
Inside-kashmirs-first-igloo-cafe-a-samavar-and-16-guests-sipping-kehwa. pic.twitter.com/9bA0MAC69Z

— Javid Dar (@JavidDa76383924) January 27, 2021
#5
Kashmir's first #Igloo cafe is all set to attract tourists, this is a first one-of-a-kind experience that is being unveiled in the Valley by the tourist.
This is so creative, i will definitely visit over there. pic.twitter.com/AGjftP6KU8

— Kashmir_ValleyofSnow (@Snowjoy_Kashmir) January 27, 2021
#6
Kashmir's first Igloo Cafe in Gulmarg, made up of snow and ice. Amazing!@JandKTourism @DrGnitoo pic.twitter.com/bVgVwieuAI

— Mudasir Maqbool (@MudasirJourno) January 25, 2021
#7
for a cup of 'Kehwa' and 'Samavar'

Kashmir's – first and one of its kind, Igloo cafe #Gulmarg#Kashmir pic.twitter.com/FHSjDfnhKn

— Anu✳️अनु✳️انو (@NoteAnu_) January 28, 2021
#8
Asia's large and India's first Igloo Cafe setup in Gulmarg #Kashmir. pic.twitter.com/iDAXQoKJh8

— Sajjad Kargili | سجاد کرگلی (@SajjadKargili_) January 28, 2021
So next time when you visit Gulmarg, you know where you have to head to, don't you?