Mukesh Ambani is regarded as the richest man in India. But he is also a constant in the world's billionaire list and now he has become the richest man in Asia.
Mukesh Ambani has overtaken Alibaba Group founder Jack Ma. He has become Asia's richest person as he positions Reliance Industries Ltd. to disrupt the e-commerce space in India.
According to the Bloomberg Billionaire Index, the worth of Mr. Ambani is estimated to be $44.3 billion i.e. 30,35,10 crores, while that of Jack Ma, the Chairman of China's Alibaba Group is $44 billion i.e. 30,16,25 crores. Ambani's estimation was recorded on Friday. Reliance Industries Ltd.'s stock fetched 1,100.65 rupees as of 12.25 p.m. in Mumbai and sets a new record.
Projects in 2018
This year, Ambani has added a total of $4 billion to his wealth. Reliance doubled its petrochemicals capacity. The success of his telecom startup Reliance Jio Infocomm Ltd. has invested heavily in refining his business. Investors even applauded the success Jio. He Earlier this month, he unveiled his big Jio plan in which Jio will hook-up with small retailers. A total of 215 million customers signed up for his 4G network in 22 months only. The numbers are quite big, which is why he is even planning further to expand his e-commerce offerings. On the other hand, Jack Ma lost about $1-4 billion in 2018.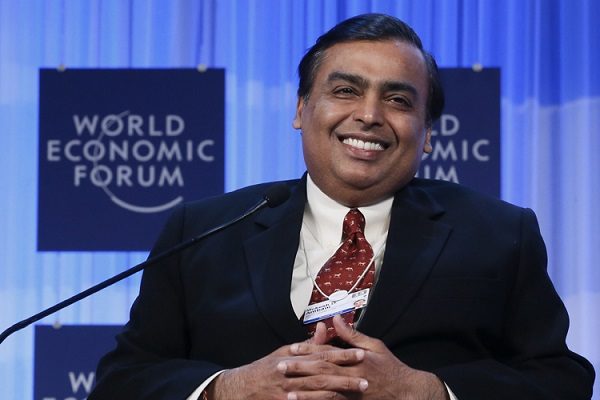 "We need to broaden our horizon of expectation with Reliance," said Nitin Tiwari, a Mumbai-based analyst at Antique Stock Broking. "They are in for something really transformational."
"Jio is the driver behind the surge in Reliance," said Deven Choksey, managing director at Mumbai-based KR Choksey Shares and Securities Pvt. "If the company is going to double profit a few years down the line, the stock price will also double, if not more."
Ambani is one of the most powerful personalities in India
One of the most powerful personalities in India, Ambani is known for executing large-scale projects. He even superheaded construction of the world's largest refining complex located in Jamnagar. The owner of biggest mobile-data network is a business tycoon worldwide. He claims to have India's biggest as well as most-profitable retail firm.
This is such a proud moment for all Indians. What do you think about it?