Bollywood & TV
INOX Opposes Release Of Bollywood Movies On OTT Platforms, Gets Slammed By Twitter
The coronavirus pandemic has brought our lives to a standstill as we are forced to remain indoors; colleges, schools, gyms, cinema halls and other places where mass gathering is possible have been shut down and there is no information as to when they will be reopened.
Bollywood has also been affected adversely due to COVID-19 as the release of few movies has been postponed while shooting of a number of films has come to a halt. There is still uncertainty in regard to when the things will get back to normal and the moviemakers are now choosing the OTT platforms to release their flicks rather than waiting for the cinema halls to open.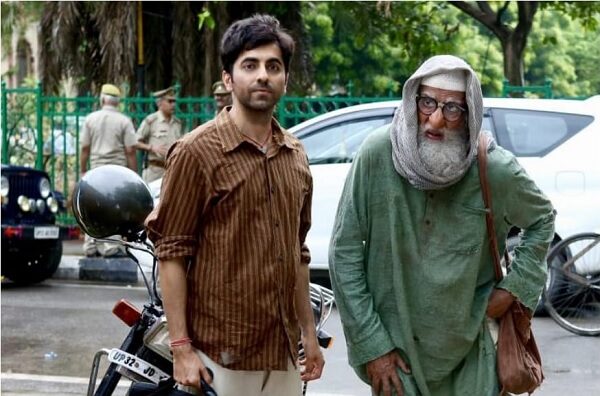 Recently, the makers of Amitabh Bachchan and Ayushmann Khurrana starrer "Gulabo Sitabo" made an announcement that they would be releasing the flick on Amazon Prime on June 12 and now the makers of "Shakuntala Devi" starring Vidya Balan also announced that they would also release the movie on Amazon Prime in June.
While this news is quite good for the viewers of OTT platforms, it has not gone well with the INOX theatres and INOX has released a statement on the micro-blogging site Twitter in which it has expressed disappointment and displeasure over the step taken by the makers. INOX may not have taken anybody's name in its statement but it is easy to understand about whom it is talking.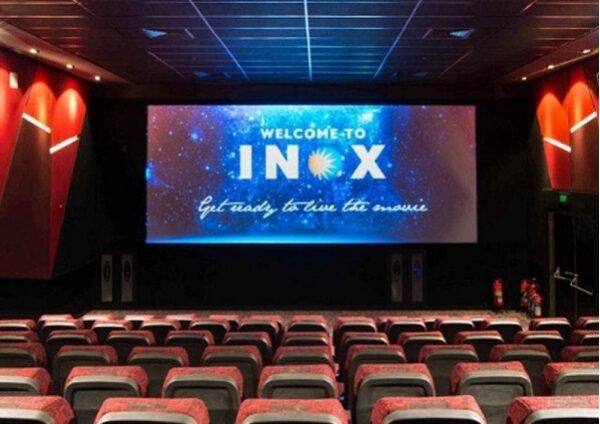 INOX has stated that the new practice of bypassing the theatrical release is alarming, adding that the moviemakers and theatres have been in a mutually beneficial relationship for a long time and such a move will definitely hamper the environment. INOX further stated that in such tough times, the partners should stand by each other's side but here one partner is breaking the relationship. INOX called such filmmakers as fair-weather friends and warned that it would also be compelled to weigh its options and treat the fair-weather friends in the same manner.
Here is the statement: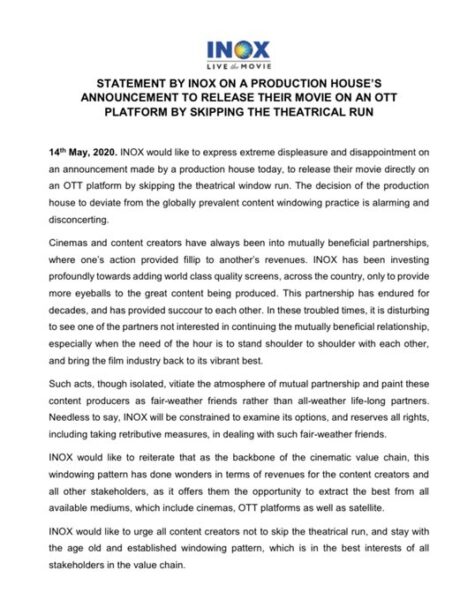 INOX shared the statement with caption, "Statement by INOX on a production house's announcement to release their movie on an OTT platform by skipping the theatrical run".
STATEMENT BY INOX ON A PRODUCTION HOUSE'S ANNOUNCEMENT TO RELEASE THEIR MOVIE ON AN OTT PLATFORM BY SKIPPING THE THEATRICAL RUN pic.twitter.com/NfqoYV2QRx

— INOX Leisure Ltd. (@INOXMovies) May 14, 2020
However, the Indian Twitterati was not much impressed with the statement of INOX and netizens trolled INOX mercilessly, especially because they sell popcorn, soft drink, water, etc. at a very high rate and due to such reasons, watching movie at theatres has gone out of the hands of a middle class person.
Here are some of the selected tweets:
#1
Now I don't have to go to #INOX to waste my money watching preposterous advertisements and eat expensive yet tasteless snacks. I'd rather watch @NetflixIndia or @PrimeVideoIN at home. OTTs are the new age. Count your days !@INOXMovies

— Sober Arbiter (@soberarbiter) May 14, 2020
#2
Lockdown to #INOX : pic.twitter.com/NYK58w2oIP

— Riya (@jhampakjhum) May 14, 2020
#3
No one can stop change. It is really bad to ask for status quo. You enjoyed when your time is ripe. Made more money on popcorn. Accept reality, learn to live along with change @INOXMovies #INOX pic.twitter.com/FLYwkhj1tr

— Rajkumar Nayak🔅 (@Rajkumar_Nayak_) May 14, 2020
#4
Movie ticket (incl GST) = Rs 180 pp
Vehicle parking = Rs 100
Refreshment = minimum Rs 150
For a family of four, total cost of watching a movie = Rs 1500 (approx)

Heck, u don't even allow water bottles bought from outside.
Now it pinches your pockets?#Inox https://t.co/ytZ2zVaMWg

— Lakshmi Narayan (@tamilan_ts) May 14, 2020
#5
Poorly maintained theatres, overpriced snacks & bottled water, over priced tickets, unwanted advertising. Watching movies became a rich man's dream. Where was your ethics then? Now movies are going for digital release you are worried and cribbing. As you sow so your reap #INOX

— असुविधा के लिए खेद है 😜 (@shotti_bolchi) May 14, 2020
#6
#INOX and all other multiplexes deserve this treatment. You don't know the utter dissapointment and embarrasment a parent goes through when he/she is not able to buy a popcorn for his child. Now GOD has shown you your place now we can eat act2 in 10 rupees and enjoy with r family

— Raj karan (@Rajkara57099207) May 14, 2020
#7
#INOX I remember every time in the interval. I use to go out and check the price of coffee, popcorn. I wouldn't buy because the price was too much. Middle-class people like me cannot spend that much on just popcorn. And for regional movies at times no subtitle.

— AnishKumar Agarwal (@AnIsH_261290) May 14, 2020
#8
#INOX
When producers direct release their movie on OTT platforms….

INOX, PVR be like pic.twitter.com/vOHw0h2AO2

— i@mPritesh (@Pritesh18638863) May 14, 2020
#9
Same people sell snacks at the extravagant prices and are mad now; the tables have turned 😂#INOX https://t.co/M4meSlaJ7B

— Amaan Khan (@_imamaan) May 14, 2020
#10
Openly whining about not being able to run the cartel longer now.
Dwar INOX, embrace the change or go the Kodak way.#inox #OTT https://t.co/za4GJ15zNI

— Tweetu_Singh (@wolveryn_) May 15, 2020
#11
Cost of:
– parking: Rs.30
– movie ticket: Rs 250
– popcorn (s): 280
– water bottle: 150

Value of #Inox expressing displeasure at Content creators: Priceless.#PVR #movies #AmazonPrimeVideo #netflixindia #sunnxt pic.twitter.com/fhNxfSO6MI

— Gopal Kavalireddi (@gvkreddi) May 14, 2020
#12
#Inox..Multiplexes r d most unethical business model I eva seen..n nw u talk bout shoulder to shoulder..c'mon u gotta b kidding…I ve seen hw small tym producers found it really hard to get a screen frm u guys…u guys r shitty ppl who oli looks fr business..So nw it's ur turn!

— Raj Puttu (@RajPuttu) May 14, 2020
#13
Karma is bitch. A decade ago, when they tore down single screens and killed independent biz and film makers, they said its market dynamics. Come 2020, they're protesting about OTT platforms. This is also mkt dynamics #INOX https://t.co/QsniZ6zkh7

— Kariputti (@nile080) May 15, 2020
#14
This rant by #Inox #InoxMovies is more like Kodak protesting against rise of digital cameras 😌. We all know that happened to Kodak. #MoveOn #movies #bollywood #GulaboSitabo #AmazonPrimeVideo #OTT #online

— Manish MMK (@Redfish18) May 14, 2020
#15
The future of Cinema will surely be the beauty of films and not the box office dependent numbers game. OTT can surely be game changer there. #INOX

— Neel Joshi (@neeljoshiii) May 14, 2020
What is your take on this matter? Let us know.