Sports
IPL 2019: Twitterati Slams Punjab Skipper R Ashwin As He 'Mankads' Jos Buttler On Field.
Every season of the Indian Premier League (IPL) is cash rich and eventful as well. So, keeping up with its ability to make headlines, other than the respective matches itself, the IPL never runs out of controversies and misfit happenings to get the Twitterati all charged up.
During the recent match between Rajasthan Royals' and Kings XI Punjab in Jaipur, R Ashwin's one act against the cricket spirit got the opinions divided, immediately in the commentary box. According to Harsha Bhogle, it was within the rules of the game whereas for Matthew Hayden it was very disappointing.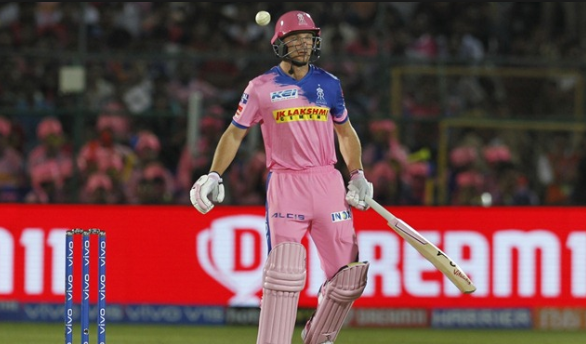 During the 2018 IPl season, Jos Buttler was in his best form when he scored 548 runs in just 13 matches, where 95 not out is the best he got. Similarly, in this season too, he was off to a great start, chasing 185 runs. Along with Ajinkya Rahane, they made 78 runs, before Ashwin took the first wicket of Rahane.
However, still the battle continued well for Buttler as he scored his very first hundred in the T20 format of cricket. Now, something unfolded in the 13th over of the innings when Ashwin Mankaded Buttler and immediately appealed even. The scenario was such, as if Ashwin stopped while bowling and even waited for Buttler to leave his crease.
#AskStar being captain ashwin should not do such dismissal .This is against the cricket sprite 👎👎 pic.twitter.com/xrYknHliGO

— Chowkidar Nitin Tripathi (@NitinTr81906338) March 25, 2019
Thus, according to third umpire, Buttler was immediately dismissed off the field. Visibly Buttler was angry while making his way to the Rajasthan Royals dugout. according to sources Buttler was very disappointed to witness, what just happened with him on the field.
See how Twitter reacted, along with some prominent cricket personalities.
#1
It's within the laws of the game but Jos Butler should have been warned by Ashwin before that. Very Surprised ! Remember Ashwin doing the same in an international game where Sehwag withdrew the appeal.

— Mohammad Kaif (@MohammadKaif) March 25, 2019
#2
Oh hell! Ashwin's run Butler out for backing up too far. Within the laws, but outside the spirt of the game. Unless the batsman had been cautioned earlier. We'll know about that later. For now, Punjab get coveted breakthru and the IPL its first major controversy this season

— Cricketwallah (@cricketwallah) March 25, 2019
#3
I can't believe what I'm seeing!! @IPL Terrible example to set for young kids coming through. In time I think Ashwin will regret that.

— Eoin Morgan (@Eoin16) March 25, 2019
#4
#Ashwin
Shame on a great bowler to take such wicket unfairly. Boo!

— creativewrites (@Suresh16654405) March 25, 2019
#5
Feeling sorry for Butler☹️ And ashamed today being a fan of Ashwin. #ashwin #IPL2019 #KXIPvRR pic.twitter.com/VES1WykeVR

— Ranbir Kapoor (@ranbirparody) March 25, 2019
#6
All for Mankading but what Ashwin has done is wrong. He paused and waited for Buttler to leave crease which goes against the spirit of the game.

Dickwella in 2017 was fined for a similar stumping attempt. He waited for batsman to leave the crease before breaking stumps. #RRvKXIP

— Mazher Arshad (@MazherArshad) March 25, 2019
#7
That is terrible!!!!!!

— Sam Billings (@sambillings) March 25, 2019
#8
My opinion on the Buttler/Ashwin controversy is that its NOT Buttlers fault and its NOT Ashwins fault either

Ashwin is entitled to appeal

I thought the TV umpire made the incorrect decision

Shouldve been dead ball….. play on

— Scott Styris (@scottbstyris) March 25, 2019
#9
Kings XI Punjab beat Rajasthan Royals by 14 runs. #Ashwin won the match but lost all respect. #RRvKXIP pic.twitter.com/LJmeOjiZsh

— Sir Jadeja fan (@SirJadeja) March 25, 2019
#10
Disgraceful behaviour by @ashwinravi99 – Buttler was still in the crease as he began to deliver the ball. Hate seeing this, what a terrible example to kids. #IPL #Ashwin https://t.co/qGYUgZnrIe

— Piers Morgan (@piersmorgan) March 25, 2019
So, what is your opinion on this?