Indian cricketer Virat Kohli has performed great as a batsman and as the skipper of the team as well. However, what surprises many is that his IPL team Royal Challengers Bangalore (RCB) has not been able to clinch the title despite him being a part of it for so long and he has been the captain of the team since 2013 as well.
Gautam Gambhir, the former Indian cricketer who has recently joined politics, was slammed heavily when he said that Virat has been lucky that the franchise has stuck to him even when RCB has not won the title at least once so far.
Well, IPL 2019 has also been quite difficult for RCB as the team has lost their first four matches and is at the bottom of points tally. There are many memes doing rounds on the Internet and social media sites expressing how tough it can be for a person to be a fan of RCB and it seems that a fan whose name is Dharnish Murthy is not able to take it anymore.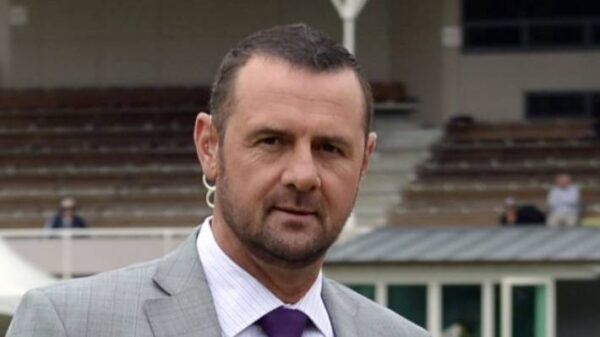 The former New Zealand fast bowler Simon Doull has been working as a commentator in IPL 2019 and he has received a threat to life from the angry RCB fan Dharnish Murthy.
The angry fan messaged Simon,
"F**king think about what are speaking next man.
RCB is not a team who will accept their defeat dude so f**k yourself man.
Don't ever comment about RCB.
If you do that you will be k**led for sure mate.
F**king noob
1st learn how commentate dude"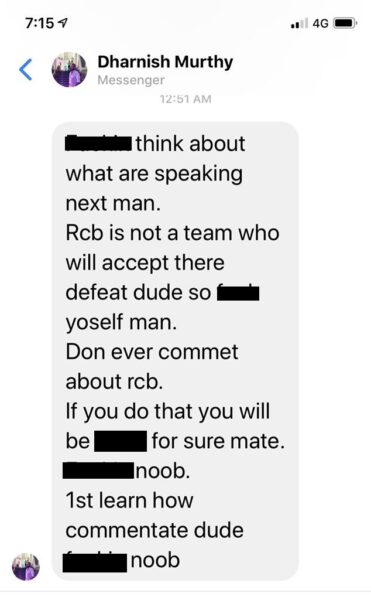 Simon took to Twitter and posted the screenshot of the threat with caption, "Clearly Dharmish is not happy with me @cricbuzz. Not sure what I said but a D**th threat, Really.? It's only a game of cricket Mate. Chill out.. @ipl"
Check out his tweet:
https://twitter.com/Sdoull/status/1113622823241543680
We hope that Dharnish Murthy understands that matches are won by outplaying the other team in all the aspects and not by issuing threats to innocent commentators.